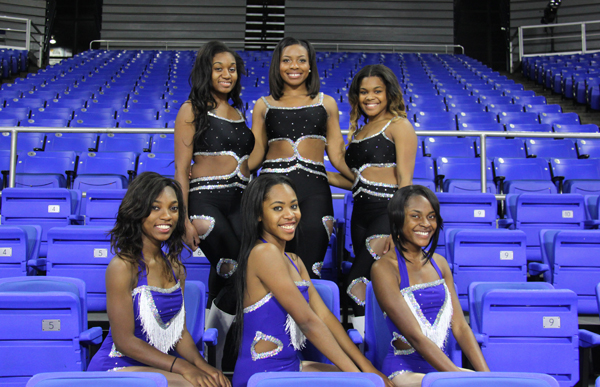 An MTSU student organization says it wants to add to the Blue Raider game experience, and it has some heads turning.
Basketball fans may have noticed the group of young ladies moving in fluid synchronization at games in the Murphy Center.
The group, called Blue Essence, dresses in matching blue sequins and white boots, and takes up the majority of a seating section in the basketball arena, as each member is spaced a few seats over from her neighboring performer.
"We want to become more of the school culture," said Blue Essence coach Melaneice Gibbs. "We want to promote school spirit."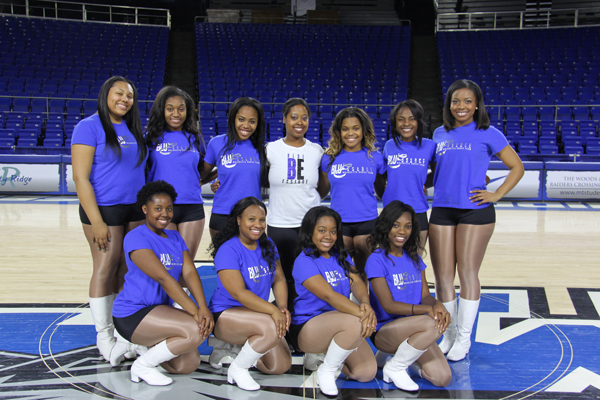 The Blue Essence team members have become familiar with many of the pieces played by the MTSU pep band, and as the band plays each number, the dance team, led by captain Taylor Secrest, shakes, gyrates and pops in hypnotic unison.
"We always sit next to the band," said Blue Essence member Krishawn Nolan.
But even after the music ends, the ladies exhibit a certain grace in simply taking their seats, as each one slowly waves her arms overhead and fluidly sits down, one by one, creating a mesmerizing, gently undulating tidal wave of Blue Essence.
"It's hard to take your eyes off of them," said one MTSU alum attending a basketball game.
Gibbs said she wants to eventually see the group move from the stands to the hardcourt, and perhaps have an opportunity to perform for halftime or pregame festivities.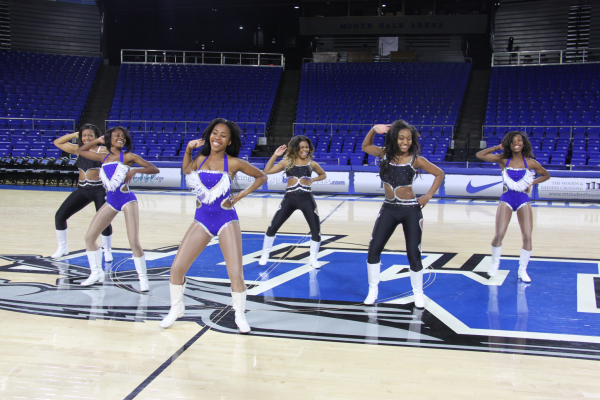 She said other majorette groups in the past may have been a little too provocative, making it harder for Blue Essence to find a spot in an athletic department trying to keep things family-friendly.
But Blue Essence isn't just about sexually oriented moves. The members say there's a great deal of skill and tradition in what they do.
"The popping and arm movements are from African dance," said Nolan; this is mixed with modern hip-hop influences for the ladies' dance identity.
The group has hosted dance camps for kids. "We go out and mentor and volunteer," Gibbs said. They work with the Nashville-based Dynasty Dance Elite, the coach's team of girls ages 5–17. Gibbs added that the Blue Essence girls are interested in and able to dance jazz and other styles as well.
"There's a great number of people who come to the games who like what we do," said Gibbs, who transferred to MTSU from Jackson State. "But there's a different atmosphere here than an HBC (historically black college).
"I feel like we are ambassadors for the school," she continued. "I get emails from high schoolers asking how they can join the team if they come to MTSU."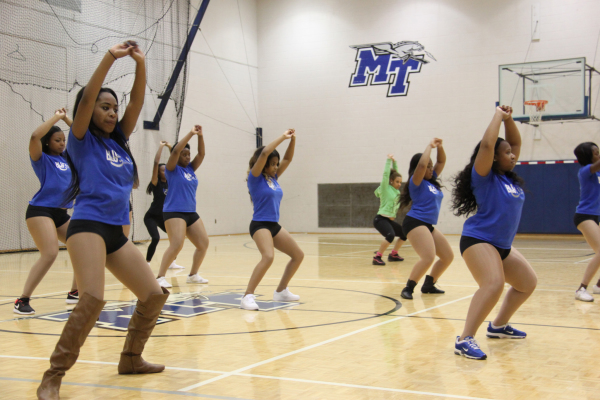 Nolan said she was very pleased to find out about the opportunity Blue Essence offered when another MTSU student, who attended Cane Ridge High School with her, encouraged her to join.
"A friend told me about the group and said I should audition," she said. "It's a lot of work. You'll break a sweat [during practice]."
And there's a competitive element to Blue Essence, too.
"Not everyone makes the cut," Nolan said, adding that there's a spirit of sisterhood among the dancers, who strive to help one another improve.
Basically, Blue Essence is a group of MTSU students who love to dance, who want to support the university's athletic teams, and who want to add to the gameday fun for fans.
For more information on the group, find Blue Essence on Facebook and Instagram or look for them at the next MTSU basketball or football game.