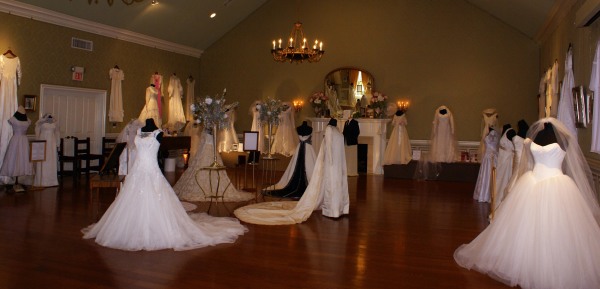 When you think of Oaklands Historic House Museum, you may not automatically think weddings, but there's a lot of nuptial talk around there these days. Here's what we've found out:
– We are right now in the middle of their annual "Wedding Dresses Through the Ages" exhibition, a beautiful display of historic dresses along with the stories that go along with them. I've been there (see full article here), and absolutely loved it. Here are their notes on the display.
– This Saturday (hmm . . . what would that day be . . .?) they are having a "Valentine's Day Weddings and Vow Renewals" opportunity. For generations, couples in love have enjoyed the romantic setting of Oaklands Historic House, and now you can be a part of history by renewing your vows, or saying them for the first time, in the elegant front parlor of Oaklands Mansion. The times are by appointment only, so contact them soon. Times are filling up!
– If the last few months' events in your life have propelled you into planning a wedding, how about a neat outdoor ceremony and reception (or you can have the reception indoors as well) right here in the 'Boro? A beautiful classic backdrop at this historic house might just be the perfect place. Find more info here
Thanks, Oaklands, for the creative options surrounding the wonderful, classic spectacle of weddings!
Have a wedding question? Have a wedding blog that others would enjoy? Have something weddingish that you think others would like to know about? Let's get this wedding portion of the Pulse hoppin'! Contact zek@celebrationentertainmenttn.com for all things wedding related.