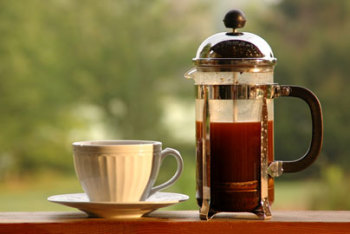 Storage
• Buy no more coffee than the amount you'll use in a week to 10 days. Also, make sure that the coffee that you are purchasing is at least 24 to 48 hours out of the roaster. This gives it time to release CO2 from the roasting process. This is called "degassing" or "off-gassing." It allows the coffee time to develop truly great flavor.
• Buy whole beans and grind just before brewing. This is the only way to extract the maximum flavor from your fresh roasted coffee.
• Do not store your coffee in the refrigerator or freezer. Ice crystals can form inside the beans in the freezer, and moisture can leach into the beans in the refrigerator. Keep it wrapped up tightly in the bag that it came in, away from light, heat, air and moisture.
Brewing in a French Press
• Place 1½–2 oz. of fresh, coarsely ground coffee into the bottom of the French Press.
• Bring fresh, cold, filtered water to a boil and then allow it to cool about 60 seconds before pouring it into the press.
• The proper water temperature for brewing is between 195 and 205 degrees Fahrenheit. Boiling water (212° F) can bring out oils and other soluble compounds, which can cause your coffee to taste bitter, sour or off-tasting.
• Pour ¾ of the hot water over the grounds.
• The mixture should bubble up, releasing CO2. This is called "blooming" or "the bloom." This action will show you how fresh your coffee is. No bloom = stale coffee. When the bloom settles down, after about 20–30 seconds, give it a quick stir and pour the rest of the water over the grounds to fill the press.
• The coffee will (slightly) bloom one more time. Gently stir the coffee for about 30–45 seconds.
• Place the plunger lid assembly on the top of the French Press.
• Carefully press the filter screen to the bottom of the press and enjoy a cup of perfectly brewed coffee!
Nuance Coffee and Tea specializes in light to medium-dark roasted coffees in the "Scandinavian" style using "fluid bed" hot air roasters. Nuance coffee is served at The Church at Cross Point, and its Thursday night Bonhoeffer's events, and its coffees have also been blended into Mayday Brewery small-batch beers.
Nuance also operates a Coffee Co-op, which works just like a CSA. Members pay for each consecutive 10-week round upfront, and will receive their choice of a full pound or a half pound of coffee each week for 10 weeks. They will receive a different coffee each week during the 10-week rounds. Coffee is available whole bean unless the member requests it to be ground.
The Coffee Co-op coffee for the week of Feb. 16 is a Zimbabwe Peaberry with cupping notes of cocoa, Brazil nut, creamy body and sparkling acidity.