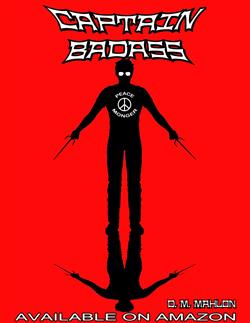 D.M. Mahlon's Captain Badass is a contribution to the growing genre of dystopian literature. It opens with a summary of the fall of Western civilization: a growing dependency on corn, followed by a disregard for husbanding resources which leads to oil shortages, then food shortages, and then a violent takeover of the American government by a man named General Robert Goodson.
Mahlon then narrows his focus, turning his pen to the plight of a single family. Former MMA fighter and current dojo owner Cam Boroughs is preparing his family to leave their California home before their food and water run out. Their destination is Boroughs's father's distant farm, and their currency of choice is the marijuana they've been growing in their rooftop garden.
Cam is faced repeatedly with the decision of whether to help others or focus solely on protecting his wife, Melanie, and 13-year-old daughter, Molly. The family eventually find themselves in the clutches of Johnny John Johnson, a hotel mogul with a plan for the end of the world. Cam enters the fighting ring once more to entertain Johnson's wealthy guests, and his victories earn him the sobriquet of "Captain Badass"—much to his daughter's disgust.
Johnson, of course, turns out to be no good, and the family must escape from his hotel and set out on their own— much better armed—once again.
The novel is also interspersed with other scenes from what was once America, showing the different ways that states, cities and people have coped with the collapse of all that they once knew. Texas, for instance, becomes a religious dictatorship governed by a network of pastors and megachurches, while some states collapse into racial violence and General Goodson wrecks awful vengeance on the privileged classes of the East Coast. For Boroughs and his family, the novel also explores how people change in the face of a dangerous and uncertain world—and the tragedies that can occur when people are unwilling or unable to adapt to their surroundings.
Captain Badass is not suitable for younger audiences and would, if a movie, likely garner an R rating for graphic descriptions of sex, violence and drugs. It is a lively and engaging romp through post-America, as well as being thoughtful at points about right and wrong, citizens' responsibilities to both their families and their neighbors, and the effect of a loss of civilizing influences on the actions of the population at large.
Captain Badass was released in September 2014 and is currently available for purchase as a Kindle book from Amazon.com.
If you know someone in the 'Boro who has published a book recently, let us know!