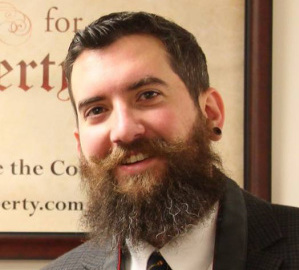 Rutherford County Sheriff Robert Arnold pursued extradition of former City Council candidate Axl David from Virginia on a $570 theft charge after he allegedly embezzled the money as treasurer of the Rutherford County Young Republicans.
Arnold reportedly said he treated the case the same as he would any other. One wonders why Arnold didn't do the extradition himself. After all, early in his first term he traveled to San Francisco and Alaska for extraditions. Afterward, he said, "Rank has its privileges."
Of course, the second-term Republican probably doesn't want to pick up David and ride back home with him because David's been a thorn in his side for the past couple of years. Last December he posted video of the sheriff's nephew, Deputy James Vanderveer, working a DUI checkpoint. Vanderveer resigned from the sheriff's office a few years ago after being charged with DUI and was later rehired.
David also claims he posted a YouTube video of a jail inmate being confined and pepper-sprayed by Vanderveer. The situation is now the subject of a federal lawsuit.
Ever since he came onto Murfreesboro's political scene a couple of years ago, David has been a thorn in the side of several politicians. He criticized Murfreesboro's red-light camera enforcement, took pot shots at the sheriff over DUI checkpoints, etc.
Interestingly enough, David says he accomplished major spiritual growth over the past few months. He was volunteering to work services at Encounter, a group at The Experience Community, a church on Old Salem Pike. But many of the discrepancies in the Young Republicans' bank account were recorded at this same time.
If he misappropriated money from the Young Republicans and refused to return it, he should certainly pay. The club's chairman, Scott Kimberly, said board members gave David a chance to refund them before he called the sheriff's office.
David says he wants his day in court. He'll probably get that opportunity soon enough.
Unfortunately, $570 is enough to merit a felony theft charge, something that could haunt him for years. But the question remains: How many people are extradited for stealing $500? By the time the sheriff, a U.S. marshal or anyone else brings David back from Virginia to Tennessee, it would cost another $500, if not double that.
Oh well, apparently, wasting taxpayers' money is better than wasting Young Republicans' money.