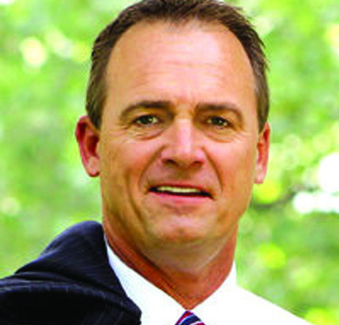 State Rep. Rick Womick is an interesting fellow.
Two years ago he sponsored legislation to eliminate hotel per diems for state lawmakers who live within 50 miles of the state Capitol and give them a mileage reimbursement instead.
This year, he defends his right to receive state health insurance—even though legislators work part time—while refusing to support the governor's Insure Tennessee plan to aid 280,000 working people caught in a coverage gap.
Despite resistance in 2013 from legislators who said he would create a situation in which only rich people could afford to serve in the General Assembly, Womick reasoned they shouldn't be getting $107 a day for lodging since many of them drove home for the night.
Instead, they started receiving 46 cents per mile for travel, in addition to the $66 a day for meals and incidents. That's on top of salaries around $19,000.
It was the right move to make, especially with some of the hoopla surrounding lawmakers' per diems. A few years earlier, now-former state Rep. Joe Carr of Lascassas received approval from the Legislative Administration Office to gross mileage payments without paying taxes on them, claiming he lived outside the Capitol's 50-mile zone.
Truth be told, he lived inside the 50 miles, but when he left his Lascassas farm off Overall Creek Road, he drove through Walter Hill on Jefferson Pike, then turned south and went down state Route 840 before picking up at I-24 and heading northwest to Nashville. The route gave him more than 50 miles.
Carr contended he could get to Nashville quicker that way than by driving through Smyrna. Maybe he could, but since he's no longer in the Legislature, we'll let it go.
Now, however, Womick opposes Gov. Bill Haslam's Insure Tennessee plan, which was killed in a Senate committee in early February before it reached the House or Senate floor for debate.
Womick contends Haslam's plan to use funds from the Affordable Care Act was "smoke and mirrors," with nothing in writing and no guarantees. Womick claims the governor even misled lawmakers, telling them it wouldn't cost Tennessee a thing early on. Of course, Haslam did forget to mention a $15 million fiscal note, the price tag to administer it. Presumably, the state's hospitals were going to cover costs the feds didn't pay.
But here's the catch: Womick, a Rockvale resident, along with state Rep. Dawn White of Murfreesboro, Rep. Mike Sparks of Smyrna and Sen. Jim Tracy of Bedford County—all Republicans—are receiving coverage through the state's insurance plan, which pays 80 percent of their premiums, according to information obtained by the Associated Press through an open records request. State Sen. Bill Ketron of Murfreesboro and Rep. Bryan Terry, both Republicans, were the only members of the Rutherford delegation not listed as receiving state insurance coverage.
Asked how they could justify receiving coverage through the state while opposing Insure Tennessee, Tracy and White said little other than they are state employees receiving a benefit. Sparks said he was somewhat uncomfortable with getting the benefit. But Womick, when asked about it, said state coverage for legislators is no different than coverage other people receive through their private companies.
"Now whether I'm working for a major company, a private company like an airline or an automotive company, and they offer health care, I'm going to have my own premiums each month, but they're also subsidizing that health insurance plan. So this is no different with the state government," Womick said.
Going further, Womick looks at the governor's proposal as an attempt by working Tennesseans to prey on others for their insurance.
"I'm not doing that. I'm paying a premium as an employee. I'm working for this state. I'm working for the people, and that is a benefit. It is not a handout. It is not free socialized medicine, as the governor might like to address. And he doesn't have to worry about it. He's got a multi-billion dollar company. He doesn't even take a salary, so if he wants to point the finger, that's fine," Womick said.
Of course, Womick did call Haslam a traitor last year for using a political action committee to try to unseat Republicans he didn't favor in the Legislature.
It's unlikely Haslam lost much sleep over Womick's characterization. After all, he is one of the richest politicians in America, thanks to the success of Pilot Flying J truck stops across the nation.
One way of looking at it is this: At least Haslam is willing to use that $1 billion a year sitting in a federal bank account to help people get insurance coverage rather than go to the emergency room every time they get sick.
On the other hand, Womick and many other lawmakers are willing to take state benefits and deny coverage to tens of thousands who need it. They're watching out for our money, right?
But if Womick is concerned about taxpayers, he should let his airline customers pay for insurance, not the people of Tennessee. He lists himself as a Boeing airline pilot, U.S. fighter pilot, retired teacher and retired U.S. Air Force. Between those he can't find any affordable insurance?