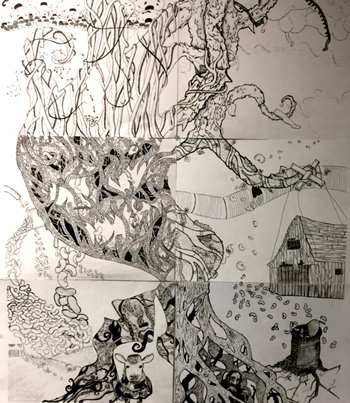 Moxie Art Supply hosts an exhibition in its gallery featuring works from MTSU drawing students. Norris Hall, local illustrator and drummer of The Pilots, juried the selection of works on display at Moxie.
The Jack and the Beanstalk project grew out of collaboration between Meghan O'Connor and Dr. Claudia Barnett, professors at Middle Tennessee State University. While art students create two-dimensional pieces inspired by this theme, screenplay students write and perform a story inspired by the same.
The exhibition represents each art student's interpretation and representation of the classic fairy tale "Jack and the Beanstalk." The students were challenged to create their own imagery that could not be a trite, clichéd or overused way of depicting their idea. They were encouraged to look at the underlying meaning in the story, such as: people being rewarded for their stupidity, climbing the social ladder and considering how the story can be culturally relevant today.
Each finished piece in the exhibition has a foundation in research, brainstorming, sketching and source imagery. The hope is that all of the finished pieces are the artists' very own interpretation of the idea, unexpected and creative in their execution.
The exhibit is free and open to the public, and will be on display until Friday, April 3. Moxie is located at 302 W. Vine St. in Murfreesboro. The hours are Monday–Friday 10 a.m.–6 p.m., and Saturday 10 a.m.–4 p.m. For more information, call (615) 849-1131.