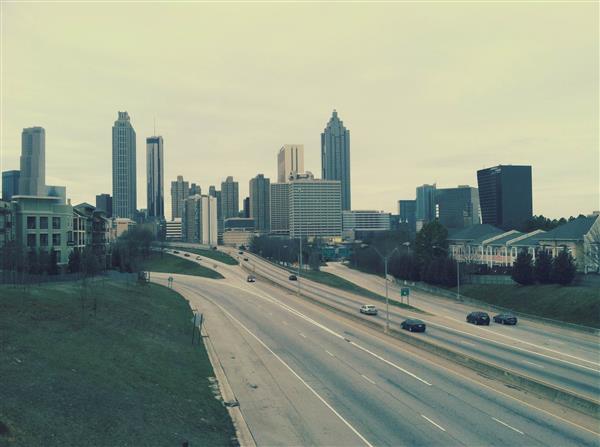 For spring break, I'm travelling to Atlanta, Ga., from Murfreesboro with my boyfriend, Jake. It's a chilly, overcast day in the big city. While the two of us explore downtown today, we are scouring the streets for a man named Johnny.
Johnny is a homeless person we heard of through our friends who are native to Atlanta. Johnny has a scruffy beard, a green backpack and a truckload of interesting stories. That's all the information we have to help us find this homeless man.
After pacing the streets of downtown for three hours in search for this "Johnny," Jake and I rest on some cold park stairs. There are two homeless men sleeping to the left. Students from Georgia State are walking swiftly past us on our right.
In Murfreesboro, I know most of the homeless community, so it is easier to find stories. I had some difficulty getting the homeless community of Atlanta to trust me, considering I carry a notepad that looks like I am a serious investigative journalist. I lost a few potential story subjects just by accidentally scaring them with intimidation. So, we tried extremely hard to find Johnny. The theory is, Johnny and I have a mutual friend, so he would presumably be more open to a story being written about him.
While planning how to get the homeless community of Atlanta to trust me, an African American man walks towards Jake and I as we are sitting on the stairs.
"[Is] this a park?" asks the man. "A guy told me I could eat my lunch at a park and pointed here . . . I don't see no bench."
The "park" we are in consists of measly brick stairs leading to a patch of grass. The man seems disappointed by the park, so we invite him to have a small picnic with us.
"Really?" the man questions loudly, "You guys don't mind?"
We shake our heads no as the man sits and quickly whips out a semi-healthy lunch.
"You guys homeless too?" he asks while looking at the homeless people surrounding us.
"No," says Jake, "We are just visiting from Tennessee."
"This your wife?" the man asks.
"Nope . . . this is my girlfriend, sir," says Jake.
"Oh . . ." the man says, "I was hoping I could give you 20 bucks for yo' girl. Sorry, sorry . . ."
The man is looking for a prostitute.
He removes a set of fake teeth from his mouth and starts to munch on his thin bologna sandwich, boiled egg and cool ranch Doritos. With his mouth full of food and his lips dusted with crumbs, the man extends his hand towards Jake.
"I'm Johnny," says the man.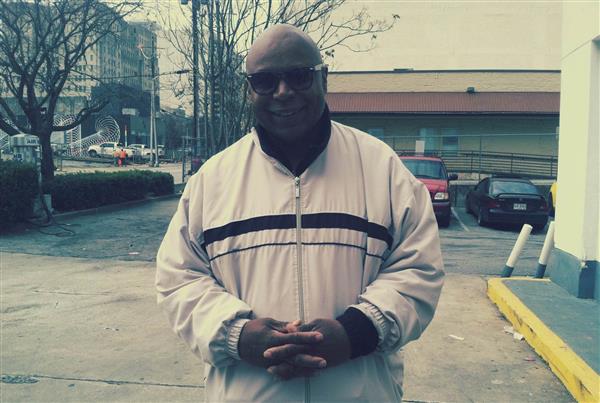 We have been looking for Johnny all day. This Johnny just joined us without having a clue as to who we were.
"I have been looking for a guy named Johnny!" I exclaim in excitement. "I'm a journalist from Tennessee writing homeless profiles. Do you happen to have a green backpack?"
He didn't have the backpack. In fact, he didn't have any of the criteria to be the other Johnny we were looking for, so this new Johnny called himself "The Real Johnny." The real Johnny is bald, has a stubbly beard, infinite energy and absolutely no wrinkles. He is 60 years old.
I asked if he would be interested in a homeless person profile about himself.
"Well," says Johnny, "I'm not homeless, honey. I live in a shelter. But sure!"
He doesn't consider himself homeless while living in a homeless shelter. Johnny currently lives at the Atlanta Salvation Army for $10 per night.
He begins informing us about homelessness in Atlanta. Apparently, a person sleeping outside in public areas is a normal and acceptable sight. Two weeks ago, Johnny saw a homeless man lying on the ground outside the Salvation Army in the rain and pedestrians didn't give him a second glance. Johnny thinks most of the homeless population in Atlanta was caused by bad parental decisions. In Johnny's opinion, most teens have drug-addicted parents that led them to the streets.
Although most homelessness is overlooked in this city, Johnny informs us of a couple charities that help the community. In addition to the Salvation Army, there is a shelter where homeless men can sleep for free when the weather is below 34 degrees. It's called the Atlanta Mission. This is similar to the Coldest Nights Shelter at First Baptist Church in Murfreesboro.
As he finishes up his lunch, Johnny begins telling us about his own life and how he became homeless. He is fresh out of prison as of a month ago. According to Johnny, he robbed a few banks and has been in and out of federal penitentiaries for most of his life. His family life is what led him to the criminal lifestyle.
"My hero as a kid was Al Capone," says Johnny. Al Capone was his role model. Johnny bought a hat that resembled his childhood hero and wore it through his rebellion years as a child and teen.
"I wear a hat all the time now," Johnny states proudly.
"Why aren't you wearing a hat now?" I ask while looking at his shiny, bald head.
"Darcy," says Johnny, "When I get the funds, I will have a hat like that again."
I ask Johnny why his parents weren't his heroes. Johnny described how his mother stabbed him for sneaking out of the house when he was 15 years old. His father was an alcoholic, and Johnny's parents divorced early in his life. He is the oldest of his two sisters and one brother.
"So what brought you to Atlanta, Johnny?" I ask.
"I came here lookin' for Tyler Perry," he responds.
Tyler Perry has a studio in Atlanta, so some come to this city trying to get famous. Many actors walk the streets of Atlanta in hopes of making dreams come true. Although Tyler Perry's studio is for acting, Johnny is more focused on comedy.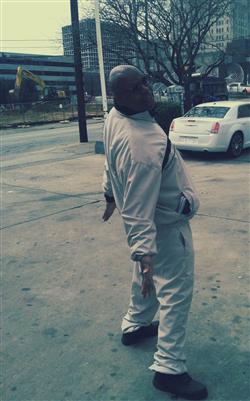 When asked what about his next goal in life, Johnny mentions that he wants to be a comedian. His inspiration for comedy is Kevin Hart. Johnny says, "Kevin Hart don't have nothin' on me."
Johnny allows us to follow him throughout his day. Today, he plans to get more minutes on his prepaid cellphone and pick up a prostitute before the shelter closes at 6 p.m.
A recent report conducted by Washington D.C.'s Urban Institute for the U.S. Justice Department concluded that Atlanta had the largest sex trade out of the eight major U.S. cities it examined between 2003 and 2007. Additionally, the report found the average pimp makes $33,000 a week. According to FBI statistics, Atlanta ranks among the top 14 cities in the U.S. for domestic minor sex trafficking.
"I usually pay $10 for a quickie," says Johnny. "And they usually look normal like you guys. But one time, there was an ugly chick. My dad looked better than her! [She] tried to get with me, but she's gotta be better lookin' than me, at least."
Johnny says he can tell if women are prostitutes by the way they carry themselves. He usually approaches them by being upfront about what he wants.
"This is the 'hood, honey," says Johnny, "All's you gotta do is be direct."
Typically when picking up a prostitute, Johnny just hopes she "has a nice place to do business." If that isn't the case, he has what he calls his "prostitution pocket." This is where he keeps $43 to buy a hotel room and pay for the act. His left pocket is where he keeps the rest of his money.
Today, Johnny has $10 spending money in his left pocket. He got his lunch from the shelter, so he doesn't have to pay for a meal. Johnny plans to buy the minutes for his phone with the $10 because he is waiting on calls about potential jobs for which he has recently applied. So, our tour of Atlanta will be a journey to activate Johnny's phone.
Johnny wipes his mouth with his hand and places his false teeth back in his mouth.
"You didn't see that," says Johnny, "Now let's go!"
He pulls out a bag from his pocket containing a giant spicy pickle as we walk to Walgreens. He holds it the entire day, slowly munching throughout our journey. It takes him five hours to eat one pickle.
"Can I carry anything for you, Johnny?" Jake asks.
Johnny shoves his two grocery bags full of more grocery bags into Jake's hands. He leaves behind his picnic garbage and saunters towards the sidewalk.
"I'm gonna take good care of you guys," says Johnny. "I'll give you the best time in Atlanta."
Two African American men approach us with backpacks while yelling, "Five-cent cigarettes! Get your five-cent cigarettes here!"
Johnny stops the men to buy a pack of Newports. He questions them about how they got into selling cigarettes. The elder of the two starts to explain that they are brothers. They got robbed at the airport coming from the Virgin Islands and have been homeless for three weeks now. They sell smokes to get enough money to buy a motel room each night. The men left in a hurry trying to sell enough to sleep safely tonight.
We continue our journey to buy minutes as Johnny limps to each destination. When asked if he has a disability, he avoids the question.
"Hi there," says Johnny. "Good mornin' little lady. Hello!"
He greets every pretty young thing that passes by. It is officially mid-afternoon and he is greeting every woman with "good morning." He thinks the women aren't responding to his coos because he looks old, so he switches his sunglasses out for his real glasses.
"Now I look like a professor," says Johnny. "I'm sure professors get a lot of . . . well, ya know what I'm sayin', Jake?"
"Uh, sure Johnny," Jake says.
Johnny keeps walking and talking, pickle in hand. Walgreens didn't have prepaid cell minutes, so we travel to our second destination: Shell gas station. He mentions that I didn't dress very homeless to write this story. He's right. I dressed pretty normally today. I usually do dress down.
"Trust me," I say. "I can get real ratchet real fast."
"Ratchet real fast? Ha! Jake, that right?" asks Johnny.
I saved Jake from getting in trouble with me by responding first.
"He's seen me in homeless attire before and he's still around!"
"Ratchet real fast . . . I'm gunna start usin' dat!" says Johnny. I soon regret teaching Johnny this new word. He repeats it all day.
Johnny's favorite place in the city is Little Five Points, which is a district on the east side of Atlanta. It's famous for alternative culture and shopping. He says he can find pretty women to look at there. During our walk through Atlanta in search of minutes, Johnny hollers at women of any age that pass by and breaks his neck to watch them as they walk away.
A place in Atlanta that holds the most memories for Johnny is the Atlanta Railway Station. He remembers the voice that comes on over the intercom telling him what to do. The voice says, "Welcome to our deluxe bathroom!"
"Man," says Johnny, "If a voice is gunna be talkin' to me for 20 minutes I'd rather it be a girl voice! Okay, so I don't stay in no bathroom for 20 minutes, but you get the idea."
Neither Shell nor Walgreens had the minutes he was looking for. Johnny decides to try CVS pharmacy across town. We walked at least three miles to get Johnny's next destination on what seemed to be a never-ending search for minutes and prostitutes.
"I'm going to sweep Darcy off her feet," says Johnny. "You have good taste, Jake!"
Jake shakes his head at all the inappropriate commentary as we approach a dirty man under a gazebo. Johnny asks for directions to the nearest CVS and mentioned the address number. The man seems delusional. He is repeating to Johnny "the engine is split." None of us know what that means, so we thank him and walk in the direction we assume CVS would be.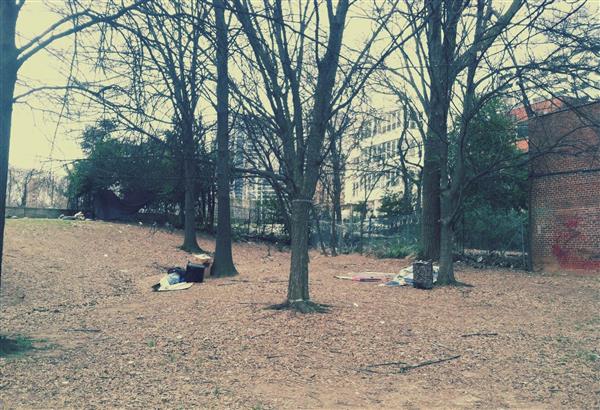 Johnny asks an older woman for directions. She responded with the location of the nearest CVS, but she told Jake instead. Johnny must've made her uncomfortable.
"Do you think her directions were right, Johnny?" I ask.
"She probably just wanted this pickle," Johnny says. He sways the pickle in his hand back and forth, but Jake and I know what he means.
Johnny walks into a nearby portable toilet, giant pickle still in hand.
Upon Johnny's return, we advance towards a group of six homeless African Americans that are gathered in a camp. The camp is completely exposed in an open courtyard just off the road. Tarps are hanging as a roof and they use suitcases for dressers. One man is sleeping on a blanket with hoodies for warmth on this mild 60-degree day.
Two men are winking and waving at me as Johnny walks off to talk to two men and a woman. They are leaning against an art statue with stern facial expressions.
"Hey guys," yells Johnny from afar, "The CVS is down a ways. I'll catch up in a sec."
Jake and I walk down the street looking for the CVS until Johnny catches back up. He tells us one of the men in the camp is a pimp. He promised Johnny a white girl by the time we get back from the store.
"She better not cost more than $45," Johnny says. "Otherwise, I'll just do myself."
Johnny can't find the prepaid minutes in CVS, so he walks to the Publix next door. He says he is giving up after this. We have been looking for a way to activate his phone for five hours and walked at least six miles across Atlanta at this point.
As we slowly make our way out of Publix and back onto the sidewalk, Johnny talks about going into the ghetto to get a prostitute. He thinks the group in the homeless camp that promised him a white girl is plotting to jump him, so he makes alternative plans to go into the 'hood. Johnny is concerned about Jake and I being safe.
"So, are we done here?" asks Johnny.
"Yeah," I respond, "I guess we are."
"Bye, Johnny!" says Jake.
"'Ey!" yells Johnny as we walk away, "Give me my bags back, kid!"
Jake walked away with his belongings after holding them all day. We walk back toward Johnny and Jake hands him his stuff. We all hug and exchange numbers. Johnny hobbles as he crosses the street hollering at women and muttering about a quickie. I can hear faint mumbles from Johnny as he makes his way into the 'hood.
"I'm the quickness," says Johnny. "I just hope they don't take my Jordans."