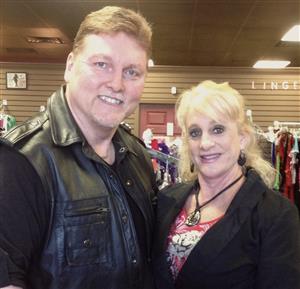 Meet Karen Denton, a local business owner dedicated to spreading joy and "cat scratch fever."
Cat Nips, her business located at 517 Cason Lane, is a new and consignment fashion store that caters to women of all ages, shapes and walks of life while also supporting pet adoption.
"We want all of our customers to have an opportunity to feel special and know that their purchase contributes to animals in need of a home," Karen said.
The inspiration to open the store occurred just over a year ago thanks to the Dentons' four cats, particularly Mayling, a Siamese mix whose breed happens to be the logo of the Cat Nips.
Before going into business, Denton's husband and co-owner, Bill, was a music promoter for Higgins Music Group in Nashville. Karen was a registered nurse for 20 years.
"I was burnt out with my career and wanted to combine my passions," Karen said.
The store offers a range of new products from original styles in glamorous lace and sparkly denim to dresses and lingerie.
"I'm frugal on consignment and prefer to sell upscale items for reasonable prices," Karen noted. "Because everyone deserves to feel beautiful."
Cat Nips also offers feline treats and supplies, and yes, pets are welcome to browse the racks, too! Portions of the proceeds from sales are given to charities and organizations including the ASPCA, the Nashville Humane Society, Rutherford County Cat Rescue and Feline Felicity. The enthusiastic couple will also provide discounts to those who give pet food to the store's holiday donation box as well as to those who adopt a companion from PAWS, a Rutherford County pet adoption and welfare service.
"It is my personal thank-you to customers for their rescue," she said.
Discounts are also offered to customers who partake in the Dentons' love for karaoke. There is no pressure to perform and no judging of skill; however, those who are willing to sing receive 10 percent off and those who allow footage of the performance on the Cat Nips website receive 20 percent off their entire purchase.
The Dentons sometimes showcase their vocals with duet favorite "Squeeze Me In," originally recorded by Garth Brooks and Trisha Yearwood.
"We want Cat Nips to be known as a place of great fun and expression," Karen said.