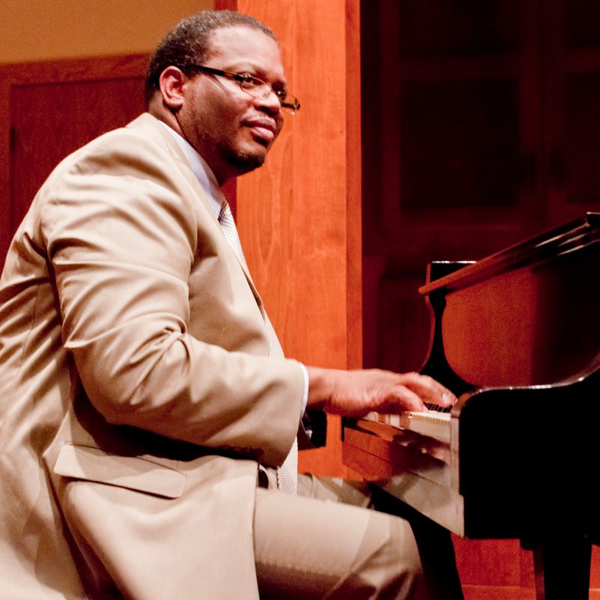 Once again, the Main Street JazzFest will take over the Murfreesboro Public Square the first weekend in May, bringing professional and student jazz players to its outdoor stage.
The event is free to attend, and also offers kids activities, food vendors and lots of fun, socializing and the chance to visit the Square on the spring weekend of May 1–2.
Pianist Reggie Thomas will claim headlining status this year, and is scheduled to perform on Saturday evening. Thomas has performed all over the world, and earlier this year released his latest recording, Matters of the Heart, recorded with his wife, Marda.
Thomas has been a consultant/clinician for Jazz at Lincoln Center for the past decade, working with the Essentially Ellington Program and the Band Director Academy. More recently he presented "Creating Music Through Improvisation" at the Carnegie Hall Music Educator's Workshop in New York. He actively conducts clinics at colleges throughout the country and Thomas has directed all-state jazz bands, combos and choirs in Illinois, Iowa, Kentucky, Maine, South Dakota and Tennessee.
Preceding Thomas onstage on Saturday, May 2, will be Halfbrass, Nashville's own funky brass band. Born under the influence of classic New Orleans tradition, Halfbrass mixes traditional brass band music with funk, jazz and rock. When you're ready to party, Halfbrass says "Laissez les bon temps rouler!"
Trumpeter Rod McGaha will also join the fun at this year's event.
"Rod McGaha is a one-of-a-kind musician and has his own identity on the trumpet—an instrument that millions of people play—and that's saying something," veteran saxophonist Jeff Coffin has said of McGaha.
A native Chicagoan, McGaha garnered the attention of jazz legends like Von Freeman, Clark Terry and Wynton Marsalis as a young prodigy. He went on to perform concerts in Egypt, Japan, Germany, South Africa, Poland and Mexico, and has worked with artists including Kenny Rogers, Bebe and CeCe Winans, Shelby Lynne and Take 6.
"If I can make someone feel something through my music, then I know I'm doing it right," McGaha said. "I want people to feel the way I felt listening to Clark Terry. I remember, I was listening to a recording of Clark Terry and it gave me great joy. He made me happy just with his music alone. That's the power of music!"
McGaha's world travels inspired him to create United for Peace Orchestra, a 22-member juggernaut of a band, amalgamating more than half a dozen different nationalities. "Being onstage with that band was like being onstage with an Encyclopedia Britannica. There was knowledge and culture coming in from all different directions and the audience was just as inspired by it as we were," McGaha said of the project.
Other 2015 JazzFest performers include Music City Swing, Rock Williams, the MTSU Jazz Ensemble, MTSU Faculty and Murfreesboro Youth Jazz Orchestra.
"The music committee did a great job with their selections . . . we locked down great talent again this year," said Main Street Murfreesboro Executive Director Kathleen Herzog.
In addition to the Main Stage performers on Saturday, many high school bands, and even some middle school performers, will take the stage.
"As every year, we are genuinely excited about this event and invite everyone to visit downtown Murfreesboro over this weekend and enjoy everything it has to offer," Herzog added.
For more information on JazzFest, visit mainsreetjazzfest.net.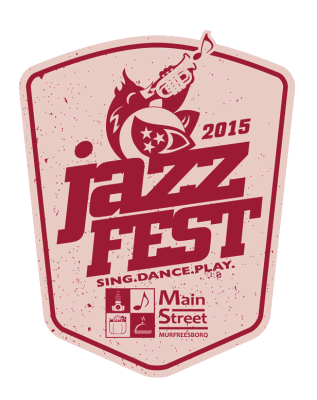 JazzFest 2015 Schedule
Friday, May 1
6 p.m. – Stewart's Creek High School Jazz Band
6:40 p.m. – Blackman High School Jazz Band
7:20 p.m. – MTCS Jazz Band
8 p.m. – Smyrna High School Jazz Band
8:40 p.m. – LaVergne High School Jazz Band
9:20 p.m. – Central Magnet School Jazz Band
10 p.m. – Siegel High School Jazz Band
10:40 p.m. – Riverdale High School Jazz Band
11:20 p.m. – Oakland High School Jazz Band
Saturday, May 2
Main (east) Stage
11 a.m. – Seymour High School
12 p.m. – Murfreesboro Youth Jazz Orchestra
1 p.m. – MTSU Jazz Ensemble #1
2 p.m. – Halfbrass
3:15 p.m. – MTSU Jazz Faculty
4:30 p.m. – Rock Williams
5:45 p.m. – Rod McGaha
7:30 p.m. – Reggie Thomas (who will also host a piano clinic at 3:30 p.m.)
8:45 p.m. – Music City Swing
Kroger (west) Stage
11:30 a.m. – Siegel Middle School
12 p.m. – Stewart's Creek Middle School
1 p.m. – Tennessee School for the Blind
1:30 p.m. – St. Rose Middle School
2 p.m. – Rockvale Middle School
2:30 p.m. – Stewart's Creek High School Ensemble II
3 p.m. – Oakland Middle School
3:30 p.m. – Blackman Middle School
4 p.m. – All Ruth Co. Jazz Band
4:50 p.m. – First Fruit Jazz Project