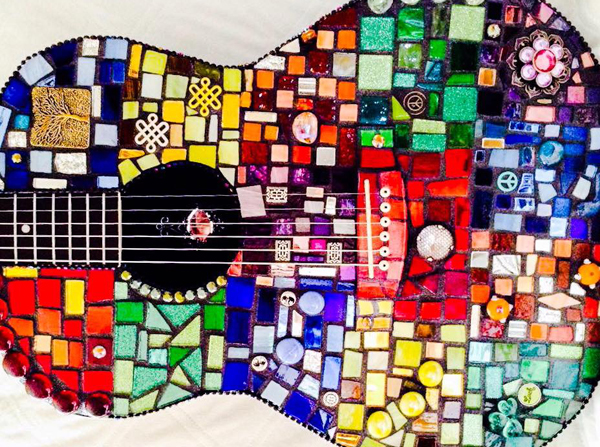 Sometimes, an experiment is just an experiment. But every once in a while, an experiment turns out to be a great idea—and a lifelong project. For Terri Fitzgerald, who owns Johnny Guitar's with her husband, Bob, an experiment five years ago has turned into a means of artistic expression that shows no signs of slowing down.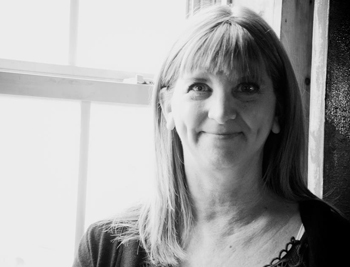 Terri and Bob moved to Murfreesboro after 30 years of military life, including a stint in Germany. They knew they wanted to open a musical establishment, but a bar or restaurant seemed like too much work for a retirement project. So instead they opened Johnny Guitar's, a retail space with a focus on music lessons. They have since closed their storefront location and now operate out of the Leslie Hall School of Dance (1431 Battleground Dr.).
It occurred to Terri one day to see what it would look like to make a mosaic on an old guitar.
"I had never done mosaic before," she says, but she went to Michael's and bought some cheap stones to create a pattern on an electric guitar. "The first guitar I did is now a stone in my garden," Terri laughs—she left the guitar in the lesson room overnight without wiping off the grout that covered it. "If you don't wipe it off within half an hour, it turns into concrete," she says ruefully.
That initial oversight, however, didn't stop Terri from continuing her work with guitars. She uses any guitar that is old, damaged or unwanted, giving the instruments new value and a new lease on life. She typically pays about $30 each for the guitars, often buying them from Goodwill or from people who know her work and bring them to her.
"When I have an idea, I draw it on the guitar in grease pencil. Then I cut the glass and file down the edges. I make the design, cover it with grout, and then wipe it off," says Terri. If she really focuses, the whole process takes about a week in her garage studio. People often ask her if the mosaic guitars are still usable as instruments, and Terri says simply, "If it has strings, it's playable." To demonstrate, she often brings Bob to her art shows so he can play near her booth.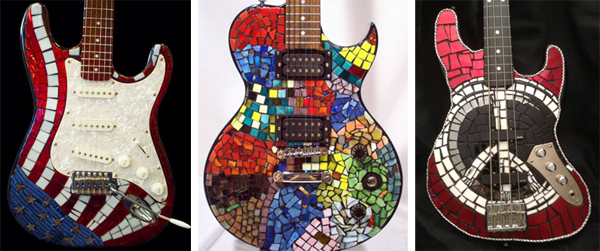 "In an acoustic guitar, it deepens the sound, but doesn't deaden it," she says. To ensure that the guitars can always be used, she mosaics only one side and paints the bridge of the guitar rather than adding stones to it.
Terri's "GuitArt" designs are eclectic, ranging from the dragonflies and peace signs featured on her business card (some of her favorite work), to sports teams and the Nashville skyline. She usually uses colored glass, but she's done work with other materials as well—even Legos.
"There will never be two the same, as long as I can think of things," she says. For each individual piece, she varies color and design to make each one a unique work of art.

What started as a hobby has gone farther than Terri ever expected. Her work is displayed on her website, terrilfitzgerald.com, and she's participated in several shows over the years, as well as donated her guitars to be auctioned off for good causes.
Some of her work can also be purchased on consignment from Manuel in downtown Nashville. The team at the store, which sells the couture designs of the man who clothed Elvis, Johnny Cash and innumerable other country stars, loved Terri's designs and asked her to make two guitars for their store using their signature Swarovski crystals. This recognition signaled a landmark moment for Terri.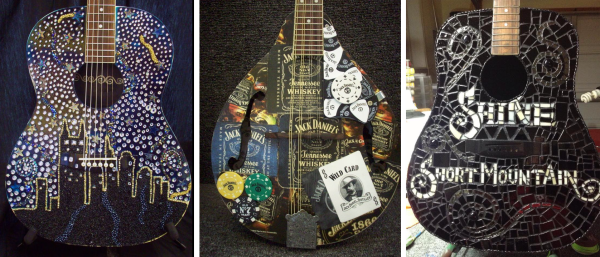 "It finally woke me up to realize the value of my work and what I do," she says.
In addition to selling her work at shows, Terri makes commissioned pieces, often for weddings and special occasions. Some of her guitars have made their way into the collections of such celebrities as Tracy Lawrence and Paula Deen.
To see her work or contact Terri, visit her website or Facebook page, GuitArt by Terri L. Fitzgerald.