Paletas La Desi has only been in operation for a few months, but the new establishment already has a legitimate fan base in Murfreesboro.
For those unfamiliar with paletas, they are popsicles. But Paletas La Desi, located on the corner of Mercury Plaza (the Rose's shopping center at Mercury and Middle Tennessee), does not serve ordinary popsicles; the shop produces beautiful creations, gourmet treats on a stick, popsicles in flavors like banana Nutella, strawberry cheesecake and avocado (yes, an avocado popsicle).
They also serve a variety of ice creams, including lemon, Snickers, coconut, cookies and creme, M&M and more.
"I guess the most unusual is pine nut," a customer commented. "I've had the pistachio about four times," he continued, though this time around he ordered the pumpkin cake ice cream.
Paletas La Desi even has a tequila ice cream, and yes, it tastes like tequila.
But if you are looking for sweet, try the Gansito ice cream.
"Gansitos are like a Mexican Twinkie," Paletas La Desi staff member Natalie Rivera said of the Gansito, a popular snack cake among the Hispanic community. (like a Twinkie, only with strawberry jelly . . . and covered in chocolate). The Gansito ice cream has bits of these snack cakes mixed in.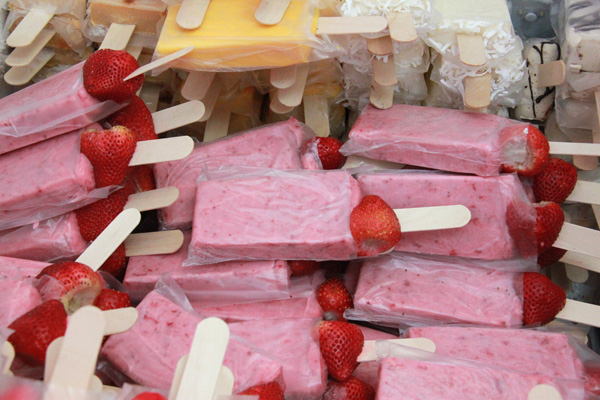 The shop also offers ice-cream-like treats that are water-based, rather than milk-based (sorbets of sorts) in flavors including, but certainly not limited to, watermelon, cucumber, strawberry and guava. Don't be intimidated, the staff will give you a sample of anything you like if you want to try before you buy.
The mangonada has already become a customer favorite; this unique concoction blends sweet and spicy by combining mango ice cream, sweet chile sauce, lime juice and chili powder.
"We also make milkshakes, yogurt, banana splits," Rivera continued.
A customer then placed an order for what is known as Tostilocos, roughly translated: Crazy Tostitos!
A small bag of Salsa-Verde-flavored Tostitos corn chips are torn open in a manner that allows toppings to be added, like nachos. Rivera detailed the toppings: "Cabbage, pico de gallo, Japanese peanuts, sour cream, avocado, pork skins and cheese."
Paletas La Desi owner Christobel Arsiga grew up in the Mexican state of Michoacán, and now brings his tasty frozen treats, and crazy Tostitos, to the people of Murfreesboro.
He said the Murfreesboro store is only a prototype, adding that he has plans to open a Nashville location on Nolensville Road in the coming months with his business partner, Ronaldo.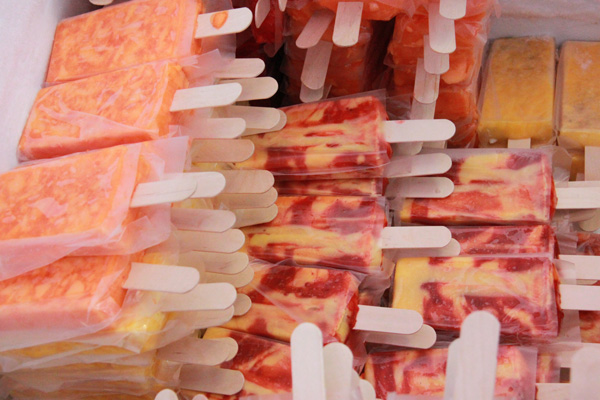 The Murfreesboro location may have 40 flavors of popsicles, "But I want more!" Arsiga exclaims. "The store in Nashville will have room for 60 kinds."
He says he plans to name the Nashville store Michoacánan Golden, after his home state.
Desi, by the way, is the daughter of Ronaldo, for those curious as to how the Murfreesboro location got its name.
So as summertime temperatures come and you find yourself needing a cold, exotic treat, try out Paletas La Desi and support these creative entrepreneurs. There really is something for everyone, from Gansito to avocado, cucumber to mango, tequila to chocolate.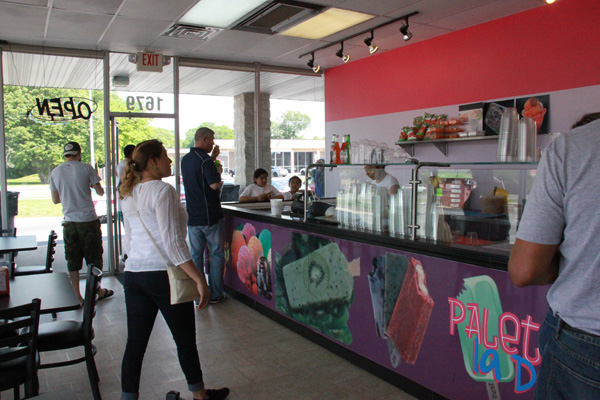 The Dish
Paletas La Desi
Water-based popsicle: $2; Milk-based popsicle: $2.25; Mangonada (chica/small): $3.50; Ice cream (chica/small): $2.50
1679 Middle Tennessee Blvd.
3–8 p.m., Tuesday through Friday; 12–9 p.m. Saturday and Sunday
Find Paletas La Desi on Facebook