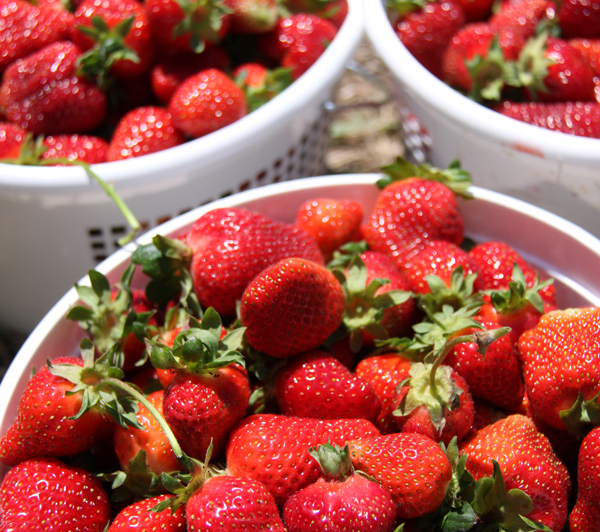 If you buy your fruit year-round at the grocery store, you may forget that May through July are the times to get ripe, sweet, juicy, Tennessee-grown berries, fresh from the plant, and, in most cases, unharmed by pesticides and fungicides.
Strawberries, blackberries, cranberries and raspberries are the fruits highest in antioxidants, according to whfoods.org. The polyphenols in strawberries can help reduce blood sugar elevations from simple sugar intake, and are great for those with type 2 diabetes. The nutrients in strawberries also serve as great anti-inflammatories when consumed regularly.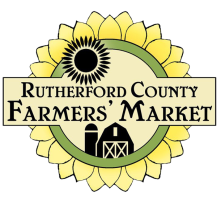 Blueberries are also believed to not only improve memory, but to also slow down or postpone the onset of other cognitive problems associated with aging. And organic berries have higher concentrations, so grab them straight from the vine!
Tennessee is not shy of pick-your-own berry patches that provide healthy fun for the whole family. Their fruits are not only fresher and healthier to eat than store-bought fruit, but also a great way to get educated on farming and to support your local growers.
If you are looking for pre-picked berries in the area, visit the Rutherford County Farmers' Market every Tuesday and Friday at Lane Agri-Park (315 John R. Rice Blvd.) with vendors from more than 20 Middle Tennessee counties selling home-grown, organic seasonal fruits and vegetables, meats, eggs, baked and canned goods, flowers, plants and more from 7 a.m.–noon. For more information, call (615) 898-7710 or visit extension.tennessee.edu/rutherford.
Pick Your Own Berry Farms in Rutherford County:
P and P Farms (Strawberries)
2841 East Jefferson Pike, Lascassas. Contact (615) 812-8788 or shucknshack@yahoo.com
Call for hours and availability.
"Berry picking at P and P Farms is a good way to introduce summer. It's a great weekend activity for the whole family! It's nice because the kids love doing the work and we [the parents] get to reap the rewards. Berry picking helped my children learn about farming and where food comes from. It was very educational. We use them to make preserves and freeze them for winter." Lisa Swader, attended May 2014,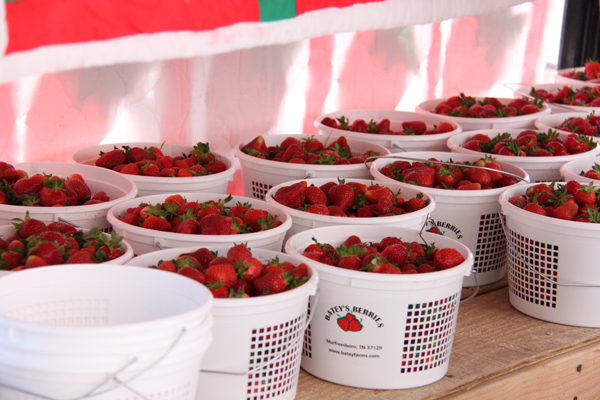 Batey's Berries (Strawberries)
3250 Medical Center Pkwy., Murfreesboro
Call (615) 848-4178 or visit bateyfarms.com/strawberries
Tuesday through Saturday 8 a.m.–6 p.m. and Sunday 1–5 p.m. (dependent upon weather and berry availability)
Batey Farms, a family owned and operated hog, row crop and hay farm in Blackman, opened a berry patch near the Rutherford County Chamber of Commerce a few years ago.
"The strawberries are delicious! It's a great family-fun activity and we always take home a mountain of berries. We plan on going again and are eager to pick. You pick your size basket, and although you risk a lot getting picked early on, they only seem to get bigger and riper!" Jessica Madachik, attended May 2014.
Andrews Berry Farm (Blackberries, thornless)
6363 Cooks Lane, Smyrna
Call (615) 459-3343
Est. early July, open Monday-Saturday 8 a.m.–7 p.m. Call in advance to verify.
"We have been around for 40 years. Blackberries need rain, so I'm looking forward to a lot of rain this year!" Marvin Andrews, owner, May 2015
Double Deuce Produce (Raspberries)
119 Yukon Ct., Murfreesboro
Call (615) 678-9242 or tnproduce@gmail.com
Open late June. Monday–Saturday, 8 a.m.–7 p.m.
Offers beans, cucumbers, onions, peppers, tomatoes and has a gift shop and concessions/refreshment stand.
"Raspberries are a hot topic. Not everybody can find them around here. We have new some new types of peppers this year and a new snow leopard lemon. We are also really excited about the green beans," says owner John Marshall.
Blueberry Patch (Blueberries)
5942 West Gum Road, Murfreesboro
Contact (615) 893-7940
Open the first week of July through second week of August. Tuesday, Thursday, Friday and Saturday 7 a.m.–7.p.m.
The Blueberry Patch has more than seven acres of blueberries using no pesticides, has a shaded playground, picnic table, restrooms and a water fountain for the whole family to enjoy outside.
"We started this because my husband felt like families didn't have farms anymore, and we wanted children to learn and families to get out and about," says owner Angie Kleinau. "This farm was planted over 30 years ago when not so much was known about blueberries and how healthy they were. My husband wanted a crop that would pay for the farm. It didn't, but instead we fell in love with the families that came to pick [berries].The people and families are the best part, people who want to eat healthy.
"[Growing berries] is a lot of hard work," explains Kleinau. "It took us seven years to get a commercial crop. We have friends in the commercial [berry] business in Alabama, and they are still are great mentors. We had to learn with the cold weather things like frost irrigation work, freeze protection layers and using overhead water to protect the berries; you only have a window of opportunity or all the berries are destroyed. We have about 3,000–4,000 berry bushes. We are very fortunate now having learned so much, and we get lots of honey bees which is good for pollination. I do a lot of the farming now, and my four nephews, Trey McFarlin, Patton, Allen and Brian Lane all helped this family business when they were young boys."
__________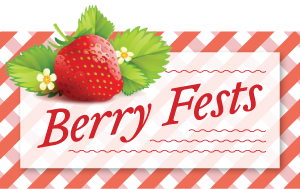 Some Berry Festivals in Tennessee to check out!
Nashville Strawberry Festival
May 15–17
Nashville Farmers' Market, 900 Rosa L. Parks Blvd., Nashville
This weekend celebration of the strawberry includes a strawberry shortcake recipe contest, demos by chefs, a strawberry eating contest, costume contest, live music, a Sunday "Berry Brunch" and more.
Visit nashvillefarmersmarket.org.
75th Annual Portland Strawberry Festival
Begins May 9 with activities all week
Visit portlandtn.com
2015 Tennessee Strawberry Festival in Dayton
Through May 16
Visit daytontnchamber.org
__________
RECIPES: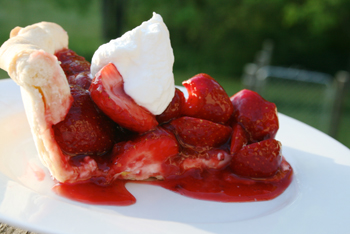 Old-Fashioned Strawberry Pie
Ingredients:
1 sheet refrigerated pie pastry
1 pkg (3oz) cook-and-serve vanilla pudding mix
1 ½ cups water
1 tsp lemon juice
1 pkg (0.3 oz) sugar-free strawberry gelatin
½ cup boiling water
4 cups sliced fresh strawberries
3 oz reduced-fat cream cheese
2 cups reduced-fat whipped topping, divided
1 tsp. vanilla extract
8 fresh strawberries
Preparation:
1.) On a lightly floured surface, unroll pastry. Transfer to a 9-in pie plate. Trim pastry to ½ inch beyond edge of plate; flute edges. Line unpriked pastry with a double thickness of heavy-duty foil. Bake at 450° for 8 minutes. Remove foil; bake 5–7 minutes longer or until lightly browned. Cool on a wire rack.
2.) In a small saucepan, combine pudding mix, water and lemon juice. Cook and stir over medium heat until mixture comes to a boil. Cook and stir 1–2 minutes longer or until thickened. Remove from heat; set aside.
3.) In a large bowl, dissolve gelatin in boiling water. Gradually stir in pudding. Cover and refrigerate for 30 minutes or until thickened. Fold in sliced strawberries. Transfer to crust.
4.) For topping, in another bowl, beat the cream cheese, ½ cup whipped topping and vanilla until smooth. Fold in remaining whipped topping. Cut a small hole in the corner of a pastry or plastic bag; insert a medium star tip. Fill with topping. Pipe topping around edges of pie; garnish with whole strawberries. Refrigerate for at least 1 hour.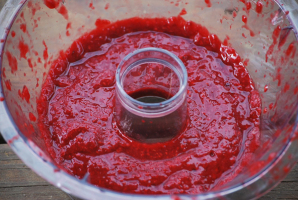 __________
Strawberry Puree
Preparation:
1.) Puree fresh strawberries in a food processor, adding a little sugar or honey to taste, if desired. (Some say a small amount of lemon juice helps bring out the strawberry flavor).
2.) Liquify, and use the berry puree for strawberry lemonade, as a pancake topping, as a salad dressing or in cakes, pastries or other baked goods.
__________
Strawberry Jam without Pectin
Ingredients:
8 to 10 cups of fresh strawberries, washed, hulls removed
6 cups of dry, granulated (table) sugar (can substitute honey)
Equipment:
8 eight-ounce jars (or 4 pints)
Jar funnel
At least 1 large pot
Large spoons and ladles
1 canner (a huge pot to sanitize the jars after filling)
Ball jars, lids and rings
Preparation:
Tip: Don't increase the recipes or the jam won't thicken.
1.) Mash the strawberries but don't completely crush them. Meanwhile, warm the lids in hot (but not boiling) water.
2.) Mix the berries and sugar; bring slowly to a full boil, stirring occasionally until sugar dissolves. Boil to a gel.
3.) Once sugar is dissolved, cook rapidly to the jellying point (depending how firm or soft you desire). As mixture thickens, stir frequently to prevent sticking.
Remove from the heat.
4.) Take a half spoonful of the mix and let it cool to room temperature on the spoon. If it's not thick enough, it is recommended to add more sugar (about 1 cup) and 2 tablespoons of lemon juice and bring it to a boil again for 1 or 2 minutes.
5.) Skim any excessive foam (can be saved for future jam). Let stand for 5 minutes and stir completely.
6.) Fill the jars and put the lid and rings on.
7.)Process the jars in the boiling water bath (covered with at least 2 inches of water. Keep the water boiling. See chart online for how long.)
8.) Let jars cool.
(Courtesy pickyourown.org)