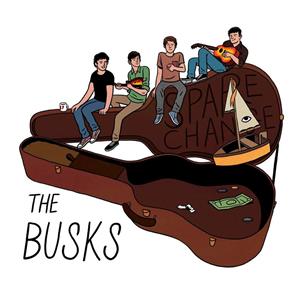 There's no denying the frustration when a well-crafted album slips past my radar, leaving myself wondering, "Where was I when this was released?" yet it's all too liberating when I cross its path. That was the case with The Busks' Spare Change LP, released last October, which had me pondering how a relatively new band packed this much talent—22 tracks, to be exact—into its debut release.
The Busks—Justin Holt, Dylan Miller, Jacob Miller and Wesley Sadler—have a formula, and a good one at that. They pull from several influential bands such as 1960s power-pop pioneers The Kinks ("That's All We Need") and The Beatles, while even Neil Young-inspired vocals can be heard on "Life Comes and Goes." Through all-original lyrics and diverse instrumentation, you'll hear punchy melodic lines, distinctive harmonies, memorable guitar riffs and a lot of songs about love and leaving.
The album's strong yet gentle opener, "Let Me Be Free," is an angst-filled struggle to break free that immediately reveals the theme of the album with defiant lyrics such as I know I've got to go there, I know I need to be. The music flows freely into "Break My Heart," a punky track that wields slight distortion and a chorus heavily influenced by early Beatles.
While "Sail the Sea" is probably the track most consistent with the album's recurring theme of new experiences, it stands apart with its ethereal, folky atmosphere. The subtle yet somehow haunting harmonies complement its composition, and the lyrics are undeniably relatable:
I want to leave my home
I should leave before the storm
I can make it on my own
With the ways that you have shown me
We must come into our own by breaking free from our own fragility, and The Busks have a beautiful way of conveying this through their music.
Standout tracks include "I Wish You Could Tell Me Something," "Ugly Girlfriend" (featured on Nashville independent radio station Lighting 100 last January) and the aforementioned song "Sail the Sea," however, there's something to appreciate on each song.
Final thoughts: once you're jolted into the album, it's almost impossible to leave. The Busks, some of Woodbury's finest musicians, have assembled the songs like a puzzle; each one is cut differently, yet they all fit together perfectly. I predict this group will be going places.
To listen to the band's new single, "Sunbeam," visit thebusksmusic.com.