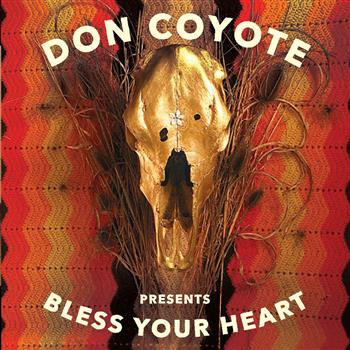 Like sweet tea, honeysuckle and home-cooked meals, the phrase "bless your heart" is a truly Southern thing, rarely uttered anywhere north of the Mason-Dixon line. These three words can either calm your nerves or rattle your bones depending on its context, and that's the vibe Nashville's own Don Coyote accomplished on its LP with the same name.
The 11-track album, released this past April by Delta Dime Records, pays homage to traditional country & western by giving the genre a modernized spin with a dash of satirical humor.
Don Coyote captures the essence of real country on this album. The opening number, "Interstate Rag," begins in full swing with a spirited tale of an unfortunate soul who can't catch a break. Maintaining the travel theme, the harmonica-driven "Great Divide" follows, taking the listener on a somber journey of love and longing for "better days" and showcasing all the ingredients necessary to make a great country record. Later in the album you'll hear "Canary In a Coalmine," a song tailor-made for someone special and one that is among the album's highlights.
Bless Your Heart is one of the better country albums released this spring, and it is a reflection that this band is developing into one of the best up-and-coming country acts in Middle Tennessee. This album is a good place to start if you favor traditional country music over modern country radio. It falls right in place as a soundtrack to a summer road trip or a Friday night at the honky-tonk.
For more information on Don Coyote, visit facebook.com/doncoyoteband or check out Bless Your Heart available on Spotify and doncoyote.bandcamp.com.