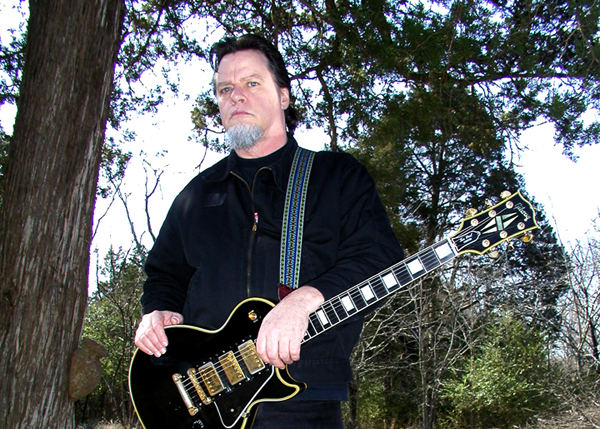 Nick Kane's résumé is the kind desired by many musicians. The son of an opera singer, Kane grew up in Europe where he played guitar full-time in several bands with styles ranging from German punk to glam-rock in London before returning to the U.S. in the '80s. While in the States, Kane has performed with countless bands spanning many genres including, but certainly not limited to, blues, punk-rock and psychobilly before receiving a Grammy in 1995 for his work as lead guitarist with country-pop group The Mavericks.
In 1999, Kane released his instrumental solo effort Songs in the Key of E, and has since come to incorporate vocals into both his 2013 EP Into the Blue and his latest single, "At the End of His Line." However, before releasing his next album later this year, Kane will take the stage at Hippie Hill's annual Afteroo on Monday, June 15.
Murfreesboro Pulse: Now I understand that you grew up in Europe, but you were born in Georgia, correct?
Nick Kane: Well, that's a mistake, actually. There are a couple versions of my bio floating around out there, and I'm partially to blame for that confusion. To set the record straight, I was born in New Jersey. I never actually lived there. . . . My folks were passing through, I popped out, and we kept on going. I lived in the States until I was about 8 and then we moved to Germany. My father was an opera singer and a businessman, and I lived there until about 1978—I was about 25 years old—and that's when I came back to the U.S.
How did growing up both in a musical environment and outside of the United States mold your career as a musician?
It was interesting, because my earliest interest was in folk music, country and blues for some reason. My only contact to the American music scene was through a monthly music magazine called Sing Out! Magazine. I read that when I was about 10 or 11 years old.
However, I truly grew up on British rock, blues-rock and prog-rock in the late '60s and early '70s. I was right in the middle of it, and it was all around me back in those days. It was the great early stuff.
Can you talk a little about some of the bands you listened to during that time?
In the earlier days, of course, it was always The Beatles, The Stones, The Kinks . . . I loved The Kinks. Hendrix, also. All of them. I can recall owning Cream's first record, Fresh Cream. I really loved that one. I also liked the very, very early Deep Purple, but then I eventually got into Zeppelin and a lot of prog-rock. I think I loved prog-rock so much because I grew up in a classical household, and it was something I could really relate to. There were a few bands in particular called Gentle Giant, East of Eden and The Beggar's Opera. Those were the bands playing music festivals at the time. Honestly, I was pretty much into everything.
There must be a few guitarists who've influenced your style in some way.
The earliest guitar guys for me were Rory Gallagher and his band Taste. Guys like Ritchie Blackmore. Also Peter Green, with the original Fleetwood Mac, ya know, cats like that.
You've been in many different bands that span a wide variety of genres. Would you say that influences your style today?
Even as a musician I've been fearlessly known to play with a band just to get an experience out of it. All of the '70s were spent playing in what we called "variety bands," what we now call Top 40 bands. I picked up a lot there, and then during the early '80s was the same deal. I played in some R&B and soul bands, rock and country acts. However, from the mid-'80s on, I focused more on making original music that began as garage-rock and then I switched heavily into the blues, and that stuck with me for a long time.
How does your creative process differ as a solo artist compared to when you were in other groups?
It's a funny thing; for the longest time, and, really, up until a couple years ago, I only wrote instrumental music, and a lot of it. I also put out several instrumental records. That was my thing. I would basically think of a three-piece band as a three-piece chamber orchestra, playing blues, rock or rockabilly—didn't matter. I always had the musical ideas, but I honestly can't tell you how it happened; they would just come to me. I'm not ashamed to admit that some of my best inspirations came to me while I was having a spectacular hangover [laughs]. You know, the morning after a crazy night sometimes brings the best inspiration, and I don't know why that is. More often than not, I used to have more musical ideas than lyrical ideas, but during the past couple years I've been focusing on actually writing songs with lyrics. I've recently gone through a phase where I've three songs in my head with all lyrics and no music. That's a completely new thing to me. There's no real process . . . things just come to me. I will try to make something out of anything. If I have even the smallest idea I'll try to expound on it. I mainly have fun because I'm not writing for anyone but myself. But, of course, I want the people listening to be entertained, so I take that in account, too.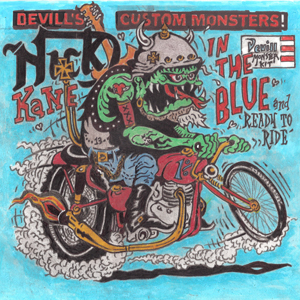 It's been two years since your EP In the Blue, and you recently released a single called "At the End 0f His Line." On top of that, you plan to release an album at the end of the summer. What all went into the making of this album?
It's been a piecemeal process. I started recording five tunes last summer, but a few things came up that threw me completely off track. I may actually end up re-recording all of them because I've been performing these songs a lot since then. It's the kind of project where I go into the studio, put down the guitar and vocals to a click track, and then I'll pick up drums, bass and keyboard along the way. I easily have six or eight tunes I need to get down, and I'm hoping by the end of July to have everything completed.
Are you recording these songs in Nashville?
Yes, I am. It's funny, because I have so many friends who each have studios. See, I never personally made it out of the tape era—I still have a 4-track that I cut demos on. I never got into the digital recording, so I'm really at the mercy of my friends who have recording studios in their home. It's all very comfortable and down-home. Thankfully I've made some great friends in Nashville over the years who are also great musicians, and I'm very happy to work with them.
Finally, you're playing Afteroo this year.
That's right. I'm really looking forward to it. I'm so intrigued by it, and I can't wait to get out there. I've been looking at the other artists, and it looks very diverse. That's what I like. Back in the '70s I'd go to music festivals and see bands who were polar opposites of each other one after the other. That's what it was like back then. There was no scheme, no template. If it was good and original, they'd play. Today everything has to fit a certain mold and everyone is worried about selling tickets and products, but it's not always as good that way. I'm all about the diversity.
~~~
Nick Kane will take the stage at Hippie Hill's Afteroo on Monday, June 15, at 8 p.m. For more information on the festival, visit Hippie Hill's facebook page at facebook.com/hippiehilltn or hippiehilltnhhk.org.
Here's a little vintage Nick Kane guitar work with the Mavericks on Conan: