Mel O'Drama Theater, which produces dinner theater events at various Middle Tennessee venues, made its Murfreesboro debut in April with Will to Deceive.
The production was a success, entertaining patrons at the Big Bang on the Square, and Mel O'Drama will soon return; coming in June to the same location will be The Hatfield-McCoy Wedding Reception.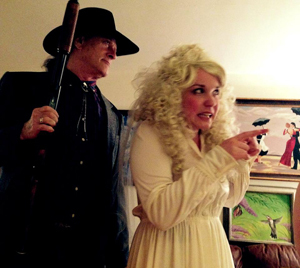 Come join the wedding party; Tammy Mae Wynonna Lynn Patsy Reba Faye Loretta Dolly McCoy (Tammy Mae, for short) is a spunky, fiery, buxom blonde who is a bit too boy crazy for her own good. She is having the wedding of her dreams, but under forced pretense. Being that she is currently 6 months pregnant, her father is instilling his right, and his sawed-off barrel, for a shotgun wedding . . . but what's a shotgun wedding without a touch of Maury anyway? Right, y'all? Groom No. 1: Troy Hatfield, the ill-fated boyfriend, soon-to-be-husband of Tammy Mae. She is the apple of Troy's eye, even though the feud between his family and hers have made it quite difficult for them to be together . . . they have ways, but is Troy really the father? Groom No. 2: Budd Hicks, A suave city slicker with a goatee and a cowboy hat (the only items differentiating him from Troy). He met Tammy one night at a bar and the rest is history. Groom No. 3: Leroy Manichevitz, the only known western Hasidic Jew cowboy. He came out here to be the town's new (and only) Rabbi and, instead, had a tryst with Tammy.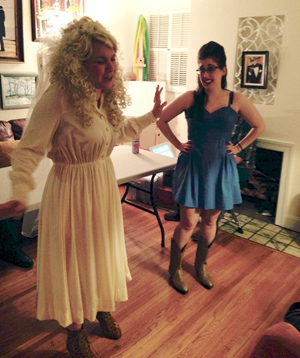 The show also features the mother of the bride, Peggy Sue Rae McCoy, a woman who truly believes the bigger the hair, the closer to God. Despite her boozy haze and her wisecracking remarks, she is truly a loving mother and wife, regardless of the bad rap she gets. Father of the bride, Vince McCoy—a take-no-prisoners, my-daughter-is-Daddy's-little-angel type of man—will weep for his daughter and shoot that can of beer out of your hand all at the same time. He is here to make sure the man who "helped" his daughter to the wedding chapel sooner rather than later makes it all the way through. Trouble is, which man is it? The maid of honor, Amy Lou McCoy, is cousin and best friend of the bride. She does mean well, although her big mouth usually gets her, and those around her, in trouble. She is very beautiful, the winner of several beauty pageants . . . and that's about it. There isn't too much under that finely coiffed and Aqua-Netted hair. DJ Archie Scribbles, a.k.a. Archie McCoy, is the nephew of Peggy and Vince. He's family, but he tries to distance himself from the McCoy name, hence the alternative persona. He tries to be "hood" because that's what all the good DJs do, but his family is all about country, which isn't good for his street cred. He does his best with livening up the party, though—not that the party needs to get any livelier than it's already become!
The Hatfield-McCoy Wedding Reception will be staged at the Big Bang, 114 N. Church St., at 4:30 p.m. Sunday, June 7. For tickets or more information on Mel O'Drama, visit melodramatheater.org.