December 12, 2014: The Day I Met Todd
A young man sinking into an icy cold bench lets out a long sigh. He has an athletic build and is 22 years old. The man has a light, handsome structure: buzz cut, blonde hair and eyes so blue they are like tinted winter windows, but scars on his temples and a busted lip mar his gentle facial features. This was the day I met Todd Craigue.
His clean-shaven face and dapper fashion sense would suggest he is just another man sitting and enjoying the day, but we are sitting outside The Journey Home in Murfreesboro. The Journey Home is a homeless resource center.
Todd has been homeless since he turned 18 and was forced to leave his adoptive parent's house. After going through the foster care system since he was 4 years old, he found a home when he turned 10. His mother raised him with seven other siblings. He grew up with five sisters and a brother named Torre. His sisters' names are Starr, Summer, Spring, Sunshine and Sky.
Todd looks confused about my arrival at The Journey Home.
"What are you doing here?" he asks with one eyebrow arched.
He speaks with a Southern drawl as smooth as a song. He knows I'm not homeless. I happen to be chatting with a few friends at The Journey Home keeping my eyes out for a different man, but I stop to meet Todd.
"Just hanging out," I respond.
He stands up and walks back inside The Journey Home to get his coat. He didn't think it would be so cold, apparently. It's 34 degrees outside today. His short-sleeved American Eagle shirt fitting closely to his body needs some company.
For the better part of an hour, Todd tags along to talk with the others and me. Eventually, I make my way to a homeless camp that he was not allowed to visit, so Todd and I part ways.
Todd likes to hop from place to place to find computers to use. He starts at The Journey Home, makes his way to the Stones River Mall, and ends up at the Linebaugh Public Library. He enjoys watching YouTube and keeps up with his friends on Facebook.
I'm walking towards the library with the others from the Journey Home and I see a blond-headed boy standing in the doorway. It's Todd.
"You busy, Todd?" I ask.
He said no and looked around as if implying he's never truly busy, so I took him out to Starbucks on North Rutherford Boulevard.
"You look very pretty, by the way," Todd says kindly as we walk to my car.
"Thanks," I said. "I normally don't look homeless."
Todd wears a smile, understanding that my past stories called for ragged attire. Earlier today, when we first met, I was dressed like a homeless woman to get into The Journey Home. When I write stories, I like to fit in with the crowd I write about. Now I have had a shower, put on makeup and brushed my teeth, so he was looking at a completely different woman.
"You drive this?!" Todd asks jokingly.
He jumped into my 2002 VW Bug with a big smile. He used to hate Volkswagens, but he says he likes them now. He hasn't been in one for years.
As we pull up to the Starbucks, Todd unbuckles his seat belt and leaps out of the car with excitement. He is always conscious of other cars around him, though. Todd worries about hitting other cars with the door.
We stayed in the coffee shop until the sun went down. For hours Todd spoke of his past, present and future plans.
Todd is autistic. He has Asperger's, a speech impediment, ADD, ADHD, and other mental disabilities that eventually helped cause him to be homeless. At first glance, there is no evidence of homelessness or mental disabilities.
He is estranged from his family, who reside in Manchester. Todd threatened his mother after she abused him in the past, so she kicked him out of the house when he turned 18. He has been living on the streets ever since.
He migrates from under bridges to benches, and sometimes he falls asleep in the mall. He started his homeless journey in Smyrna and made his way here to Murfreesboro to be with his cousins.
Todd attended school at Coffee County High School. He then attended a trade school called The Tennessee Rehabilitation Center. This is where he first fell in love. Lillian was her name.
Flashback: Days with Lillian
Although the school didn't allow public displays of affection, Todd and Lillian held hands all the time. Todd says they were dating, but the school thought otherwise.
Lillian has severe memory loss. Sometimes, she would wake up in the morning not knowing who Todd was. He tried to tell Lillian they were dating. According to Todd, the school told her they were just friends.
One night, Todd set up a romantic date for Lillian. He put rose petals on the floor around a fireplace with two wine glasses of grape juice. Her glass had a ring in it. Todd says he wasn't proposing and it was just a gift.
Lillian has severe brain cancer. She didn't tell Todd until after the romantic night. Todd gave her a big hug and the school knew what was going on, so they let the public display of affection pass. Todd hasn't seen Lillian since that day. She had surgery and he never saw Lillian again.
Todd did propose to his more recent girlfriend of three years, Rebecca. He got her a $70 ring and knelt down on one knee in front of a gathering of people at the Stones River Mall. The mall was their favorite place to walk and talk.
She said yes, but two weeks later she left his life. Todd ended up going to jail for stealing a bike, behavior she was unwilling to accept.
But since, Todd says he gave his life to Christ and has been living a healthier life. He tries to stay away from drugs and alcohol, but, sometimes, his friends pull him back into his old lifestyle.
Dec. 13, 2014
The day after I met Todd, he was volunteering for the first time at Last Call 4 Grace. This organization takes food to three local motels: Regal Inn, Imperial Inn and Murfreesboro Motel. He usually just eats and leaves, but this day was different.
While walking to Last Call, Todd asks me all sorts of questions. I told him about my mom, who passed away when I was 16, and how she used to play the song "Für Elise" on the piano for me before bedtime.
"This is my favorite place," he says excitedly as we walk towards Concert Musical Supply.
He runs inside and says hello to the workers. He walks around the music shop, running his hands over all the instruments. Todd is a very talented musician. He taught himself to play guitar and piano by ear.
Todd sits on a piano bench and scoots closer to the mini-grand piano in front of him. He starts playing a song.
"Do you know what song I'm playing?" he asks me.
He is playing "Für Elise," my mom's song. With tears welling up in my eyes, I listen to him play until it's time to volunteer next door.
Surprisingly, many homeless people volunteer with Last Call 4 Grace. After volunteering at the three local motels handing out food, some homeless volunteers take food to go. Todd usually does this.
Dec. 24, 2014: Christmas Traditions
Todd doesn't have a place to stay for Christmas, considering his family situation.
"My family used to have this tradition," says Todd. "We would get a pizza on Christmas Eve."
"That's cool!" I say. "My family had a tradition of spaghetti on Christmas Eve . . ."
Later, we make our way to a take-and-bake pizza joint to pick up a pizza Todd and I can make together. I invite Todd over and he is thrilled by the holiday tradition being resumed. After finishing our pizza while watching TV, Todd starts dozing off.
"Well," says Todd, "I guess I'm goin' to Church Street."
"Why?" I ask.
"I am sleeping on the streets, remember?" Todd asks.
Oh yeah . . . the Coldest Nights Shelter that houses homeless individuals in cold weather closes at 9 p.m. It is currently 10 p.m.
I let Todd stay and sleep on my couch for the night. No one should be alone under a bridge on Christmas.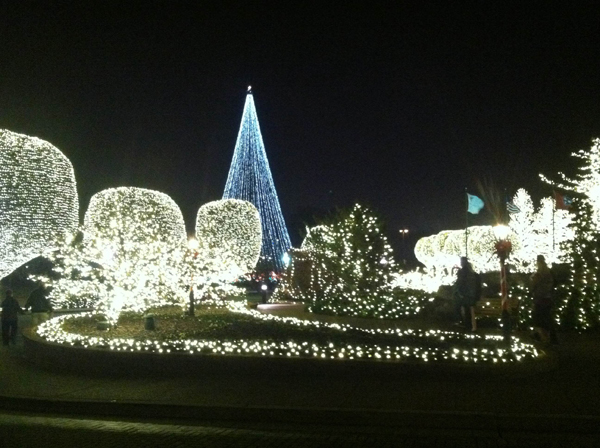 Dec. 25, 2014: Christmas Day Adventures
Todd and I decide to venture to Nashville to see the lights at the Opryland Hotel. He hasn't ever been there before, so we think it will be a good Christmas activity. My best friend Joanna came to visit from Georgia, so we all go together.
Just approaching the hotel, the sight is overwhelmingly beautiful. A giant poinsettia tree fixture is centered in front of Opryland and multiple real trees are lit up around it. The lights are the same every year, yet somehow they are still spectacular and like new every time I visit.
On the way home, Todd suggests we do my family tradition of spaghetti for dinner. We make meatballs and cook spaghetti noodles.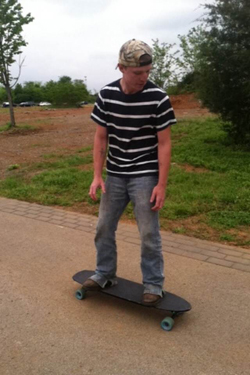 April 2015: Todd's Current Life
Todd recently found a home. A family of four residing in a trailer has taken him in. After meeting Todd at a poverty alleviation breakfast, the Tidwell family unofficially adopted him. He does lawn care for the family as a daily chore and takes care of their three dogs. Todd has become like family to the Tidwells.
Mary, a mother of two girls, runs a small library out of the trailer where Todd now resides. There is a small poster board sign outside the trailer with handwritten sign that says, "MT Library." I later learned that Mary started her own small business to help children learn how to read.
May 2015: Landing a Job
Lately, Todd and I have been job hunting after church. He wants to find a job so he can pursue his goals of making a better life for himself.
As an incentive to work hard, I tell Todd we can hang out afterwards anywhere he wants to go.
After I help him make a résumé, cover letter and letterhead, Todd applies for a job with a landscaping company. To our surprise, he gets a call 20 minutes after he applied. He is offered the job, so we go to the park to celebrate. We crash a prom by accident, which ends up being a great picture opportunity. Later, I teach him how to longboard. He is very talented and learns quickly, even with a new hobby like longboarding.
Now, he goes on occasional fishing trips with his new boss, and he always has positive updates about his life.