A few miles off of I-24 in Coffee County flows one of Middle Tennessee's hidden gems.
Rutledge Falls is not a state park, so there are no clear signs directing travelers to the falls, nor is it heavily promoted as a scenic destination.
Rutledge Falls is a beautiful sight: a waterfall, swimming hole and creek under a shady canopy of old trees.
A small parking area across from Rutledge Falls Baptist Church signifies that you have found the right place.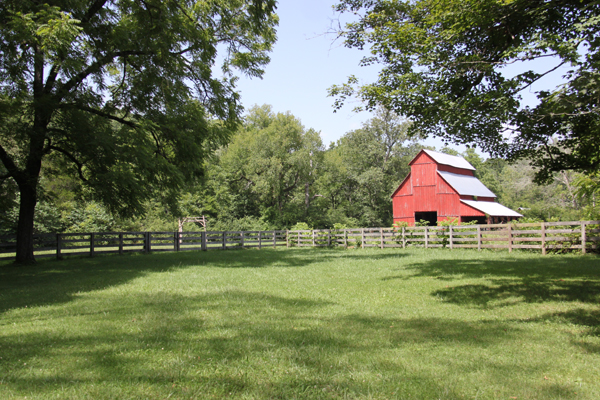 The land surrounding the falls is private property, but the owner was nice enough to leave an opening in the fence and create a pathway to the falls. A sign welcomes visitors and requests that they simply have a little common sense and basic respect for the place: don't leave trash, be careful on the slippery rocks, leave at dark and so on.
The very short trail leads to the forest, where visitors get a glimpse of the waterfall. A small iron statue, a figure of a woman, gazes over the falls from above. (Come to find out, this statue was once on display at the Tennessee State Capitol.)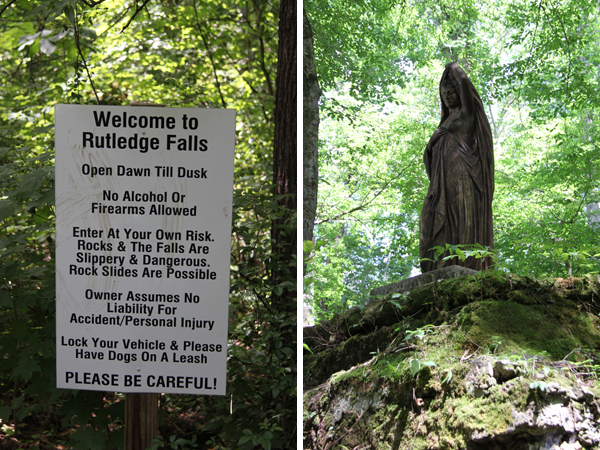 Though the descent is slightly steep and rocky, with a little caution, almost anyone can make it to the base of the falls.
Picnickers and photographers surround the swimming hole at the bottom. Those wanting to relax sprawl on rocks and just listen to the sound of the falls, while the more adventurous swim or even climb to the top of the falls, nearly 40 feet above the surface, for a daring plunge into the water.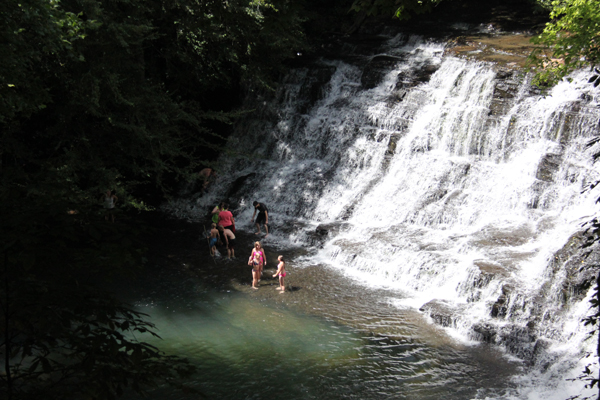 Just below the waterfall, a rock ledge extends for a few feet before dropping off into a deeper swimming hole that looks to be 6 to 10 feet in depth.
The area around the base of the falls is heavily shaded, so even on a midsummer day with temperatures in the '90s, the air temperature is comfortable, and the consensus among those at the waterfalls is that the water is actually cold. But that doesn't stop a handful of swimmers of various ages from taking a little dip.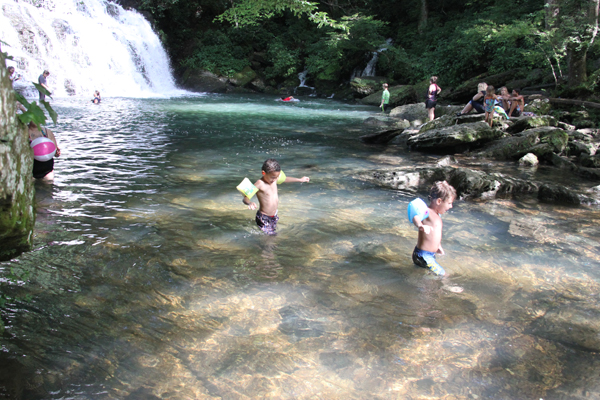 Crumpton Creek, the body of water feeding the falls, eventually empties into Normandy Lake and the Duck River, great spots in themselves for some summer fun on the water.
To check out Rutledge Falls for yourself, take I-24 to Exit 111 and turn left, heading towards Tullahoma; travel 5 miles and take a right on Belmont Road; after a little more than a mile, turn left on Rutledge Falls Drive; turn right on Rutledge Falls Road at the church, and you are there. Enjoy the cold waters below Rutledge Falls while the summer is still upon us.