This May, a small but rowdy group of vagabond friends planned a road trip that began simply enough. But as the trip got closer and closer the plans got more and more elaborate taking us through Memphis, Dallas, Austin (and a stop at the Psych Fest/Levitation), New Orleans and culminating at the Hangout Festival on the Gulf Coast in Alabama.
We arrived in Gulf Shores, Ala., late at night on Thursday, May 14. In what was partially an effort to save money and partially just a lack of options, we ended up camping at Gulf State Park two miles away from the festival grounds. We decided to rent bikes and just cruise the two-mile shoreline ride to the festival.
The first act we really caught in its entirety was Break Science with their late Friday afternoon set, which set off our festival mood nicely. We kind of stumbled on this show accidentally while hoping to see Lupe Fiasco, which we found out later had cancelled. Break Science was not a disappointing substitute, and we got our questionable dance moves on to the beat-heavy sounds this impressive duo delivered.
The second most notable show of Friday night was the headliner: the ever-energetic Foo Fighters. Dave Grohl and company took the stage with the energy of a high school garage band out to take on the world. Delivering songs from throughout their catalogue, 46-year-old Grohl dominated the huge main stage like it was a hometown dive bar, and the intimacy they delivered made the crowd feel it too.
After a glorious late-night swim in the cool, dark waters of the gulf, we began our bike ride under the star-filled sky back to our campsite to try and get some rest before the morning heat woke us for the second day of the festival. The Rastafarian sounds of Damian "Jr. Gong" Marley greeted us appropriately as we came back onto the sandy festival grounds on Saturday afternoon and wandered around to see what other sorts of entertainment the festival had to offer. In an attempt to find access to the water, our now 6-person group of partiers stumbled into a small tent simply titled "Whatever" where a DJ was laying down a funky blend of old and new sounds that we couldn't resist stopping to shake our booties to. There happened to be paint around for some sort of participatory art project, intended for the provided canvases, which somehow ended up covering our dancing crew from head to toe. The toxicity was probably questionable, but the fun undeniable. Looking like a group of sloppy walking rainbows, we found our way over to the Skrillex show and wobbled around like colorful static to his bass heavy beats, which bridged nicely into Major Lazer's blazing set to finish off our night.
Battered but not beaten, we mustered up our energy a little early on Sunday afternoon to catch the only Nashville band of the weekend, Natural Child. We took most of the afternoon easy, anticipating the night ahead, which kicked into high gear with TV on the Radio taking the stage around 5 p.m. Having seen this band multiple times at other festivals like Bonnaroo and even in the pristine acoustics of the Ryman Auditorium, I have to say this was the best I have ever seen this band live. They delivered with a perfect energy to set the mood for the last night of the festival, and after they finished we followed the sonic pathways over to catch Foster the People, then back again across the grounds to see My Morning Jacket. I have to admit, I have never given this band too much of a chance, but their show that night has had me looking them up since. Now all that was left to see was Beck . . .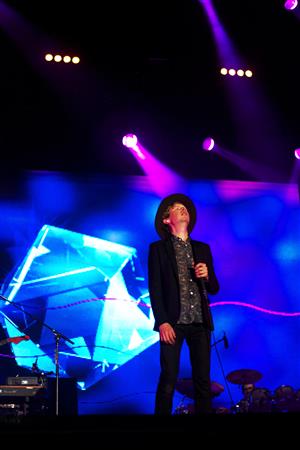 At some point during the evening I overheard some younger guy talking, and it hurt my soul a little bit when he mentioned that he had no idea who Beck was except that Kanye West had mentioned him negatively at some recent awards show. It's sad that the best act of the weekend, and one of the most original and prolific artists still active today, is only known by many people these days because he was bashed on by a self-aggrandized blowhard who can't even play an instrument. I don't particularly hate Kanye, but he just doesn't compare to an artist like Beck when it comes to sheer musical talent, as was evidenced Sunday night with his set to close out the festival. Taking the stage with dance moves only Beck can deliver and the song "Devil's Haircut," we were off to a funky good two-hour show. He got his crowd pleaser song, "Loser," out of the way early and kept right on dancing, even pulling out "Sexx Laws" and then "Debra" to simmer things down a bit. I knew this show would be good, be he exceeded even my high expectations.
Being a Bonnaroo veteran, I didn't really know what to expect, but I have to admit I had a more enjoyable time that weekend than I had the last few years at Bonnaroo. This was in part due to my epic travel partners, but you can't go wrong seeing some of the best bands around with sand under your feet and the ocean rolling a few hundred feet away. Cheers to Hangout Fest! Maybe I'll see you again next year.