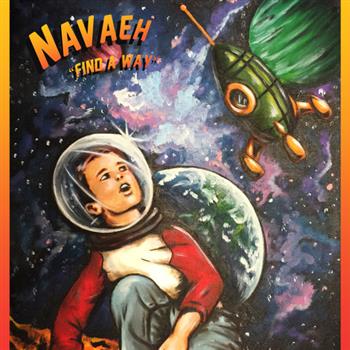 From Nashville-based Navaeh comes the group's newly released third studio endeavor, Find a Way, a nine-track effort full of punchy guitar lines, vigorous cymbal work and howling vocals. As of late, members Andrew Godfrey and Ernest Morris received local traction when Nashville's 102.9 The Buzz spotlighted the record's third track, "Fraud," as a "Buzz Cut of the Week."
Find a Way kicks off in full force with its title track, which adopts a sound strongly influenced by musical mentors and post-grunge rockers Foo Fighters. It's immediately followed by "Looking In," a song that harbors pure aggression. Godfrey sings:
Suffer the quiet, a lonely defeat
Take on the terror of when you retreat
Enlist the void that will never be filled
Sounds of regression lay high on the hill
While most tracks rock with intensity, many of the album's finer moments shine on the softer, more abstract compositions. A prime example is the astral-sounding track "Lemon Kisses," which features memorable and mesmerizing harmonies. Every moving part on "My Head" hits its pinnacle with pensive drums, soaring guitar riffs and a growling yet powerful vocal performance strikingly familiar to the rough-hewn style of Dave Grohl.
Although many of the songs are odes to its influences, Navaeh's sound is solid enough to avoid sounding too campy. The album's depth is pleasantly surprising given its vague song titles, such as cuts "Looking In," "Alone Again" and "In the Void," all of which feature dense instrumentation and thought-provoking lyrics.
Navaeh performs frequently in the Nashville area, and their upcoming show dates can be found on their Facebook page. To order Find a Way or to listen to previous Navaeh releases, visit navaehrocks.com.