Last month, I went on vacation to Florida for seven glorious, beach-filled days. While I was there, I was told about a new restaurant back home called The Goat. My first thought was "That's a very weird name for a restaurant," followed immediately by "How quickly will the conservative Christians in Murfreesboro accuse them of being involved in a Satanic cult?" Then I looked up the menu on the Internet and couldn't think about anything else but how I needed to try all of this food. All of it. Right now.
The Goat's menu is unlike anything I have seen in the area, with the exception of maybe Five Senses. It is a gastropub, and the food is like typical bar food, but taken up about eleventy million notches. I mean, when is the last time you saw house-cured pork belly on a menu in Murfreesboro? Anyone? Yeah, me neither. So, I knew as soon as I got back from vacation, that I would be paying The Goat a visit.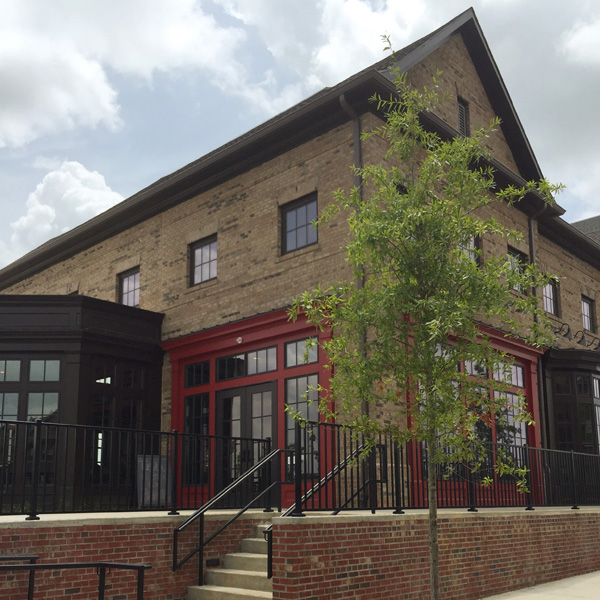 The location of the restaurant is a little tricky to determine. It's situated in the communal portion of the new condos/apartments on Robert Rose Boulevard that look like brownstone housing straight out of London (officially known as LC Henley Station). You won't see a sign, or a parking lot; just park in one of the parallel spaces close to the pool and volleyball courts and walk into the back of the building. The doors are red, and when you see the gorgeous wooden plank wall with the huge plaque that says "The Goat," you'll know you're in the right place. I went at around 1 p.m. on a Tuesday afternoon and practically had the place to myself. The spacious interior is absolutely beautiful, and I wish I could build a house with similar qualities: soaring ceilings with exposed wooden beams, tons of windows to let in natural light, pearly white subway tile, dark hand-scraped wood floors and shades of gray on the walls, all of which gave the whole place a modern/industrial/rustic feel. (FYI, there were no pentagrams or goat heads to be found; you're all safe.) And the bar area is exquisite.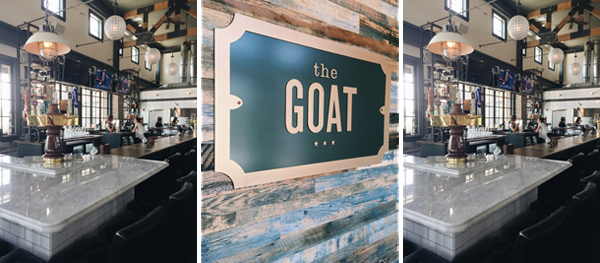 When you walk in, there's a sign that says "seat yourself," so I did. Within a couple of minutes a server came by to drop off menus and take my drink order. I had read reviews on Yelp for this place, and nearly everyone complained about the service while some complained about bland food, but as far as the service goes, mine wasn't horrible. When a new restaurant opens up, it sometimes takes a couple of months to work all the kinks out with both servers and kitchen staff, so I was ready to be lenient, but I didn't have to be. I even met the kitchen manager, but that's an amusing story we'll get to soon enough.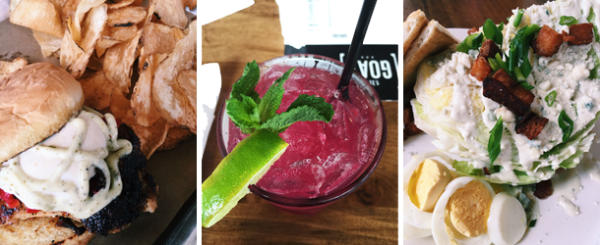 While waiting on my dining companions, I ordered a cocktail and perused the menu. The drink I ordered, a Blueberry Mule, was made quickly, and was delicious. It was fruity, refreshing and not too sweet, garnished with fresh mint and a lime wedge. They also didn't skimp on the alcohol, and they used Tito's handcrafted vodka, which I love. When my friends arrived, I was trying to choose which appetizer to order: the buffalo cauliflower or the handmade tater tots with beer cheese dipping sauce. They chose the tots, which were crispy and had great flavor. The sauce wasn't my favorite thing ever, but it was creamy and warm, and you could taste the beer. For our entrees we ordered The Goat burger with sweet potato fries, The Goat chicken sandwich with russet chips, and the wedge salad. We also had a child with us, and while they don't have a dedicated menu for children, there are several things on the menu that can be tailored for child-like tastebuds, such as a plain burger and fries, chicken tenders or a cheese or pepperoni pizza. (Tip: if you have two children, order one pizza—they are larger than individual size and one is plenty for two little bellies).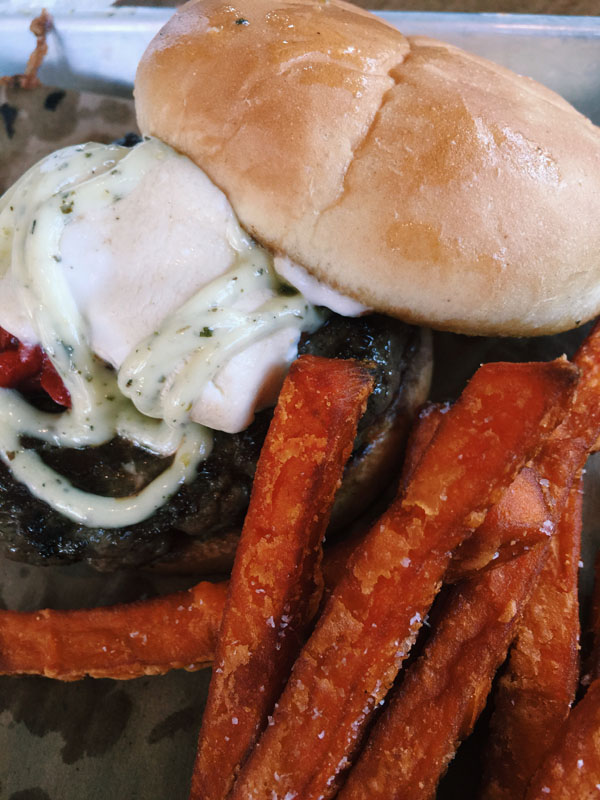 The food arrived in a timely fashion on metal trays in lieu of plates, which fits their overall vibe. My burger was juicy and cooked the way I ordered it (medium, normally I get medium well, but they grind the meat for the burgers daily, so I knew it was fresh) and I enjoyed the goat cheese, roasted red peppers and pesto aioli that were on it. The sweet potato fries were some of the best I have ever had. I usually don't really like sweet potato fries, but I ordered them mainly for their color in photographs; I devoured them because they were delicious. The chicken sandwich had the same toppings on it as my burger and, aside from the chicken itself needing a bit more seasoning, it was enjoyed by the friend who had ordered it. I refused to touch the wedge salad with a ten-foot pole, due to the use of both blue cheese and blue cheese dressing, but the friend eating it said that it needed more blue cheese (!) and other toppings to go with the huge wedge of lettuce. I did try one of the cubes of deep-fried pork belly that was on the salad and thought it was very good, but not as salty as I would have liked.
When it came time for dessert, the menu listed two dessert items: handmade fried doughnut holes served with fresh strawberry preserves, or a Guinness chocolate pie with a vanilla wafer crust. I decided on the pie, because the only combination better than chocolate and Guinness is chocolate and bourbon. I placed my order and waited. The server came out and apologized: apparently the health codes inspector decided to show up right then and the kitchen couldn't send out any food until he vacated. As we were talking about this, though, someone came over and said that the kitchen was back open and my pie was being cut and would be served shortly. Then . . . a few minutes later, the kitchen manager came out and told me that as he was taking the pie out of the cooler to cut it, he dropped the entire thing on the ground, and would I like some doughnut holes? So, we got the doughnut holes, which were delicious little fried dough balls, coated in cinnamon sugar (served with strawberry preserves).
I am most definitely going back to try the buffalo cauliflower bites and the Devil on Goatback pizza. Not to mention the as-yet-elusive Guinness and chocolate pie.
The Dish:
The Goat
2355 Adwell St.
Tots with house-made beer cheese sauce: $7.49; Ranch Hand burger (with bacon, cheddar, fried egg and capicola) and fries: $11.49; Devil on Goatback pizza (white cheddar, house-cured pork belly, baby spinach, caramelized onions, dates, sriracha aioli): $14.99
Mon.–Sat.: 11 a.m.–2:30 a.m.; Sun.: 10 a.m.–2:30 a.m.
(615) 203-8245
lcgoat.com