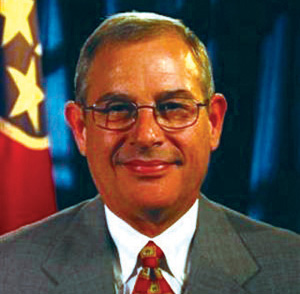 District Attorney Pro Tem Bill Whitesell did not go quietly into the night.
After decades with the DA's office here, Whitesell made his final argument in Circuit Court recently, netting the conviction of Jewell Moses Bess for first-degree murder in the 1986 shooting death of his wife, Deborah Sherfield Bess.
Whitesell retired from office in August 2014 but agreed to finish the case against Bess, which regained momentum in 2011 after people began talking about incidents on Richland Road in the 1980s and '90s when Bess ruled a "party" place of house trailers called "Moses' Mountain in eastern Rutherford County.
The trial was marked by the fact several of its witnesses were convicted felons, some of whom were still in prison or jail, including Bess, who served 15 years for raping his own daughter but was kept in jail here without bond after a grand jury indicted him for murder in 2012.
His wife's death was ruled a suicide 29 years ago, apparently after the lead detective at the time took Bess's word that she pulled the trigger on a .44 Magnum and killed herself in front of her toddler.
One witness, Joni Bush, who is serving time in a Florida penitentiary, testified by videotaped deposition that she felt nobody followed through on the case because everybody who hung out at "Moses' Mountain" was "white trash" and they were ignored.
Other witnesses said they were threatened by Bess to keep quiet, and most did until about four years ago. Key testimony came from Bess's son, Michael, who has spent much of his life in and out of jail and prison. He was 15, he said, when he was peeping into his father's bedroom and saw Moses grab Deborah by the hair, put the pistol up to her chin and blow her head off.
The defense contended Michael came up with the story so he could cut a deal to avoid a 25-year jail sentence.
But the jury took Michael's word over that of his father, who decided to take the stand in his own defense (In doing so, he made his child rape conviction known to jurors). Moses probably didn't have much choice after nearly every state witness described how he bragged about killing Deborah and even demonstrated the murder on numerous occasions. They said he even kept part of her jaw in a jar in the bedroom to intimidate people who came over to drink, use drugs, ride motorcycles and shoot up eastern Rutherford County for roughly 20 years.
Sure, Moses said, he cheated with other women and allowed another woman to move in not long after Deborah's death. In fact, he was cheating when he hooked up with Deborah in the early 1980s, he said. But to hear him tell it, you'd think he just got off a tour with the Billy Graham Crusade when he took the stand.
Of course, he did make the expert witness in his defense into a liar, saying the man was wrong about where he told him Deborah got the gun that night. Then he said it was so dark in the room he couldn't see whether Deborah had the gun.
He also said the force from the gunshot blew him backwards onto the bed, even though he said previously he caught Deborah as she fell and laid her on the floor. He also said the first thing he did was to pick up their child from her baby bed where she had her mother's brains and blood all over her.
Oh yeah, and he also said his neighbor, Charles Ewing, didn't go into the bedroom and mess with the shooting scene. But how could he have known if he sat on the front porch smoking a cigarette while Ewing went into the trailer? And, how could Ewing have gotten blood on his pants, as his wife testified.
Oops, I almost forgot to mention Ewing is serving time for murdering his first wife and got away with it for years before Rutherford County Sheriff's detectives arrested him. During his testimony, Ewing changed his story six times about whether he got rid of bloody sheets from the Besses' bedroom that night, depending on who questioned him.
When Whitesell cross-examined Dr. Charles Ihrig, the defense's expert witness, one of the questions he asked was, "Have you ever heard the term 'liquid courage'?" Of course, Ihrig said he had, and by the end of Ihrig's testimony he sounded more like the prosecution's witness than a defense witness. He'd been brought in to say Deborah's drinking that night could have caused her to kill herself. And while the prosecution's expert said it was more likely somebody murdered her, Ihrig said there was no way to know.
By the time Whitesell was done, though, it was clear Ihrig didn't know much of anything.
Ultimately, Deborah, a Waffle House waitress, was ready to leave Moses and take his and her kids with her, Whitesell later told jurors in his closing, or she was going to turn him out from "Moses' Mountain." She'd bought a bottle of whiskey that day when she took their kids to register for school, and the alcohol gave her the courage to challenge Moses when he came home to his mountain.
"He blew her head off . . . because you don't mess with the king," Whitesell told the jurors.
After more than six days of testimony, the jury took only about two hours to find Bess guilty. Judge David Bragg sentenced him to life in prison, and a sentencing hearing is set for Sept. 11 (oddly enough) to determine the date that sentence should start.
As for Whitesell, he says he's going fishing, a rest well-deserved.
Everybody Wants these Jobs
Question: Where can you find a job making anywhere from $53,000 to $69,000 a year and get paid without even going to work?
Answer: The Rutherford County Sheriff's Office.
Seriously. This is no joke.
Rutherford County has paid easily more than $20,000 to three sheriff's office personnel placed on administrative leave with pay since the TBI and state Comptroller's Office started looking into Sheriff Robert Arnold's administration in early April.
Administrative Chief Deputy Joe Russell, who makes $68,970, Detective Commander Bill Sharp, whose salary is $66,317, and Capt. John Frost, who gets $53,816 a year, were all placed on leave with pay not long after the state's investigation started. Since then, the FBI joined the fray.
People across Rutherford County are irritated, to say the least, about this administrative leave with pay. County Commissioner Mike Kusch says he wants "a refund" if wrongdoing is found.
County Commissioner Rhonda Allen has been outspoken about the matter as well but says the county attorney has advised her all three would have to go through due process if they were put on leave without pay.
The question is: Suppose the FBI/TBI investigation, which is now several weeks in, leads to indictments. Supposed the sheriff refuses to leave office and decides to fight any charges, a right he certainly has. Will those placed on administrative leave with pay remain in that status until the case is done? It takes about two years for anything to crawl through the legal justice system.
By that time, we could be paying three people about $190,000 annually plus benefits to stay home. That's about a third of a penny on the tax rate.
We still don't know why Frost, who oversaw IT at the sheriff's office, was placed on leave. Sharp, who, incidentally, investigated the Bess murder case, was running a consulting and training business on sheriff's office time and equipment. Russell, the sheriff's running buddy and top financial guy, was running JailCigs out of the sheriff's office as it supplied e-cigarettes to inmates at the county jail. He and the sheriff's aunt and uncle are listed as owners on Georgia documents, and Arnold listed himself and his wife as investors and as receiving income on a state disclosure form.
Since all this came up, a local group filed an ethics complaint against the sheriff. At the county Ethics Committee's first meeting on the matter, Arnold's attorney, a rather nice fellow with Neal & Harwell out of Nashville, said Arnold couldn't comment until the investigation is complete.
Some people have asked me how Arnold can afford a high-priced attorney. Well, he makes about $125,000 a year, but the other response would have to be either some local backer is footing the bill or e-cigarettes pay real well.
Of course, if Russell winds up losing his job, he can sell real estate, which he's already doing, and run JailCigs full time, which he's also doing, without anyone caring.
By the way, even though the sheriff's handbook requires all personnel to work 40 hours a week, "exempt" personnel at the sheriff's office, those on salary, have been getting paid without turning in time sheets, according to a county official. My, how convenient. I wonder whose idea that was.
Ethics Attorney
In its first meeting, the Ethics Commission asked county commissioners to supply it with an attorney to provide guidance through this ordeal with Arnold. The commission hired John T. Bobo of Shelbyville to do the job at $350 an hour.
Bobo's first move at his initial appearance was to advise the Ethics Commission it had already done as much as it should do in calling for the district attorney to seek an investigation of the sheriff's office. Considering that investigation was under way already, Bobo's counseling was to avoid stepping on the FBI/TBI/Comptroller investigation. It was probably good advice.
At last check, he hadn't sent the county a bill. But let's see, it probably took him a couple of hours to drive back and forth from Shelbyville, another two hours for the meeting and two or three hours to read material involving the investigation. Multiply seven times $350 and you get $2,450. Not bad for a day's work, though he's probably got some pretty high overhead. But, hey, a man's got to make a living somehow.