Where's your favorite place to stop in for ice cream, frozen yogurt, Italian ice, custard or whatever your favorite frozen snack might happen to be?
Check out a few of these Murfreesboro area shops when you need something cold and sweet.
Rita's Ice Custard Happiness
Location: 2018 Medical Center Pkwy.
Hours: Mon.–Thurs. and Sun. 12–9 p.m.; Fri. and Sat. 12–10 p.m.
Cost: Regular gelati: $3.79
Online: ritasfranchises.com
After a winter break, Rita's is back, offering rich and creamy soft-serve frozen custard in vanilla, chocolate or swirl, as well as Italian Ice in various fruity flavors, such as a strawberry watermelon blend. Another tempting option is the shop's cream ice, a concoction with the consistency of Italian ice, only creamier (Rita's has also been known to produce some horchata cream ice, based on the classic Mexican rice-and-milk beverage). Try a gelati for two types of deliciousness; this tantalizing creation layers the Italian or cream ice with layers of custard above and below. Choose your combination: pineapple Italian ice with vanilla custard, perhaps, or coconut cream ice with chocolate custard. They'll also "Blendini" it up for you with your favorite toppings such as M&M or cookie, or if you prefer your ice cream smooth, their classic frozen custard milk shake might be more your style.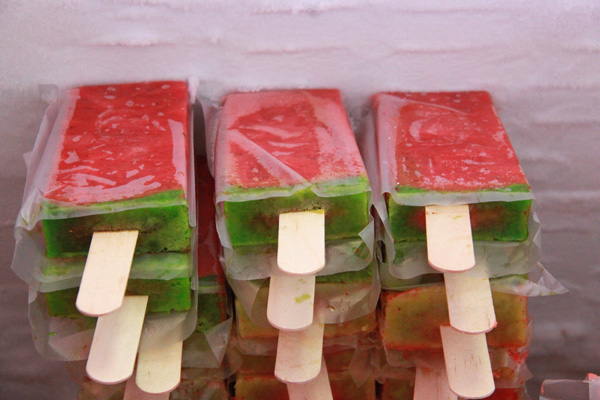 Paletas la Desi
Location: 1679 Middle Tennessee Blvd.
Hours: 3–8 p.m., Tuesday through Friday; 12–9 p.m. Saturday and Sunday
Cost: Water-based popsicle: $2; Milk-based popsicle: $2.25; Mangonada (chica/small): $3.50
Online: Paletas la Desi on Facebook
Paletas la Desi offers ice cream in Gansito, pine nut and tequila varieties, among many others, and lots of fruity, tropical popsicles. The store, in the shopping center at Mercury and Middle Tennessee, also serves the mangonada, a creation combining mango ice cream, sweet chili sauce, lime juice and chili powder.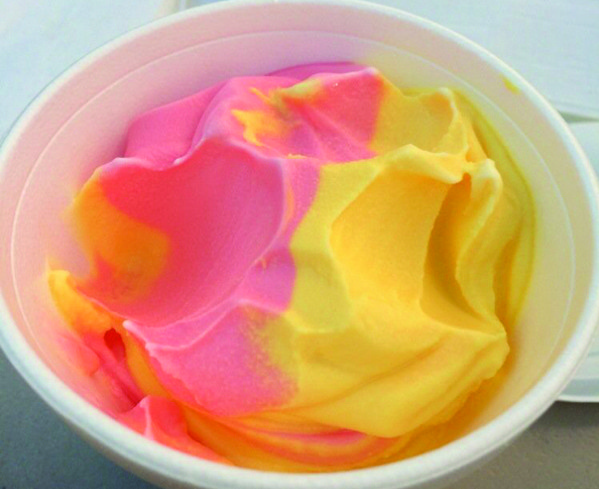 Karin's Kustard & Hamburgers
Location: 470 S. Lowry St., Smyrna
Cost: Medium cone or cup—$2.49; medium shake—$3.49
Online: Find Karin's Kustard on Facebook
Smyrna's independent burger and ice cream stand, Karin's Kustard, sells soft-serve in vanilla, chocolate, strawberry or lemon, as well as sundaes and other treats such as the Twinkie Delight, a deep-fried Twinkie topped with ice cream, hot fudge, whipped cream and a cherry.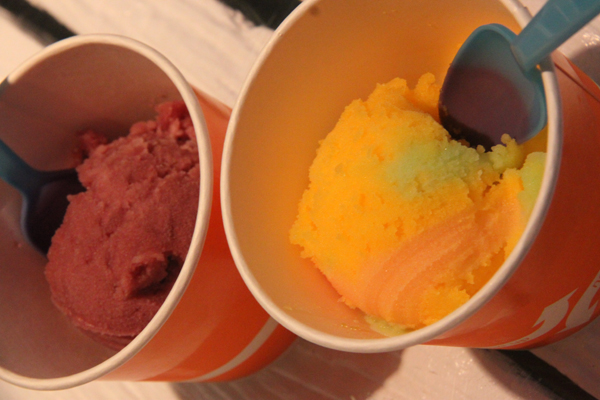 Lil Mikey's Gourmet Italian Ice
Location: 1720 Old Fort Pkwy. at Stones River Mall
Hours: 12–9 p.m.
Cost: One scoop–$3; Two scoops–$5
Online: Lil Mikey's Gourmet Italian Ice on Facebook
This Italian Ice store at Stones River Mall (near Sam's) offers lots of unique Italian ice flavors, such as matcha green tea, coffee, blackberry, Arnold Palmer (tea and lemon), marshmallow (with chunks of vegan marshmallow), cucumber, chocolate chip cookie (tastes like frozen cookie dough) and pineapple.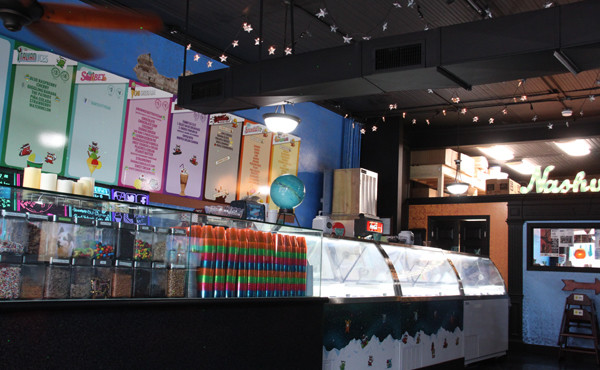 Frozen Treats from Mars Theater
Location: 123 S. Church St.
Hours: 12–10 p.m.
Cost: Ice cream cone with 1 scoop: $3
Online: frozentreatsfrommarstheater.com
Right on the Murfreesboro Public Square, Frozen Treats from Mars offers delicious ice cream flavors such as peanut butter with Reese's cups, lemon raspberry and carrot cake, featuring an excellent cinnamon flavor. Opened this year by the group behind the Popcorn from Mars shop (right around the corner) and the proposed Mars drive-in theater, Frozen Treats from Mars also has Italian ice selections; if you like Shock Tops, try the sour apple, sour grape and sour raspberry mix of Italian ice. The shop has placed flat-screen TVs at each booth, so you don't have to force conversation with your date, though while the ice cream is tasty, the scoop sizes at Mars are much smaller than Earth's standard.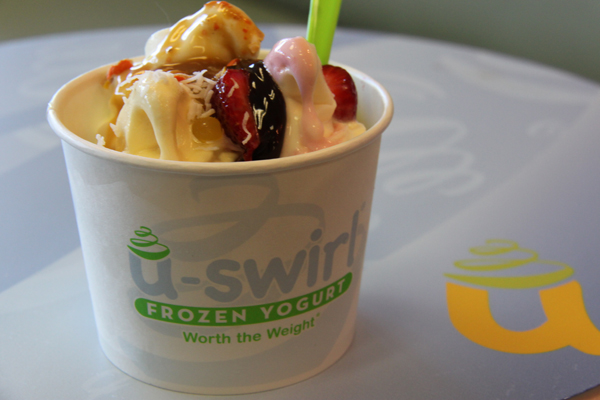 U-Swirl Frozen Yogurt
Location: 2333 Memorial Blvd.
Phone: (615) 956-6550
Hours: Sun.–Thurs. 10 a.m.–10 p.m.; Fri.–Sat. 10 a.m.–11 p.m.
Cost: $10 for 2 all-you-can-fill cups, Mon.–Wed.
Online: uswirlboro.com
Max Patel, the former owner and operator of the Beer Depot on Main Street, has gone from the beer game to frozen yogurt and chocolates. His shop, located in the O'Possum's shopping center on Memorial, has various flavors of nonfat and sugar-free soft-serve frozen yogurt, as well as truffles and more from the Rocky Mountain Chocolate Company. Guests can pay by the ounce, purchasing as little or as much yogurt as they like.
Other places to try:
Kona Ice
Call (615) 971-0092 for today's location; look for the big colorful truck depicting a penguin on a tropical beach.
Baskin-Robbins
1723 Memorial Blvd., 2170 Old Fort Pkwy.
Baskin-Robbins has thousands of shops in the U.S., and two of those are located in Murfreesboro. They have drive-through windows for the convenience of on-the-go customers craving Baseball Nut, Lunar Cheesecake or Pralines and Cream.
Dairy Queen
Location: 1735 Memorial Blvd., 2910 S. Rutherford Blvd., 510 Cason Ln.
It's hard to go wrong with the classic Butterfinger or turtle pecan Blizzard. New Dairy Queen flavors include the Rolo minis Blizzard and brownie cookie dough Blizzard.
Marble Slab
Location: 452 N. Thompson Ln.
Choose your ice cream and let the staff mix in some coconut, brownies, Sno-Caps, nuts or the mix-ins of your choice right on the namesake marble slab.
Culver's
2411 Medical Center Pkwy., 2993 S. Rutherford Blvd.
McDonald's
106 SE Broad St., 2595 Old Fort Pkwy, 2180 Old Fort Pkwy., 1716 S. Rutherford Blvd., 2900 S. Rutherford Blvd., 2485 S. Church St., 1706 Memorial Blvd., 3371 Memorial Blvd., 2674 New Salem Hwy.
Sweet CeCe's
2615 Medical Center Pkwy. (The Avenue), 2658 New Salem Hwy.
Reeves-Sain
1801 Memorial Blvd.
Sonic Drive-In
2630 S. Church St., 1311 NW Broad St., 1918 Memorial Blvd., 215 Cason Ln., 1650 Middle Tennessee Blvd.
Steak and Shake
2091 Old Fort Pkwy.
Wendy's
1315 Memorial Blvd., 1845 Old Fort Pkwy., 1905 S. Church St.