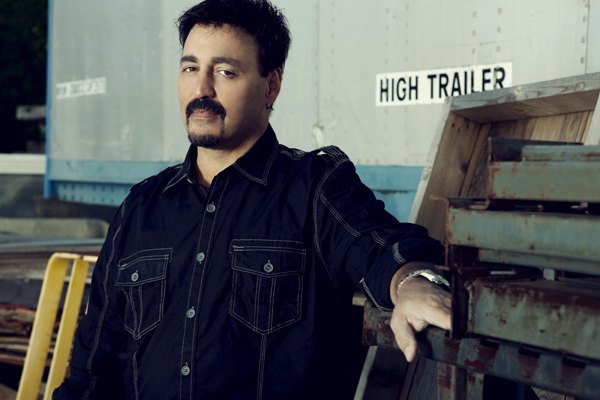 Classic rock and country music will fill Middle Tennessee State University's Tucker Theatre as part of The Sogno Project's (pronounced Sewn-Yo) second annual benefit concert on Thursday, Sept. 3. Murfreesboro resident and MTSU alumna Kelly Lee Culbreth started The Sogno Project two years ago with a mission to raise money for the community while bringing awareness to music and the arts. This year's concert will benefit two local organizations, Branches Recovery Center and Doors of Hope, and will feature performances by both local and regional acts.
John Elefante, former lead singer of American rock band Kansas, will bring over 30 years of musical experience as headliner for this year's event. Since the 1980s, Elefante—a vocalist, singer-songwriter, multi-instrumentalist, producer and more—has crafted a career-spanning resume including four Grammy Awards, several Dove Awards and credits on more than 100 major label albums.
In addition to his time with Kansas during the '80s, Elefante experimented with songwriting by forming the rock outfit Mastedon with his brother, Dino, with whom he's maintained a close working relationship throughout his career. It was around this same time that John added "producer" to his list of talents. Along with Dino, John produced pioneering Christian rock group Petra's Grammy award-winning 1986 album Back to the Street, which sparked the two brothers' success as in-demand Nashville producers. For the past 20 years, Elefante's spent most of his time as a solo Christian artist and has four albums in his repertoire, including his '95 solo debut, Windows of Heaven.
We spoke with Elefante last month about his prolific career, the success of his latest album and The Sogno Project.
Murfreesboro Pulse: I'd like to start off with your 2013 release, On My Way to the Sun, which had a very successful Kickstarter campaign with more than $20,000 collected beyond the initial goal of $35,000. A lot of artists are now using crowdfunding sites to help make their album. What was your experience like?
Elefante: Really great. At first I wasn't sure if I wanted to do a Kickstarter campaign. I felt like I was kind of begging and pandering, but after I got it underway I discovered folks loved being a part of the CD. Folks who pitched in really inspired me.
While we're on the subject, what was the making of this album (writing, producing, etc.) like compared to your other solo albums?
I felt inspired to make one of the best records of my career because over 400 folks were waiting for a great piece of music. It was also different because, unlike other records I'd done, I played most of the guitar.
I know you've spoken a lot about the album's track "This Time," with its back story striking very close to home. Can you talk about its message and how it has been received by others?
It is very dear to my heart. The song was inspired by how my adopted daughter came into the world, and how she almost didn't. I had the music and melody recorded without any lyrics at first and wrote and sang the lyrics one line at a time totally on the fly. The song was received very well by most, but there were those who blasted me for writing it. Some people wished and said horrible things about me personally because this is a very controversial subject to most, as you know, but I did not set out to write a pro-life song; I set out to write my daughter's story.
How does your creative process differ as a solo artist compared to when you worked with other groups?
Solo albums are much harder for me because normally I am writing everything, programming demos that eventually turn into masters, engineering, editing, playing many of the instruments and of course singing lead and background vocals. You could say I'm pretty hands-on when it comes to my solo albums.
You've received a lot of attention in the music industry, with a successful career as a writer, performer, producer and more. You have a few Grammy awards and Dove awards in your collection as well. When and how did you discover your wide range of talents?
Fortunately at a very young age, maybe 8 years old, I wanted to play drums, so my parents bought an inexpensive drum set at a pawn shop. I would lock myself away and practice like mad. I soon did the same when it came to guitar and keyboards. Incidentally, I wasn't concerned with becoming a singer. I could sing a little, but singing happened by default when the singer in our first band with my brother and two cousins quit the band after he performed on The Lawrence Welk Show. I remember my manager saying to us, "He doesn't need you guys, he's going places . . . this band won't do anything for your singing career." As it turns out, his career faded very quickly as our band, The Brotherhood, went on to become an extremely popular Top 40 band playing throughout [Southern California] constantly with stints at Disney, Knott's Berry Farm and a record deal with Capitol Records.
The number of artists you have worked with and your list of credits goes on and on. Can you talk about some of the projects that stand out the most in your career?
I would have to say working with David Foster on the soundtrack to St. Elmo's Fire. Of course, Kansas and co-writing with Kerry Livgren, producing many Petra records in which I got to do a lot of co-writing, winning three Grammy Awards. Also there are moments like doing duets with Lou Gramm, Natalie Grant and Sandi Patty.
I've read that you've tried to take time off from the music scene a few times, but it seems to always draw you back in. Why do you think that's so?
I feel it's what I do best, so why not do what you do best and share it with others? Yes, I have tried a few hiatuses, but I get bored and have to get going again.
You'll be performing in Murfreesboro in September as part of The Sogno Project along with Nashville supergroup Sixwire and others. The project was created to help raise money for community charities while also bringing awareness to music and art. Can you talk about your involvement with the event?
I could never say no to such a worthy project. I'm all about giving back, and I'm honored that I was asked to do The Sogno Project.
Is there any new music in the works?
Yes. I am working with Kerry Livgren on some new music, as well as starting to write for a new record. Depending on which directions the writing [will] take me, I'm not sure if it will be a solo record or a Mastedon record.
Along with Elefante, the upcoming show will feature Sogno Project founder Kelly Lee Culbreth, rock/soul singer-songwriter Dew Pendleton and Sixwire, a country quintet frequently featured on ABC's Nashville. During the concert, Murfreesboro artists Beth Boudreaux and Kelly LaMure will paint onstage and auction off each painting following the concert.
If You Go:
WHAT: Benefit concert for Branches Recovery Center and Doors of Hope
WHO: John Elefante, Sixwire, Dew Pendleton and Kelly Lee Culbreth
WHEN: 7 p.m., Thursday, Sept. 3
WHERE: Tucker Theatre (located on MTSU's campus)
TICKETS: $25–45, VIP tickets $150
ONLINE: sognoproject.com
Enter to win 2 VIP tickets here: