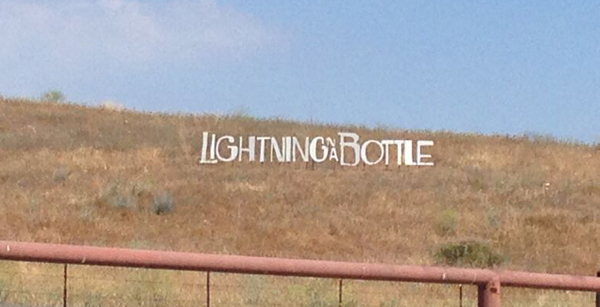 If you are a fan of mysticism, music, healthy eating and living and working together as a community, Lightning in a Bottle was an incredible place to be May 21–25 in Bradley, Calif., as it debuted its 10th anniversary in Northern California's secluded, luscious fields and mountains with a diverse lineup of artists from popular, American electronic duo Odesza, funk and bass guru Griz, Australian DJ Flume and more with elaborate, mesmerizing stage designs, transcendental graphics, performance art and one-of-a-kind, interactive handmade art installations.
LIB, one of the largest "transcendental music and art gatherings" in the country put on by Los Angeles based production company "The Do Lab" (thedolab.com) and media group "The Confluence Group" (theconfluencegroup.com), invited everyone to transcend into their highest level of consciousness while working together to shape a sustainable community and reconnect with the natural world. It was not uncommon to walk into a workshop where people where doing activities re-learning how to listen to their bodies with things like yoga poses at the Yoga Namaste Temple or sharing a moment with "strangers" in team-building exercises at the Pineal Playground like trusting your partner while wearing a blindfold or simply being encouraged to break out in sporadic dance. I spent most of the sunlight every day exploring the festival grounds and listening to speakers like Guru Singh Khalsa "Satsang: Becoming your Highest Self" talk about being re-born and how some souls are newer souls at the Temple Stage, and I felt privileged to learn about how to better stock my juices with "Live Food Live Body, Dead Food Dead Body" with Cheri Rae Russell in the Learning Kitchen.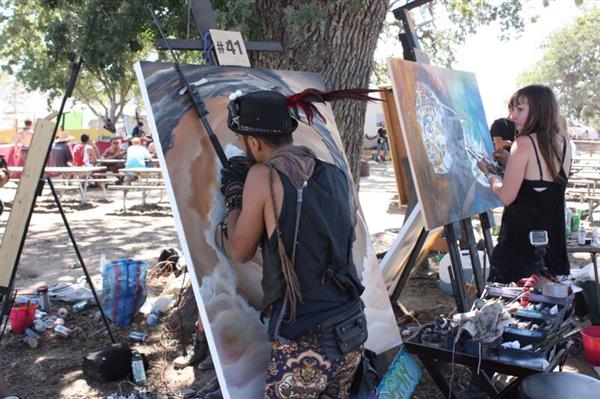 From wandering through The Village made of teepees and featuring cool, hangout places with speakers like "Nutrient Cycling: Soils, Compost and Humanure" in the Permaculture Action Hub, to the Temple of Consciousness where I sampled oils from Essential Oil Wizardry to fix what seemed any ailment in the human body and even purchased some refreshing "Avatar Essence: crafted with Noyarao, the glowing tree for DNA Activation" by WizardTree, I did not realize until a few days into the festival how far and wide LIB truly touched the grounds of California. Everyone that passed on the bridges towering about deep-seated valley ravines high-fived each other, and there was never a "negative" vibe I got from anyone the entire week. The first day I joined a circle of sound healing, where the vibrations of musical instruments such as the didgeridoo and others can help realign your chakras and bring one to peace. The last thing I remember was a didgeridoo being played onto my chest; I fell asleep and awoke ten minutes later feeling rejuvenated. I joined a temple of "mad tea hatters" on the second night, and I drank some of the best tea with rose petals and talked about how we are all just souls living in this dimension. I enjoyed walking among the vendors like Fancy Vandals and others, and was gifted crystals while trying on vintage, authentic and handmade clothes from all over the world at various shops. I enjoyed great, local and healthy foods from places like ElixArt, juices packed with vitamins and "super-foods" and delicious treats we take for granted being sold along the pathways like mangoes and watermelon.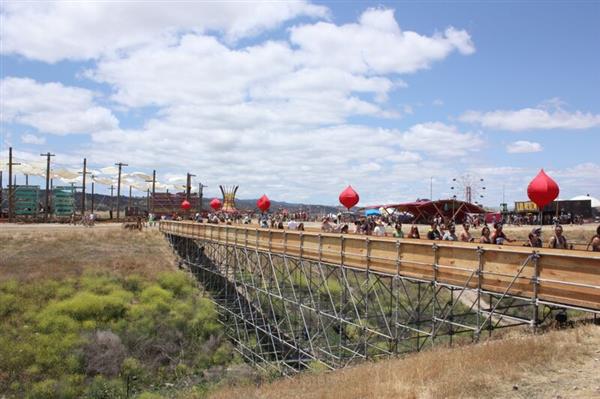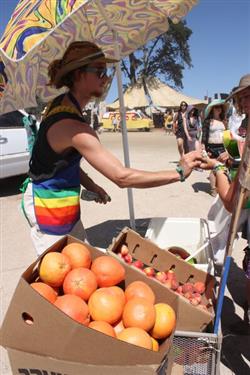 There was never a shortage of music, and I enjoyed some of my favorite bands like late-night electronic DJ An-Ten-Nae at the Favela Bar, London-based electronic vocalist AlunaGeorge at the Lightning Stage (main stage), transcendental, ambient and explorative electronic DJ OTT at the Thunder Stage (which I watched from the base of the the magnificent Ferris-wheel, where one could see the two main stages without effort). I climbed a 20-foot-or-so ladder into one of the huge teapots stationed between the Lightning and Thunder Stage and listened to some of the artists at the Pagoda Bar while I stared into the great beyond of California fields. We boogied night and day to old and new electronic DJs like house artists Pillow Talk at the Woogie Stage where the DJ played in a tree. Yes, a tree. Even though we were camped near the center of the festival close to the Temple of Consciousness, everyone was respectful, and we had plenty of privacy. For a big festival, LIB seemed small, personal and family-friendly.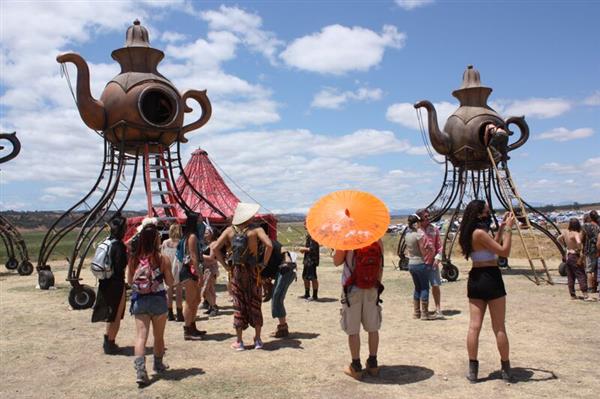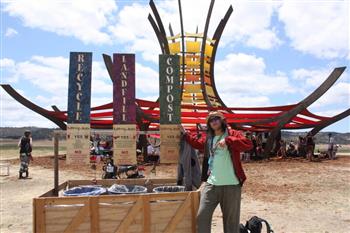 LIB continued their annual motto: "Leave it Better, Leave it Beautiful," and we collected our trash and recycling at the end of the weekend and took it with us. It was another great lesson on reminding one how much trash you create. There were no plastic water bottles sold throughout (there were water filling stations), and you could see a difference in festivals that promote environmental awareness and stay clean as opposed to those that do not and have volunteers sweating hourly as they roam the festival forced to pick up trash thrown on the ground by unaware attendees.
LIB is regularly evaluated by the Environmental Impact Assessment report and was the only festival in the U.S. to win the Outstanding Award every year evaluated by A Greener Festival. The first day of the festival, we joined The Permaculture Action Day Tour folks at San Antonio Elementary School down the street to help build a classroom for the students. The group and festival-goers volunteered the morning to help children of the school build an outdoor classroom from the area clay, sand, dirt, sandbags, bottles, filled with trash and rocks. It was that simple!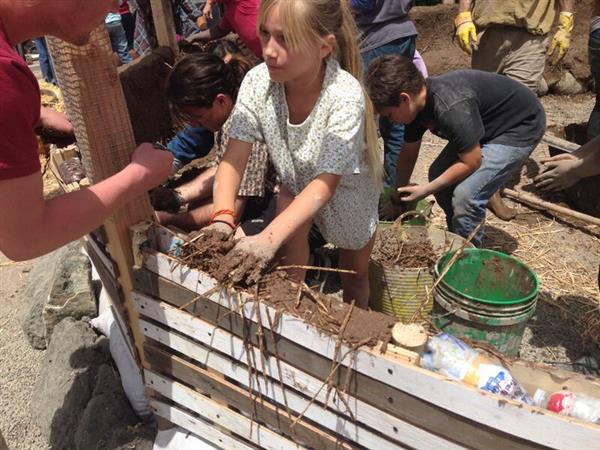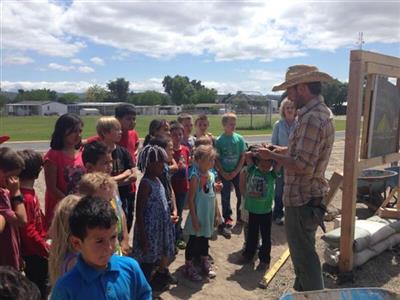 "This is different because it is all about the students. There are 27 students, and they actually fit into this green house. We have some of the four best natural builders in California helping build an earth-in structure this big," explained Ryan Rising, organizer of Permaculture Action Community.
We enjoyed clay-pit cooked pizza with all-natural ingredients hand-picked by the workers and listened to live music as students rode a bicycle that generates its own electricity for speakers, as Miguel Elliott, a.k.a. Sir Cobalot of Living Earth Structures, architect and natural builder Ray Cirino, Erik Hjermstad of San Diego's Cob Fest and Rising got together and facilitated the use of "bottle bricks" with the help of Brennan "Blazer" Bird (learn more at earthbench.org).
"It's cool to do this with 4 other natural builders. I typically lead alone," says Bird. "I've been wanting to do earth-building with a festival, and this is [my] first big one. I guess it was manifested and supported by the festival," he laughs.
The community has also done Permaculture Action days for festivals Arise, Sonic Bloom and teamed up in the past with artist The Polish Ambassador in his "Pushing Through the Pavement" Permaculture Action Tour (permacultureaction.org or facebook.com/permacultureaction).
For more information on Lightning in a Bottle, visit lightninginabottle.org, facebook.com/lightninginabottle, twitter.com/libfestival, instagram.com/libfestival or soundcloud.com/thedolab.
The Do Lab's next big gathering that draws me in is Symbiosis, The Ten Year Re:Union, at the Woodward Reservoir in Oakdale, Calif., about 90 miles east of the San Francisco Bay, Sept. 17–20, 2015. The lakeside camp grounds are hard to overlook featuring art installations, performance, healers, yoga, workshops alongside a hit electronica, downtempo, house and bass lineup showcasing consistently sold-out across the nation artists Tipper, The Polish Ambassador, Emancipator Ensemble and more. Elemental Alchemy also returns to Symbiosis Sept. 12–17 with "A Permaculture Intensive Course." Each of the five days will focused on understanding the use for ancestral living of a primal element: fire, earth, air and water (symbiosisgathering.com/elemental-alchemy/permaculture-immersive). A Visionary Art and Yoga Immersive is also available. For more information, visit symbiosisgathering.com.