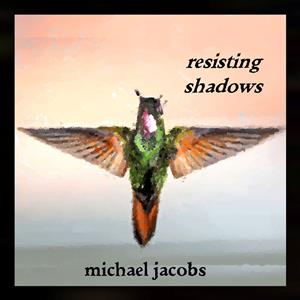 Michael Jacobs is an acclaimed Native American singer-songwriter whose music emphasizes positivity, self-fulfillment and changing the world for the better. His latest full-length release, Resisting Shadows, displays these qualities to their fullest.
Jacobs, who recently moved to Murfreesboro, blends traditional acoustic stylings with Americana and Native American influences for a well-rounded, straightforward singer-songwriter release. This new album, recorded at Prime Cut Studios in Nashville, sees him backed by diverse, rich instrumentation that shines through on tracks like "Almost There," which features a combination of acoustic guitar and light organ, and upbeat roots-rockers "What You Gonna Do" and the title track.
One of the album's most memorable sonic choices comes on the instrumental "Invocation." The arrangement relies solely on a Native-inspired melody played on flute, with the natural sound of a waterfall behind it. It's a welcome, tranquil interlude on the album that you can put on when you need to relax for a few minutes.
While the instrumentation on Resisting Shadows is strong, what stands out the most are Jacobs' lyrics. He delivers an optimistic message with hope for positive social transformation. The tracks "What You Gonna Do" and "Can't Stand By" cry out for the listener to contribute to a happier, more peaceful world and feature lyrics such as Stop waiting on the world to change on its own and A world at war, in pain and poverty . . . we can't let all those precious lives be cut to pieces by the unsatisfied. These progressive messages fill the album, not only lobbying for global change but also for improvements in individuals' lives.
The most memorable song on the album is "When You Are Dancing," the incredibly catchy kick-off cut. Its chorus relies on a tribal-esque chant that will be hooked into your head after one listen, while the verses discuss the joys of connecting to the world around you through dance.
If you're looking for a solid singer-songwriter release with strong Americana influences and a Native American flair, Resisting Shadows is available to purchase on sacrednation.com or to stream on Spotify and Apple Music.