It's a cool summer day in the middle of May. A petite, elderly lady scurries towards my car outside the Murfreesboro Motel. I plan to have a picnic outside with one of the residents here today. The lady's extra-large Pop Rocks candy T-shirt is swaying in the wind while her jeans clamp tightly to her small legs. I roll my window down as I hear her mumbling words meant for me to comprehend.
She stops at the front of my car with eyes so wide that I can see them perfectly through her thin-frame glasses. Perhaps she is trying to decipher who is in the car.
After realizing who I am, the elderly lady—Debbie is her name—scampers over as fast as she can on the two twigs that are her limbs. She crosses her arms as she leans against my windowsill, her grey curls and slightly furry face just inches from my own.
"Levi wants to see you inside," says Debbie. I can feel her warm breath against my cheek.
Levi is the man I initially came to see today for a picnic.
She pauses from speaking, only after shoving my window back down as I try to roll it up. Debbie wants to keep talking, but I persuade her that we should go see Levi and that I need to lock up my car now. She waddles back to the motel room as I follow.
Levi, 33, is Debbie's blind son. Levi became blind from untreated cataracts 24 years ago. He was homeless with Debbie for three months during 2013. They both lived in a camp together with 10 others until they decided to be secluded.
"Isolation never hurt anyone," says Levi. "I guess everyone else would call it solitude."
Debbie and Levi later moved to a different campsite and eventually transitioned into the Imperial Inn. Later, they both transferred to the Murfreesboro Motel. The usual transition out of homelessness is a move into a local motel. Although individuals living in motels are no longer homeless, they are living week to week. Debbie and Levi are combining their disability checks to afford a one-bedroom motel. This lifestyle is difficult to surpass, considering the daily rent payments.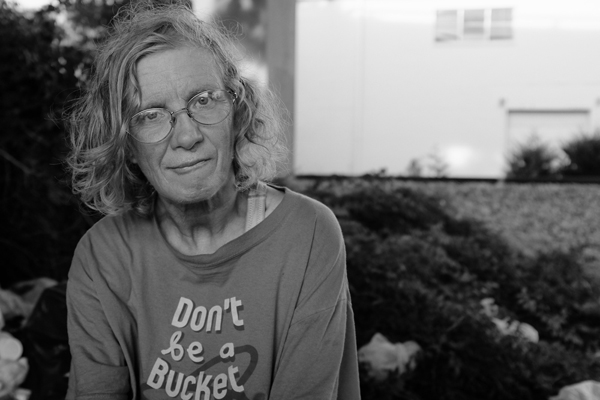 Although Levi is visually impaired, he has learned to adapt to the lifestyle. When asked about his homeless experience while also being blind, Levi explains how camping is more enjoyable than living in a one-bedroom apartment with two occasional residents. The two residents are Debbie and her boyfriend, who helps pay rent.
Because Debbie and Levi live from paycheck to paycheck, sometimes they live outdoors as homeless individuals. If they don't have the money they need for Murfreesboro Motel, they are homeless.
Levi leans against the bulky television in his dimly lit motel room for two. Light from the window pours onto his pale skin and prickly hair as he pours Busch beer into his mouth and offers me a beer. Levi's dark beard is beginning to show some grey, but his green outfit compensates for that. His camouflage hat, vest and pants bring out his youth. Levi wears camouflage clothing nearly every day.
Levi's favorite place in the city is the Murfreesboro Billiards Club on NW Broad Street. He plays pool with a spotter, which is a person acting as his eyes. Levi also enjoys firing guns at a shooting range with a spotter.
It's time for our planned picnic, so Levi grabs his sunglasses and walking stick. He is well oriented to his room and has little trouble finding his belongings, usually. Although, he did just put the groceries I gave him (that are meant for the fridge) onto the stove.
Because he has a spotter to take him out today, he picks out his largest stick from the three he owns. His regular guide cane needs to be repaired.
"I'm sure you're a handsome man," says Levi to his spotter, "just don't hold my hand."
He takes his spotter's arm as we make our way to an open field next to the motel. On the way, Levi explains that he doesn't walk alone when he isn't familiar with a location. Another way he adapted to being blind was by taking training courses to acquaint himself with his surroundings.
Levi is extremely gifted with survival mechanisms. For example, it is about to rain today and he can tell by the air pressure and temperature. Levi firmly believes he could live outside against the elements and fully sustain himself. He carries a large army knife encased on his belt along with his camouflage-themed apparel. In his spare time, he likes to watch survival shows.
He stops and pokes his head a little closer to the clouds.
"Someone has a campfire around here," Levi says, panting.
Levi has it in his head that he is older than he actually is. He gets tired easily, has chronic back pain and doesn't like to walk for very long.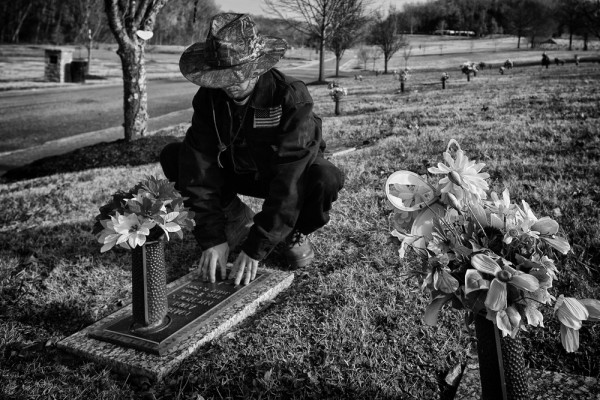 While walking to the picnic location, Levi describes his life minimally. Seven years ago, Levi lost his daughter. She was a 5-month-old twin. He talks mostly of his past wife, but his deceased daughter still holds his heart. Occasionally, Levi will go to his daughter's gravesite with the help of a spotter. He can run his hands over the headstone, but it is quite the adventure to find the grave initially. One of his daughters (the other twin) is still living, so he is trying to establish contact with her to rekindle their relationship.
When asked what Levi's next goal is, he says he doesn't change his goals. He only adjusts them.
"I really don't know," says Levi. "I want to better my environment. Camping would be bettering it."
Levi thinks the people around his motel are very negative, so he would rather be isolated for a while. When asked what's stopping him from accomplishing that dream of camping, he says, "Just gotta find a good place to camp."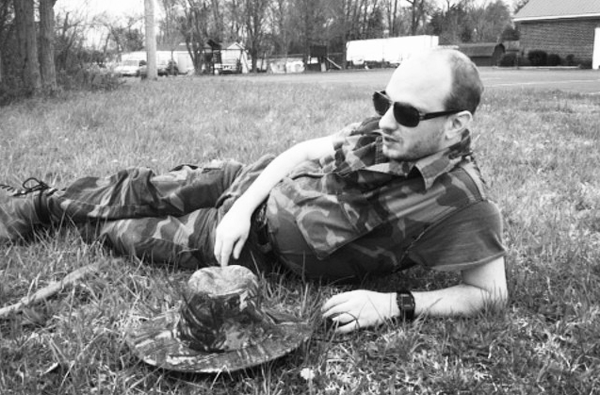 Finally, we make it to an open field to eat our sandwiches. Levi settles into the grass in a lounging position. He begins guessing what I look like. He assumes I am female, blue-eyed and four feet ten inches tall, weighing in at 95 pounds with dark brown hair. I am actually five feet six, 110 pounds with green eyes and brown hair.
After lunch, Levi's spotter begins guiding him back to the motel. Levi says that, years ago, he could run a mile in less than six minutes, so he starts running. Levi is best at never letting his handicap get in the way of his goals.
Now it's August, just a few months later. Debbie and Levi are homeless again. They are living under a local bridge. Although their homeless cycle continues, Levi is optimistic.
"You know," says Levi, "Now that I've been outside for so long, I don't know how I'd adjust to being indoors!"
Levi loves the outdoors, but is ready for a home. And so, the cycle continues for Debbie and Levi. . . .
=====
Levi and Debbie are only one example of people suffering from the seemingly endless cycle of homelessness/motel living. If you would like to help homeless persons who have transitioned to motels, you can volunteer at Last Call 4 Grace on the square in Murfreesboro. Last Call 4 Grace serves dinner and provides groceries to individuals in three local motels on Wednesdays and Fridays at 7 p.m. Along with feeding the residents, the Last Call team establishes long-term relationships. For more information, visit lastcall4grace.org.