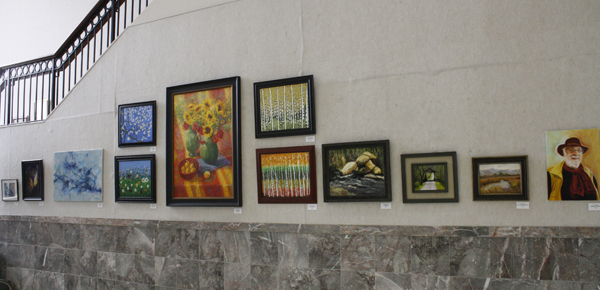 The Murfreesboro Art League presents an exhibit at the Murfreesboro City Hall Rotunda through Aug. 28, with a "meet the artists" reception scheduled for Thursday, Aug. 20, from 4:30–6 p.m. All art is done by local artists in the Murfreesboro Art League. The Rev. Ernest B. Newsom will entertain the group at the reception with his saxophone. Drinks and snacks will be provided.
Murfreesboro City Hall is located at 111 W. Vine St.
The artists in the Murfreesboro Art League are as varied as their paintings, with works of art from abstract to representational. Founded by a local group of artists and chartered in 1966, the Murfreesboro Art League is a nonprofit organization whose mission is to develop and maintain a vibrant artistic environment in the Rutherford County community.
The Art League hosts adult classes or open studio time on the first three Mondays of every month except December. Classes run from 7–9 p.m. at the gallery in Cannonsburgh Historic Village, a facility that also hosts ongoing art displays. The gallery is free and open to the public from 10 a.m.–4 p.m. on Saturdays and 1–4 p.m. on Sundays. Children's activities are available at the gallery while the parents are viewing the art. Information about the gallery and adult classes may be found at murfreesboroartleague.blogspot.com. For more information on the Murfreesboro Art League or the exhibit at City Hall, email Suzanne LeBeau at suzanne.lebeau@att.net.