Rutherford County Sheriff Robert Arnold suspended two supervisors recently for benefiting financially from outside work done on county time and computer equipment.
But amid a state and federal investigation into his administration he's holding himself unaccountable—at least so far.
After internal investigations, Arnold suspended Detective Commander Maj. Bill Sharp for one week and ordered him to repay $1,625 in training fees for sheriff's office personnel who attended one of his company's seminars. Arnold also gave a two-week suspension to Capt. John Frost for selling a software program code to a vendor who turned around and sold it back to the sheriff's office. Frost, who heads information and technology, made $1,500 on the deal, money he needed to take a trip to Japan.
Arnold initially placed Sharp and Frost on administrative leave with pay, drawing the ire of county officials who were feeling a budget pinch at the time. Administrative Chief Deputy Joe Russell remains on leave with pay—now using sick and personal leave—during an FBI-TBI joint investigation into potential political corruption at the sheriff's office. (He recently filed for leave under the Family Medical Leave Act, though someone took pictures of him peddling e-cigarettes at a sheriff's conference in North Carolina.)
Russell is co-owner of JailCigs, along with Arnold's uncle and aunt, John and Judy Vanderveer of Marietta, Ga. The company was selling e-cigarettes at $12.95 to local jail inmates through their family and friends, without going through bidding or purchasing protocol, until media found out about it in early April. On a state Ethics Commission form Arnold listed himself and his wife as being investors in the company and receiving income.
In other words, they had a captive audience.
Despite the investigation into JailCigs, JailSnacks (another company Russell co-owns) and a handful of agreements and contracts the sheriff approved outside the county's process, he has taken no action to remove himself from decisions or the office.
Of course, he did make himself invisible the week the FBI and TBI raided his home and the sheriff's office, in addition to Russell's homes and the Vanderveers' place in Marietta. Who would want to go outside when a bunch of TV reporters are waiting to shoot video and ask questions? But otherwise, he's calling the shots at the S.O.
The question is: Why is no internal investigation being done into Arnold?
After all, Sharp started his company, Sharp Training and Consulting, with sheriff's office approval and agreed to give free slots to Rutherford County personnel for his seminar in April 2014. The sheriff's office even approved the check to him for $1,625, though according to the internal investigation he had told superiors he wouldn't charge them. Arnold also put his name on the event as sponsor.
How do you sponsor something and then penalize your detective commander for doing what you ask? Clearly, Sharp used his county email address extensively for his outside company, including planning another seminar this past April and another for later this summer at DoubleTree hotel.
Oddly enough, those were postponed or canceled after I started asking questions.
Likewise, Arnold is suspending Frost for two weeks for selling a computer code to a vendor who used it to set up a sheriff's office program for checking warrants and gaining access to dispatch cards from patrol units in the field.
If Frost and Sharp have that knowledge, maybe the sheriff's office should just find a way to give them a raise or a bonus. Then, they wouldn't have to worry about violating policies.
What Arnold and Russell did—or are doing—is no different. They all made money doing business with or through the sheriff's office.
Someone mentioned JailCigs caused a stink only because it didn't go through the county's bidding and purchasing rules. Well, if it had and county officials found Russell was co-owner and Arnold was an investor, either they would have asked for a cut or nixed it immediately.
But seriously, doing business with yourself is nothing new around here. The late Sam Ridley, founder of the town of Smyrna, was ousted from office by the Tennessee Supreme Court because the town was too tight with Ridley Chevrolet. (I might mention I really liked Sam Ridley. He was truly a character.)
That case took years to make its way through the legal system. If Arnold winds up getting indicted for official corruption, it could go on for years as well. Think about it. It's been four months already since this stuff came out, and aside from running under radar, Arnold's still driving his fresh black Chevy Tahoe, paid for by taxpayers.
Growing Liability
The Tennessee Bureau of Investigation is looking into a December 2013 incident in which the sheriff's cousin, Deputy James Vanderveer, apparently pepper-sprayed a confined inmate, purportedly causing damage to his eyes.
TBI recently confirmed it's investigating the matter at the request of District Attorney General Jennings Jones.
A video circulating on YouTube for more than a year shows Vanderveer and another jailer, Deputy Jessica Leigh Green, participating in the confinement and pepper-spraying of inmate Demario Harris Jr. in late 2013.
It looks like something out of a Soviet gulag.
Harris Jr., represented by Nashville attorneys David Cooper and Aubrey Givens, filed a lawsuit Nov. 26, 2014 in U.S. District Court against Sheriff Arnold, Vanderveer and Green, documents show. Harris contends they violated his constitutional rights under the Eighth and 14th Amendments of the U.S. Constitution, in addition to protections by the Civil Rights Act.
The former inmate is seeking a jury trial and a total of $300,000 in compensatory and punitive damages, plus court costs and attorney fees. The incident took place when Harris was arrested Dec. 9, 2013 for disorderly conduct and resisting arrest by Murfreesboro Police and taken to the jail where he was charged with the misdemeanor offenses and held on $4,500 bond.
A few years ago, Vanderveer quit the sheriff's office after getting charged with DUI. Then, he got rehired, and shortly afterward perpetrated this pepper-spraying of an inmate, which the sheriff, more or less, said was OK because the inmate was unruly.
Vanderveer became full-time in October 2014 when a waiver was submitted to the Tennessee Peace Officers Standards and Training Commission for a September 2010 disorderly conduct charge from Cobb County, Ga., according to information from POST Commission records. Now, he's a road deputy, which is a promotion from jailer.
Someone mentioned this is a terrible case of nepotism. Well, maybe so, but you'd have to throw the word bizarre in there too. This just doesn't happen every day—I hope.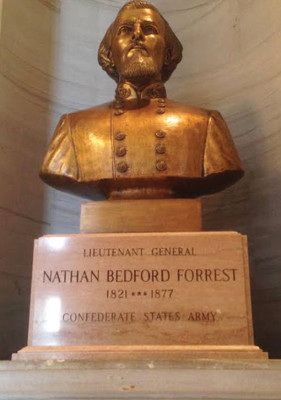 Forrest Out?
Confederate Gen. Nathan Bedford Forrest probably wasn't looking ahead 150 years when he stormed the Rutherford County Courthouse and set free local prisoners. He likely wasn't considering whether his name would be taken off MTSU's ROTC hall or his bust out of the state Capitol when his men massacred a good number of black Union troops and white Southern federal loyalists at Fort Pillow during the Civil War or War Between the States or War of Northern Aggression, depending on your bent.
More than likely, he was just trying to win and stay alive in the process. After all, he did have nearly 30 horses shot out from under him.
Oh yes, and he probably wasn't concerned about his reputation a century and a half away when he helped found the Ku Klux Klan to dissuade black Tennesseans from going to the voting polls. Though he is generally recognized as the Klan's first grand wizard, he testified in a congressional inquiry about the KKK that he wasn't a part of the organization.
He had amassed a fortune as a slave trader, land speculator and plantation owner before the war, but he did make a reconciliation speech years later, seeing the error of his ways and calling for black Americans to enjoy the same rights as their white counterparts.
So here we are early in the 21st century trying to decide whether to remove his name from MTSU's ROTC hall and his bust from the state Capitol. The debate comes after the South Carolina murder of nine people by a young man who had wrapped himself in the Confederate battle flag, which led to the state removing the banner from statehouse property.
First of all, Forrest would probably say, "To hell with 'em, I'm going to Texas."
But second, one would have to ask: "Why is his name on MTSU's hall?" He died in 1877, long before MTSU's founding, and other than being a great cavalry man who outsmarted Union generals in Murfreesboro, he has no connections to the Blue Raiders or the university.
This isn't an effort to erase history or Forrest's exploits in Tennessee. He simply has no history with MTSU. Instead of dwelling on the polarizing figure of Forrest, the university should find an MTSU alumnus with a strong military background and give them the honor.
As for the bust in the Capitol, why is it in there? Forrest was not a governor, senator or representative. Sure, he was from Tennessee, and some would consider him a great Tennessean. Many more would not. After all, about 30 percent of Tennessee was pro-Union at that time and probably despised him.
Ultimately, he was a hellacious fighting man—a Confederate commander who knew how to get there "first with the most," though it is disputed whether he said that. In fact, much of what Forrest said or did is disputed, and his life appears to be contradictory at best. Clearly, he had some character flaws but might have tried to make amends late in life. Still, the question remains: Why is his bust in the state Capitol?
The Tennessee Capitol Commission should determine whether he represents the best of Tennessee and put this matter to rest.