If there is one thing we strive to do here at the Pulse it is to inform the reader of things to do in Rutherford County. Usually it's to inform you of new eateries, watering holes, shops, and upcoming music and events in and around Murfreesboro. One great weekend event takes place in Murfreesboro on most Saturdays every fall, and has done so for over 100 years. However, many Murfreesboro residents have seemingly ignored this event over recent years. I'm talking about Blue Raiders football.
The 2015 MTSU football season features a very interesting schedule. Along with a home stand against defending C-USA champs, Marshall, the Blue Raiders will welcome Vanderbilt for the Homecoming game. However, it is the week-two match-up with Alabama that has caught the attention of many MTSU fans. Yet, Coach Rick Stockstill is not particularly excited about the match-up; at least no more so than any other game this season.
"Everybody says 'Hey Coach, I got my tickets to Alabama.' I could care less," Stockstill said. "I don't care about all that. Come to that Jackson State game (Saturday, Sept. 5). Fill up Floyd Stadium and don't worry about Bryant-Denney Stadium."
In saying this, Stockstill alluded to a problem that has hampered the program for several seasons now. However, this is a problem you can solve! Last year, attendance issues were as prevalent as ever. The Blue Raiders ranked 107th in the nation for home attendance in 2014, filling Floyd Stadium merely 56.5 percent to capacity. But that's not all Coach Stock had to say on the issue:
"I encourage our fans, our students. You're going to see a good football team, a good football game. You're going to see a team that competes its tail off every snap of the game. We probably won't win them all. The goal is to win them all, but I know you'll walk out of that stadium, win or lose, and say 'Man, they played hard. They played it the right way. They played with great effort and passion and toughness.' I don't know why you wouldn't come."
And he is right; why wouldn't you come? This is a team that has the talent to compete for the C-USA championship. This is a team that features some of the nation's best players. Three of these players—T.T. Barber, Kevin Byard and Darius Johnson—are already expected to be selected in the 2016 NFL Draft. What's better than being able to watch NFL prospects play in our own backyard?
I'll tell you what's even better: this is a group of guys whose focus is on the team, rather than raising their draft stock. While the stigma attached to highly touted players is that they have a "I'm gonna get mine" mindset, they say their minds are on being loyal to Coach Stock and the team.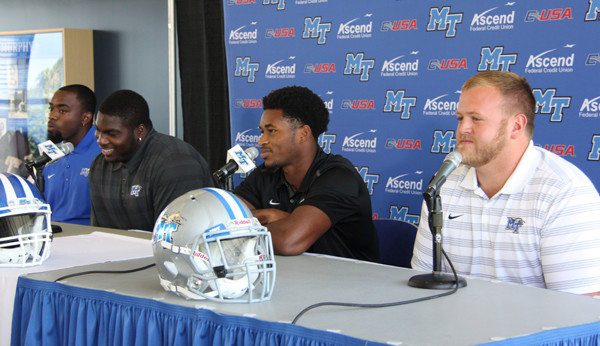 Perhaps proving to be the most selfless of MTSU's pro prospects, which is high praise considering the competition, is Darius Johnson. Darius was given second-team All-Conference USA honors last season while playing the offensive tackle position. Though he caught the eye of NFL scouts as a tackle, he willingly made the move to guard in order to shore up depth issues on the interior offensive line. For someone who has played one position for most of his life, this is a risky move if he is just thinking about his draft stock. However, Darius left no doubt that he is thinking about the team.
"I feel like there is a time for everything. I feel like it's not time (for thinking about the NFL) just yet . . . when it's time to think about it, then it will be thought about, but for right now, our goal is thinking about the team. Our mindset is to think about the team and how we can be the best we can be."
Linebacker T.T. Barber is on the same wavelength as his teammate, saying, "You can't let it swell your head up, because you still have a job to do. You still have to be focused and you still made a promise to the coach when you signed your name on that line that 'I will be here for Middle Tennessee.'"
Safety Kevin Byard also echoed his teammate's sentiment, "I'm just all about winning, because I understand that when you win games that's when the NFL comes. That's when stats pop up, that's when the scouts come."
This looks to be a team that defies the stigma attached to that of higher profile programs. No one is out for himself; it's just all about winning, all about team, and all about loyalty. There is nothing not to love about this team, and there is no reason for you not to show your support. MTSU football tickets are very budget-friendly, so if you have a few extra dollars in your pocket and nothing to do on Saturday, come to Floyd Stadium. Wait . . . let me correct that. Make coming to Floyd the thing you plan to do on Saturday.
For more information on MTSU athletics, tickets, schedules, photos and game results, visit goblueraiders.com.