The Alley on Main took over the space vacated by Roosters months ago, and I still hadn't been there, so I decided that it was time I went. It's touted to be a steakhouse, and my friends had told me it was excellent and had good lunch specials, with all the food being made in house. Needless to say, I was excited and had high expectations.
From the website and logo design, I was expecting the decor to be completely different from what it turned out to be. I anticipated it being sleek and stylish, with an understated elegance. Unfortunately, when you walk inside, it looks like three people tried to decorate without talking to each other. It's eclectic, but in a disjointed manner. The walls are a muted gray-blue color from top to bottom and there are Mason-jar lights hanging over the tables. There are random things made out of wine corks on the walls, along with crooked photos of people whom I am assuming are family members grouped in clusters on the wall. Despite this, the walls manage to look completely empty. They should have let their graphic designer decorate. (Or turn me loose in there; I have a ton of ideas!)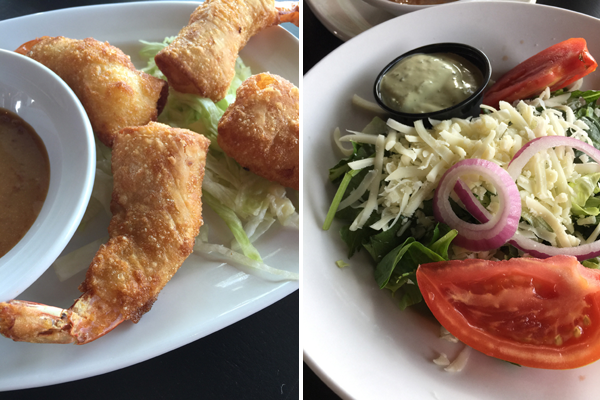 But I've said it before and I'll say it again: you can't eat the decor. So on to the food. We went during lunch, but ordered from the dinner menu so we could get a better idea about the offerings. For our appetizer, we chose the Shrimp Wontons—shrimp wrapped in cheese and bacon, covered with a wonton and deep fried. Delicious. It's served with a cherry mustard sauce that is far tastier than it sounds. You get four per order. By the way, can anyone else attest to how awkward it is when you have three people at a table sharing a four-piece appetizer? You each eat your one piece, find it completely amazing, and then cast sly glances at the lone piece of food sitting on the plate. Each of you wants to grab it, but the manners your mama beat into you as a kid demand that you let someone else take it.
Anyway, I digress.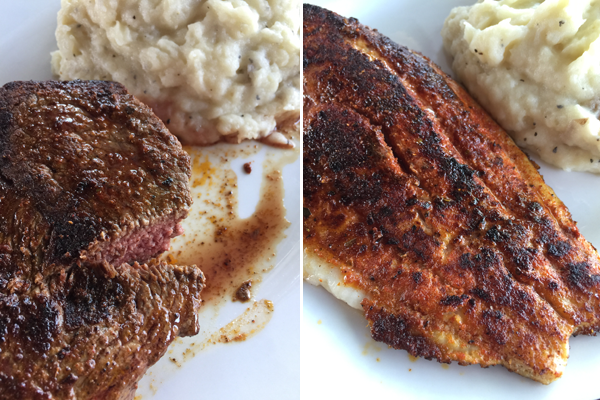 For the entrées, I ordered the 8-ounce sirloin with garlic mashed potatoes, and my companions ordered the blackened catfish and the spaghetti and meatball. Each of our meals also came with a house salad. The salads were awesome. I got the avocado ranch dressing with mine and it was delicious, redolent with fresh herbs. I would go back to the Alley just for those salads. The meals came out in a timely fashion. The mashed potatoes were good once salt was added, and my steak was cooked pretty close to what I had asked for (medium). The seasoning on the steak was excellent, but chewing it gave my jaw a workout. Of course, with sirloin, that's always a possibility. It's like playing steak roulette. Sometime I'll try the filet. The blackening spices on the catfish were tasty and not too spicy, but I don't really like catfish unless it's fried, so my views really don't count much. Then there's the spaghetti and meatball. Meatball. Singular. Meaning pasta topped with marinara sauce and a homemade meatball as big as my fist. This is what I am ordering the next time I go. The bite I had of the ball o' meat was delicious. It's served with a piece of garlic toast and a scoop of homemade ricotta cheese, one of my favorite things.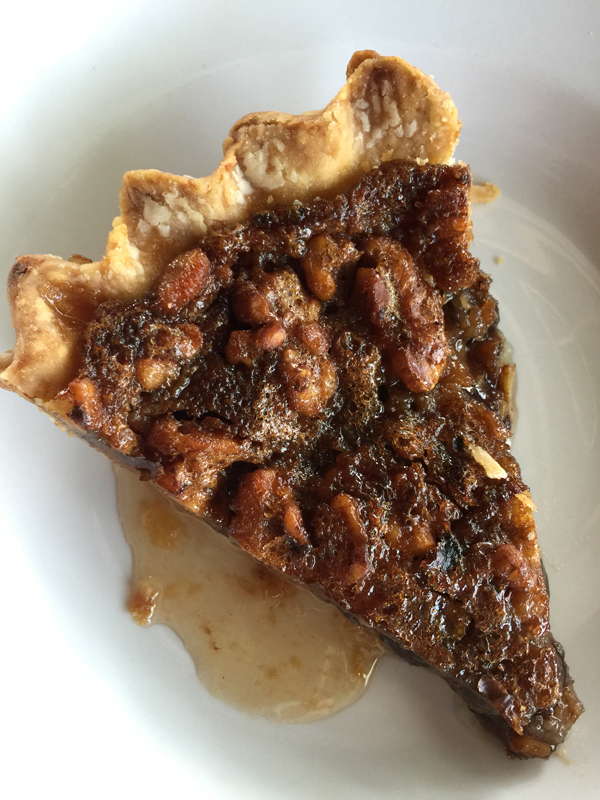 For dessert we chose the Thoroughbred Pie, which is like a Kentucky Derby pie: pecan pie with the inspired addition of bourbon and chocolate. I don't think a better combo exists in my world than bourbon and chocolate. The pie was delicious and the fact that the crust was homemade added bonus points for me.
While I was waiting on my companions to arrive, I overheard one of the owners, Christy, telling the table behind me that it's a good idea for patrons to ask their server about the foods that are available but aren't on the menu. That day, for instance, you could get chicken parmesan. I also hear The Alley is soon going to start offering crab cakes on Fridays.
Overall, the experience was good and I'm exceedingly happy to welcome Christy and her crew to the restaurant scene in Murfreesboro. Plus, it doesn't hurt that she has an excellent first name. *wink*
IF YOU GO:
Name: The Alley on Main
Location: 223 W. Main St.
Phone: (615) 203-3498
Hours: Mon.–Thurs.: 11 a.m.–9 p.m.; Fri.–Sat.: 11 a.m.–10 p.m.
Prices: Bone-in ribeye (16 oz.): $25.99; filet (10 oz.): $35.99;
sirloin (8 oz.): $12.99 (steaks served with salad and side);
spaghetti with meatball: $12.99
Online: alleyonmain.com