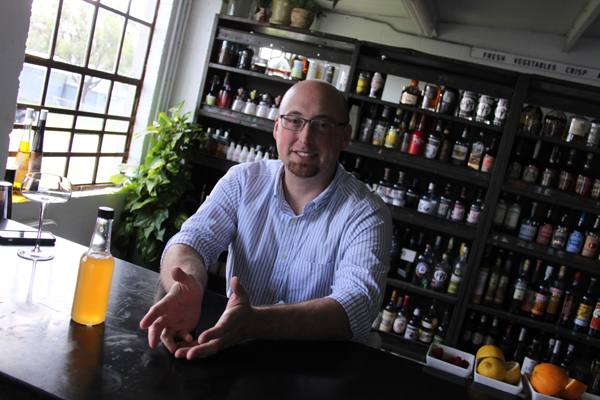 A few years back, Tennessee native Luke Duncan was searching for a properly mixed old fashioned, the historic American cocktail generally made with sugar, whiskey, bitters and a twist of citrus. But his search did not satisfy him.
"One would be very watery, one would be very sugary, one would taste like fruit salad," Duncan said.
So he decided to create his own Old Fashioned syrup.
An authentic version of the drink can take a long time to make, as the sugar does not immediately muddle in with the liquor; "sugar and alcohol don't play well together," Duncan says.
But his syrup can help the home mixologist, or the professional bartender, quickly make a great-tasting old fashioned.
Soon after settling on his method for that syrup, a few Nashville-area restaurants began using the product; Duncan created some more syrups, branded his company as Eli Mason, and grew it from there.
Today, Eli Mason offers a variety of flavored syrups that include the old fashioned cocktail mixer, a mint julep mixer, grenadine (made with pomegranate juice) and demerara (made with molasses), among others. In fact, in addition to retailers and restaurants around the U.S., the syrups are even distributed internationally.
"I'm about to ship a case to Austria," Duncan said, while mixing a drink for a tasting at Nashville's Food Sheriff complex, a Nashville-based operation on Trinity Lane that assists area restaurants and food-and-drink manufacturers with their marketing and promotional needs.
"Jesse, the Food Sheriff, does a lot of recipe development for local liquor brands and restaurants," Duncan says.
The mixed drink is a very American institution, he notes, linking the cocktail to America's melting-pot heritage; barkeeps have long taken ingredients from all over the world—tropical fruits, liquors from all over, various herbs and spices, and all sorts of items—and blended them into their own refreshing creations, the entrepreneurial head of Eli Mason says patriotically.
Eli Mason partnered with The Peach Truck in the summer of 2015 to produce a special limited edition peach syrup, a delicious product Duncan is particularly proud of.
Each 10-ounce bottle contains the juice from about a pound of peaches, and the final result is a thick syrup, somewhere between a liquid and almost a sort of gel/marmalade consistency, not overly sweet, but bursting with peach flavor.
Here are a few creations utilizing this seasonal, peachy concoction: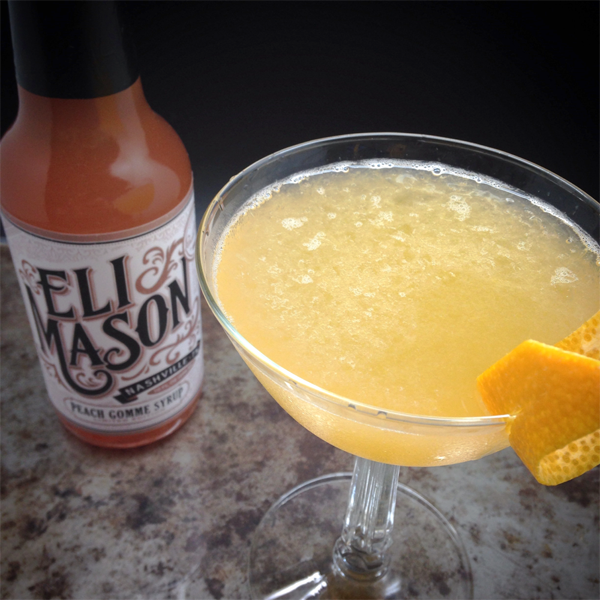 Little Bird
This bright beauty is named for Bob Marley's "Three Little Birds," and evokes the warm Caribbean sun. The drink contains Pimento Dram, a liqueur made from the allspice berry, a popular Jamaican seasoning. (The Bitter Truth makes a fine Pimento Dram). The Little Bird has a nice balance of spicy and sweet, with lots of peach and orange flavor.
Ingredients:
1 oz. white rum
1 oz. gold rum
.75 oz. Eli Mason Peach Gomme Syrup
.75 oz. fresh orange juice
1 barspoon Pimento Dram
Shake all ingredients over ice and strain into a long-stemmed glass. Garnish with orange peel.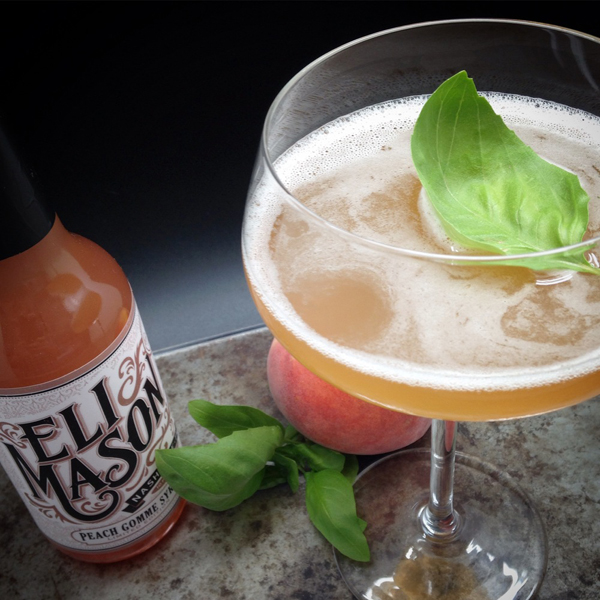 Lisabetta e Lorenzo
This cocktail is named for two lovers who make an appearance in Boccaccio's early Italian Renaissance masterpiece The Decameron. Here's the short version: Lisabetta loves Lorenzo but her brothers despise the union and end up killing Lorenzo and hiding his body. Through a dream, Lisabetta finds Lorenzo's body and returns home with his head, which she buries in a pot with basil and waters daily with her tears. The basil flourishes and eventually the brothers discover Lorenzo's head at the bottom of the pot. They have it removed from the house, whereupon Lisabetta cries herself to death. Perhaps the coupling of basil with peach will have a more pleasant ending.
Ingredients:
2 oz. rye whiskey
1 oz. Eli Mason Peach Gomme Syrup
.5 oz. Amaro Meletti
.5 oz. fresh lemon juice
1 sprig fresh sweet basil
Instead of muddling the basil, shake it along with everything else over ice. Then double strain into your most elegant glass and float a single basil leaf on the surface.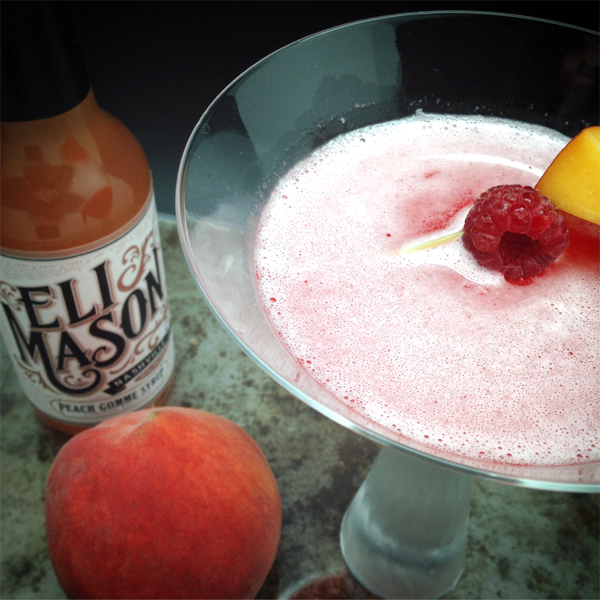 Martini Melba
Named for soprano Nellie Melba, this sweet dessert cocktail makes use of the double strain to ensure a smooth texture without too many floating bits of fruit.
Ingredients:
2 oz. vodka
1.25 oz. Eli Mason Peach Gomme Syrup
.75 oz. fresh lemon juice
4 fresh raspberries
Muddle raspberries before adding the other ingredients and shaking with ice. Double strain into a martini glass and garnish with fresh raspberries.
For more recipes and information on Eli Mason syrups, visit elimason.com; their products can be found in Murfreesboro at Murfreesboro Wine & Spirits on Church Street, and at Stones River Total Beverages on Thompson Lane.