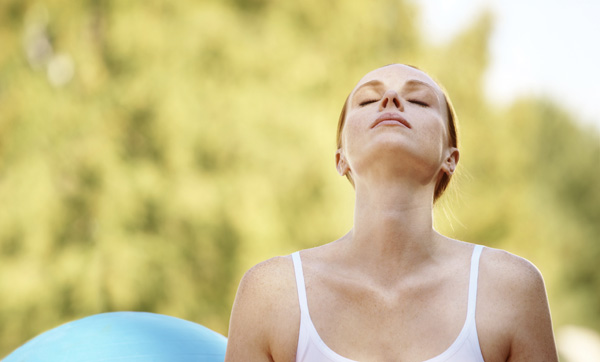 Ever find yourself feeling anxious, nervous, depressed, frightened, fatigued or restless? Want to neutralize or alter the way you are feeling, within seconds? Guess what "one common thing" you can do to achieve this? It's free and available wherever you are, whenever you need it! B r e a t h i n g.
It's true. Intentional breathing can calm the nerves, stabilize the senses, lower blood pressure, energize a tired body or help you sleep. It can even improve your complexion. How you breathe determines the outcome. Sound simple? It is simple, but not necessarily easy. If it were easy, even the least disciplined of persons would do it more consistently. Perhaps you are one of the ones who just needs to know how, and will implement it immediately and begin feeling and seeing the benefits.
Almost two decades ago, when I started doing bodywork, I soon found that most people are very shallow breathers. They "carry the weight of their world" as if holding their breath. Sound familiar? I call it "holding-in syndrome." It shows up in the form of tight muscles, stiff countenance, rigid chest and short breaths—not fully expanding lungs or belly. Most people feel as though they are relaxed yet their body suggests a different story. I found that you can't just say "relax" and, voila!, it will magically happen. As I learned different methods of breathing I would instruct clients in these techniques. This appeared to be the most profound approach in assisting them to surrender more deeply into relaxation. They could quickly tell the difference between a truly relaxed state versus what they had previously thought was relaxed. After working with thousands of individuals, many of them return, even years later, and remark about the continued practice of a breathing technique they learned. Though there are hundreds of applications, here are a few of my favorites to get you going.
Noticing Breath (Good for beginners)
Just sit or lie comfortably. Breathe normally. Close your eyes. Now, simply notice that you are breathing. Don't judge how you're breathing. Just breathe. Notice how the inhalation feels in your body. Does it take three seconds to inhale fully, or more like seven or eight? How does the exhalation feel in your body? Is it a two-count or six-count exhalation? Do you breathe rapidly, slowly, deeply? Just notice.
Deepen your breath (Good for all)
Once you notice your breath count, increase it. Place your right hand on your chest and your left hand on your belly. Breathe in, counting in the same rhythm, as high as you can while breathing in. Exhale in the same manner. As you continue breathing, try to increase the number each time. This will take time to get to a significant number. (an initial goal would be a 10-count breath each on the inhalation and the exhalation.) Be patient, and practice each day. You will be able to increase as you go.
Breathe with a tiny motion (Helps you sleep)
Lie down. With your left or right hand, touch the tip of your thumb to the tip of your middle finger. Find a relaxed, comfortable position for your hand. As you inhale (keeping those two fingertips connected) lightly separate the tension between your thumb and middle fingertips. Exhale, applying a light amount of pressure between the tips, for the entire length of the exhalation. Repeat this exercise until you find yourself drifting away.
Nine-breath method (Energizer/heightener)
It consists of a rhythmic, more vigorous inhalation and more subtle, yet strong exhalation. The breath is continuous, without pause at the height of the inhalation for nine consecutive breaths. For a truly authentic experience of this technique, it's best to get guidance from a trained instructor.
Breath empowerment (Full body vibration)
Great for stimulation, energy, balance, skin tone, even weight loss. This should be learned with a trained instructor. The body can release stored or trapped energy, emotions and sensations that may surprise you. A guide can keep you on track. During this exercise you will breathe more vigorously (a "Warrior's breath") for an extended period of time. This method is very powerful and life changing!
To deepen perspective on these or other styles of breathwork more fully, please email me or do your own research. Until next time: "Breathe deeply and see your magnificence!"
~~
The Murfreesboro Pulse and the Nurture Nook will host an outdoor event at The Nurture Nook's InSPAration Garden celebrating the new partnership in bringing Pulse readers information on improving their health and their lives. Everyone is invited to join us at the Nurture Nook, 624 N. Walnut St., on Tuesday, Oct 20, beginning at 5 p.m. for a Live Exceptionally . . . Well! launch party featuring music, nibbles and sips, wordplay and more. For more information, call the Nurture Nook at (615) 896-7110.