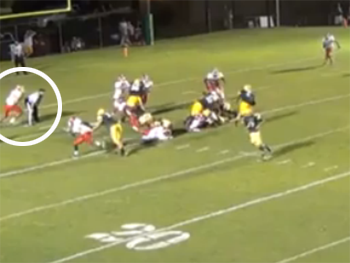 In one of the strangest news-story twists in some time, a Smyrna-based football referee was suspended from calling games after a Glencliff High School player upended him during a contest at Gallatin.
As far as reports go, the referee, Kyle Gill of Smyrna, did nothing wrong during the game, throwing a 15-yard unsportsmanlike conduct flag on the player for running over him.
But, oddly enough, after Glencliff High School's principal overturned the coaching staff's decision to suspend the player for one game, the Tennessee Secondary School Athletic Association put the cuffs on the referee after obtaining information that he had a felony arrest in his past.
Gill, chief operator at the Smyrna wastewater treatment plant and nephew of Town Manager Harry Gill Jr., had his whistle locked up when the TSSAA discovered he entered a plea to attempted statutory rape and aggravated criminal trespassing, both misdemeanors, in April 2007. The plea agreement stemmed from a felony statutory rape charge filed against him in April 2006.
He was sentenced to two one-year jail terms, which were suspended, and placed on probation. As part of the plea, he also was prohibited from taking a job with any school system.
But when filling out his application to become a TSSAA football referee, Gill apparently marked that he had never been convicted of a felony and failed to note he had been charged with a felony, which would have disqualified him from becoming a referee.
TSSAA Executive Director Bernard Childress said either the initial arrest or the plea would have been enough to disqualify Gill from registering to become a referee.
Smyrna Town Manager Gill defended his nephew, saying he was a great employee. He said the fact that Kyle Gill came "under any kind of scrutiny with what happened there is absolutely unbelievable."
Gill pointed out that if we look into everybody's past, most people probably did something 10 years ago they regret.
He's probably right about that. But sometimes those mistakes follow us for life.
This isn't a case, either, where the media cost Kyle Gill his referee job. The TSSAA made that decision after someone tipped them off about the arrest in Gill's background. Once they checked on the matter, they found out he never should have been a referee in the first place.
In fact, the referee brought attention to himself when he told media the collision with Glencliff player Malcolm Easley was "malicious." He further noted in a radio interview that as long as young people are not held accountable they'll keep doing whatever they want to do.
Kyle Gill could not be reached for comment once the TSSAA suspended his registration.
It's too bad we can't all wipe the slate clean and start over every day. Sure, we can repent and ask for forgiveness. But in a court of law, forgiveness is hard to find.
When someone enters a no-contest plea, it means they are not admitting or denying guilt. An attempted statutory rape conviction is not easily cleared, either. It's not like underage alcohol consumption or some other small misdemeanor that can be expunged.
It hangs around on a piece of paper, just waiting for someone to check.
Certainly, this is an unfortunate situation for Gill. Let's hope he can bounce back from it. Meanwhile, the TSSAA Board of Control is set to consider in November requiring background checks for all current referees.
This is something the association should have done long ago.
Let Me Up, I've Had Enough
Just when you think you've heard everything possible out of the Rutherford County Sheriff's Office, Sheriff Robert Arnold recently dropped a bomb when he fired Deputy Chief Virgil Gammon. In the midst of a federal/state investigation into no-bid, unauthorized contracts at the sheriff's office, this would be a good time to keep things quiet out at 940 New Salem.
But rather than avoid another round of discussion, Arnold terminated Gammon, a 38-year veteran of the department, without giving a reason.
Of course, all sorts of speculation is swirling around Gammon's firing. Most onlookers believe Arnold thinks Gammon gave the feds incriminating evidence about the sheriff's involvement with JailCigs, an inmate e-cigarette vendor connected to the sheriff and his chief administrator, Joe Russell (Russell co-owns the company along with Arnold's aunt and uncle, and the sheriff is an investor).
If Arnold fired him for providing information to the feds, that's a clear whistleblower case, one that could wind up costing the county hundreds of thousands of dollars in settlement and legal fees.
Gammon also could have a due process claim, if he got fired without getting a chance to go through protocol.
All Arnold said about the matter is Gammon's services were no longer needed.
In all honesty, it's amazing Gammon lasted this long. He was the only holdout from former Sheriff Truman Jones' administration and probably had designs on the sheriff's job himself before Arnold got it. He definitely has strong ideas about how a sheriff's office should be run.
Gammon has consulted with local attorney Terry Fann, who represented two sheriff's office employees fired or forced out of the office, but isn't committing to legal action yet. Fann won settlements of $275,000 for former Detective Jim Tramel, who ran for sheriff last year, and $307,500 for former sheriff's office employee Joy Nelson, who filed an age discrimination case after being released.
Fann also is representing former sheriff's office employee McKayla Black in a lawsuit against the sheriff and county. Cha-ching. Cha-ching. You have to wonder if Arnold's goal is to cushion Fann's vacation and retirement accounts.
Of course, the media circus surrounding Arnold is hardly finished. The FBI/TBI investigation into his administration is ongoing. The question is: If he's arrested, will the feds make an example of him and do a "perp walk"? More than likely.
Keep Open Records Available; Taxpayers Have Already Paid for Them
In the midst of public hearings on legislation allowing government to charge fees for inspection of public records, state Sen. Jim Tracy changed course recently and said he won't bring the bill for consideration in 2016.
"That was just to get the discussion started. I'm never gonna run that bill. That bill was presented just to get the discussion (started), both parties together," Tracy, a Bedford County Republican, said.
Tracy, who represents part of Rutherford County, said representatives of groups on both sides of the issue met in his office during the 2015 session to work out agreements on the measure he sponsored. He then took it off notice.
The Office of Open Records conducted public hearings across the state in mid-September to take comments on the matter and heard overwhelming opposition from media and residents of every political bent.
State law allows local governments to charge "reasonable" fees for copies of open records, but Tracy's Senate Bill 328 would have allowed government entities to charge for access based on the time it would take a records custodians to obtain those records, redact any personal information and make them available for public requests.
Tracy said early this year he sponsored the bill at the request of the Tennessee School Boards Association, which contended some of its school systems were being inundated with requests for thousands of documents, taking personnel away from their main jobs and costing taxpayers money.
The Tennessee Coalition for Open Government and Tennessee Press Association, along with media outlets and residents statewide, oppose the measure, saying it would reduce access to government records the public already pays for through taxes.
The matter may be moot if Tracy doesn't change his mind again. Sometimes, politicians say things to test the political wind, then they switch strategies. Not that Tracy would do that, but state lawmakers can be shifty.
People may ask why this is so important, and here's why: journalists and some members of the public with inquiring minds spend a good deal of time poking around in government records. These could be personnel files, court records, financial documents, environmental reports, meeting minutes—anything that shines a light on how government is doing business.
In fact, most people don't realize they have the same right as reporters to look at these types of records. But they do, and this type of legislation would make it much harder to obtain them. The legislation, as written, would allow government to charge hefty fees to review the information, anywhere from hundreds of dollars to tens of thousands of dollars, depending on the amount of records requested.
The government's argument in favor of these fees is always based on the amount of time it takes a records custodian to find the records, redact personal information and make them available. They contend it takes them away from their normal duties.
Well, here's another way of looking at it. Make open records that person's normal duty. After all, the computers and the paper that contain these records belong to the public. The people pay for them, just like they pay the custodian's salary. They should be able to review them any time they want, and the idea of charging fees for records review is ludicrous.