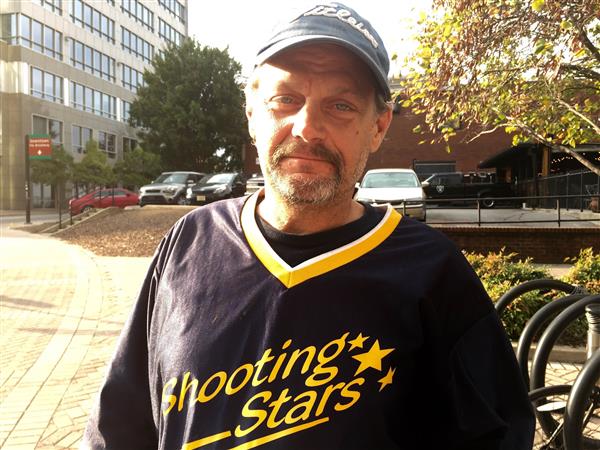 Neon signs light up to guide a way for young, college crowds along The Gulch's outskirts in Downtown Nashville. It's mid-September in Tennessee, meaning blazing-hot days and chilly nights until sweet October arrives.
Bright lights flash. Sirens roar.
Emergency vehicles whizz around Music City Circle's roundabout, anchored by the beloved Musica statue.
"Hey!" exclaims an unfamiliar voice. "Can you just . . . sit down and talk for a second?"
A 49-year-old man with a bandaged hand, blue baseball cap, full grey beard and sports jersey is sitting on his bench outside of Little Chicago Pizza on Demonbreun Street. The man sits on this bench every day as dusk falls upon the city.
"Sorry you have to see me in these conditions," says the man, Todd, in a raspy, low voice. "I'm usually cool as a fan."
Todd is a musician. He came to Nashville 15 years ago to find a career in music, and feels blessed to have made it this far. After hitting rock bottom in Key West (where he tried to land a job) someone stole all his belongings. He made his way back to Nashville and has been homeless for six months since then because, as he puts it, he is "down on his luck."
"I'm a songwriter of hit songs," says Todd. "I make money off writing, but I'm no artist."
According to Todd, one of his songs almost got cut; it was on hold for six months. It's called "Mister Bo and Brother Man." While writing, Todd was inspired by his best friend. He says to keep in mind that this was written a while back, when Hank Junior and Kid Rock were all on the same label. Todd begins singing in a delightfully calming voice:
They like money big or money tight/
And women thick or thin/
Stayin' drunk wrong or right/
Nights that never end/
What goes around will come around/
We will go through it all again/
Mister Bo and brother man
He memorizes all his songs and sings with ease in front of the crowds walking by his bench. He sings with passion, his voice raspy and deep. Star-worthy.
In addition to being a songwriter, Todd lays tile to make extra money.
"My mosaics are all over town," says Todd, "Ever been to Rebar? Well, that's my tile."
Rebar is a lively, rustic watering hole serving food and booze to Nashvillians on Division Street.
"I have two publishers," says Todd. "If [my song] gets cut, I make my money. It's a business. But it doesn't pay the bills. So I lay tile and do other things . . ."
Todd has trouble laying tile for money now, considering his recent debacle with another homeless individual. Todd's bandaged hand is shattered and needs a serious medical procedure. His hand has been broken for four months.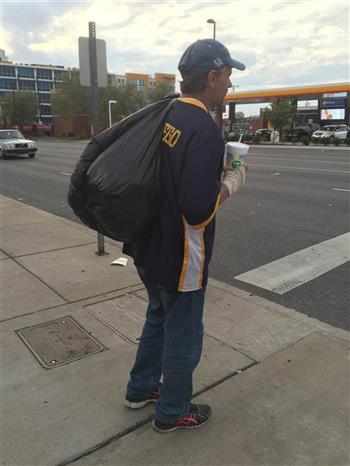 "They want to operate and do all these things," says Todd, "but I have nothing."
Todd broke his hand while fighting someone who was bothering his ill girlfriend. Although he never mentions his girlfriend's name, Todd calls her "my girl" and "my love." Apparently, his girlfriend has cirrhosis. They were dating for a year, but now Todd and his girlfriend have parted ways.
"She chose dope over me," says Todd. "She would rather pop pills than have true love, I guess."
He has too much pride to get in debt to the hospital. Todd's family gives him money, but he used it on his girl. He wasted it. He believes his life could have been better if he had spent the money wisely.
"I have friends, but I don't ask them for help," declares Todd. "What's the point?"
Todd didn't go to college, has never married and doesn't have any children. When asked what he did after completing high school, Todd says he has been writing music his whole life. When he turned 3 years old, Todd began to play piano. That's where he passion began.
"Mind if I smoke?" asks Todd. "I try to be polite."
Todd has great manners and truly cares about those around him. He says he is at a point in his life where is ready to give up everything just to have an opportunity again.
"I want to readjust," states Todd seriously. "I want an opportunity to do the right thing."
When asked what's stopping him, Todd says he feels like no one cares about him and others in the homeless system with bigger needs are in line in front of him. Although he feels inferior and his confidence is shrinking, Todd believes in counseling. He just wants a place that gives him hope.
When asked what would help him accomplish those goals, he says, "That's a good question."
"After a breakup today," says Todd, "I just want opportunity. That's all I want, but it's not easy to get."
Todd isn't usually one to complain, but he says he just wishes that there were a place where folks actually understand that some people don't just "use the system." There are some individuals that are really down and out, according to Todd.
"Forgive me. I'm not myself today," Todd admits shyly.
A hospital recently kept Todd in the building for nine days. He was admitted for intestinal infection.
"I've been through the ringer, but I'm not trying to complain," says Todd. "I'm trying to bring smiles!"
Todd aspires to inspire.
When asked what he needs, Todd expresses an extreme need for a safe place to lay his head where he won't get in trouble. Currently, Todd sleeps under a gazebo in Music City Circle. Todd says he can't even go in the park after dark or he will get a ticket, and he can't afford that ticket.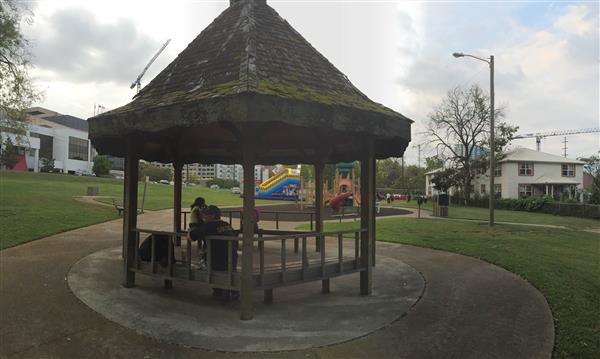 "People need to be guided by what they want the most," claims Todd. "But that passion is the hardest thing to figure out."
Todd says he could go sell drugs on the side of the road right now, but that wouldn't bring him satisfaction.
"I could go sell drugs and make a fortune, but I wouldn't be on this bench talking to you right now," says Todd.
When asked if he could be a songwriter for a living and pursue his childhood passion, providing that he would give up all addictions to do that, Todd responded quickly.
"Yes," he answers simply. "Yes. Yes. Yes, I would."
But, when asked what's stopping him, Todd says, "There's no one in my life that has shown me that they care about that."
All Todd wants is a chance.