Cars zoom past West Main Street as locals walk by carrying a bountiful supply of fruits, vegetables, breads and fresh cut flowers purchased at downtown Murfreesboro's Saturday morning farmers' market.
It's a few minutes past 10:30 a.m. and Ross Lester, founder of Everybody Drum Some, is leading a weekly drum circle, smiling at people passing by and offering a welcoming environment for those who want to join.
"It's not always about talking," Lester explains to a group of about 11 drummers under a tent, referring to them as his "drum disciples." "Sometimes . . . it's about listening," he says, imparting wisdom about the importance of sensitivity and give-and-take in musical collaboration.
Drummers of all ages keep up a steady beat on drums of all shapes and sizes. One drummer beats on a violet, magenta and orange drum while another participant shakes a tambourine along with the beat.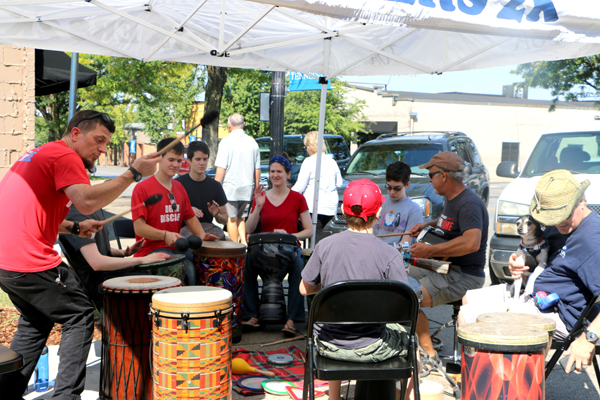 "Percussion only," he then says with a whisper. Moments later the beat slowly begins to build up again, and the heavy drumming is back in full force before coming to an abrupt halt. A group of people who were looking on ask if anyone can jump in and play.
Like everyone else who has approached the group, Lester greets them with a warm smile and a handshake before asking for each of their names.
"People really get into the drum circle because it's participatory instead just something they spectate; this is music people are in on." Lester explained. "Everyone likes music in some fashion . . . how often do you find someone who says they don't like music?"
One of many people who approached the tent was Murfreesboro resident Doug Smith, who said that although it's been a while since he's played the drums, it was a "nice surprise to join in with the group."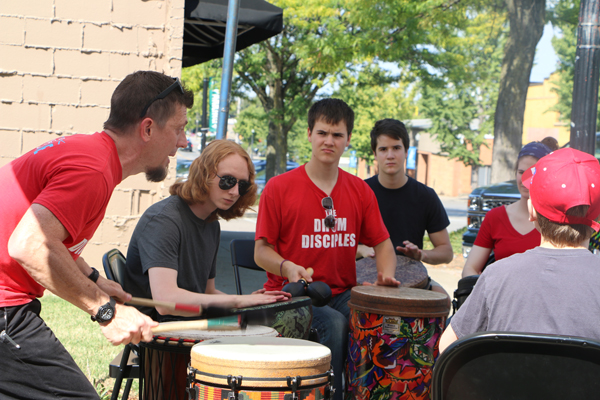 Lester, originally from Little Rock, Ark., lived briefly in Memphis and Nashville before eventually settling down in Murfreesboro several years ago. Here, Lester's involved in several projects, most recently the drum circle which began earlier this summer in accordance with the farmers' market.
"There's a lot of research out there that shows the benefits of drumming in a large group like this. Some say it's good for our brains, good for our bodies and good for us socially," he says. "It's a fun and supportive environment, and even people who have never played the drums will walk up and join us and seem to have a great time."
Lester says he began playing the drums as a small child and, as a result, performed in rock bands while in high school. Although he once had dreams of being a "big rock star," Lester said he soon realized there was a lot more he wanted to accomplish in the realm of drumming.
"There's so much joy for me, personally, while playing the drums and there are so many great discoveries in music, rhythm and drumming," he says. "It's fun for me to share the discoveries with someone else, and it's a big-light moment when others begin to see what I see."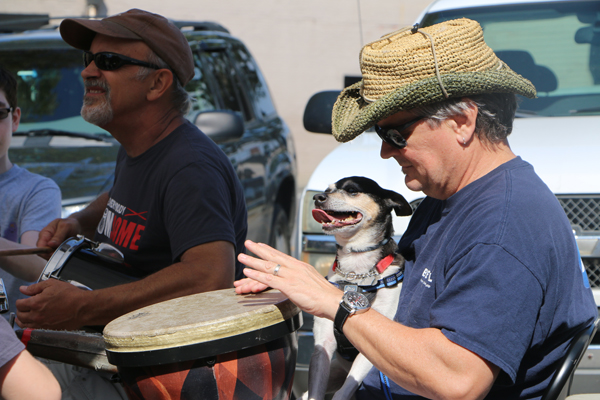 In addition to the weekly drum circles, Lester teaches drum lessons at Concert Musical Supply, leads The Drum Disciples, a band of friends and students who perform together occasionally, and serves as the director of the Creative Rhythm Percussion Team, a group of high school and middle school students at the Rutherford Tutorial Academy. The Drum Disciples and the Creative Rhythm Percussion Team both performed at Murfreesboro's Earth Day celebration and, more recently, the Main Street Jazz Fest.
"Sometimes I come across students with a lot of talent, aptitude and music ability and who have the potential to go on to be accomplished drummers," he says. "On the other hand, there are also people who are interested, but who know it's more of a hobby and that they're not necessarily going to grow up to be full-time musicians."
However, it's hard work and dedication, he says, that can transform an interest in drumming into a passion and potential career. Lester says this was the case with one of his former students, who originally struggled with the craft but, after a lot of time and practice, went on to play the drums for a Nashville band.
"People's desire is the criteria for me to work with them," Lester explained. "You don't have to be talented, but if you're willing to work on it, good things can happen and that's what I see as a big motivator for people."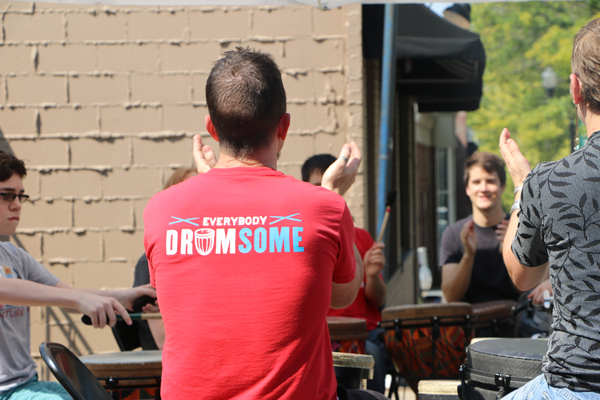 When Ross isn't at a weekly drum circle, teaching a drum lesson or spending time with his three sons, he can be found performing with the CJ Vaughn Trio, a local blues and funk outfit. Additionally, Lester says one of the main reasons why he teaches drumming and holds the weekly drum circle is because he has a passion for promoting drumming and rhythm awareness in the community.
"We live in a world that is built in rhythm, we even got rhythms inside of us," he says. "Our heart beats to a rhythm, we breathe into a rhythm, we're rhythmical beings living in a rhythmical world, so to play the drums is a natural thing for us to do. Sometimes it takes longer for others to find it, but they all have it in them."
If you'd like to join Ross and others at the Saturday drum circle, there's not much time left. The drum circle, which meets at 10 a.m. each Saturday outside Concert Musical Supply on West Main Street, will pack up until next summer after October.
"Some of us are gonna drum a lot," he continued, "but everybody can drum some."
To stay up to date on Ross' events or to check out the services Everybody Drum Some has to offer, visit everybodydrumsome.com.