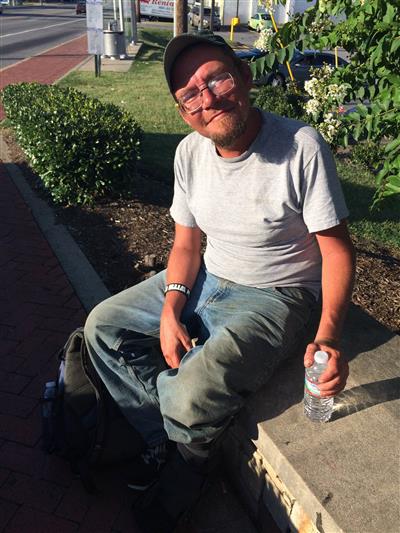 With only a backpack and the clothes on his body, a man quickly dashes across the street heading towards a statue that indicates "City of Madison, Tennessee." Well, to clarify, the man is only walking quickly for a man with a broken leg. His cast is dirty and wet, considering the sweat caused by this 90-degree summer day.
Come to find out, the man only rushed across the street to sit on the welcome statue while gazing at cars driving by. I approach the man and hand him an ice-cold water bottle. He says his name is Steve. He is wearing dirty, light wash jeans accompanied by a grey T-shirt and a smile. He has a slight beard complemented with thick glasses. When asked how old he is, he says "old enough." I proceed to greet him with a handshake. He seems astounded.
"I can't believe you just walk around during the afternoon handing out waters," says Steve.
Instantly, he began to vent about his life. Steve is from Portland, Tenn. He calls Portland the "strawberry capital of the world!" Steve says he got sick of strawberries when he picked and sold them to buy a new GI Joe toy when he was younger.
A broken family life has taken a toll on Steve. After a falling out with his biological parents, his grandparents raised him. As soon as Steve entered college, his grandfather (whom he considered to be a father figure) passed away. Steve finished one year of college, but then he had a "mental breakdown."
"Now?" asks Steve. "Now, I'm homeless."
Steve is not only homeless, but also jobless and disheartened. Compared to Murfreesboro, Madison has very few homeless resources. There are two churches that help serve them. For now, homeless individuals have minimal meals and services to help with day-to-day needs. Lunch is provided by Long Hollow Baptist Church on Mondays and Wednesdays. Other than that, Madison is in extreme need of help for the poverty-stricken community.
The homeless population in Madison is only increasing, considering it is one of the areas for spillover homeless individuals from Nashville. Because the city of Nashville is growing so quickly, so is the Nashville homeless population. Most of Nashville's homeless people have had to migrate to outlying areas like Madison.
This increasing homelessness, combined with little to no help, causes issues not only with mental health, but also general health. Steve's foot is broken from an incident resulting from intoxication. It has been broken for weeks with no signs of a quick recovery. He has a government-funded phone for emergency calls and limited personal calls.
"I was arguing with a friend," says Steve, "then I stepped off the sidewalk into a pothole!"
He continues to say, "Dumb things happen." He points to his bracelet that reads, "I'm with stupid" with an arrow after those words.
"[The arrow] should always be pointed towards me," says Steve.
Although Steve is very literate, got a 35 out of 36 on his ACT test, completed a year of college, and has 12 Advanced Placement (AP) classes under his belt, he still believes he is stupid. His alcoholism severely advances his bad choices, though.
Steve is working on a better life for himself. He is scheduled to attend a rehabilitation program later this month for alcoholism. Steve has a fiancée that is employed and homed. She is no longer speaking to him because of his addictions, so he is trying to reconnect with her. It's been weeks since they last spoke. Additionally, Steve is making improvements in his situation by selling The Contributor and a nondenominational church newspaper called Faith Unity to make money. Steve says he spends the money on food and cigarettes, but he especially needs new clothes.
"Sometimes people give me money," says Steve, "but they don't take the paper. I had someone pull up and hand me an apple . . . that apple meant just as much as money to me."
The kindness and courtesy within a person's heart is what makes Steve happy. Kindness is more inspiring to him than the cash. Steve says he could easily get up right now and beg for money in the parking lot, but that's not what it's about. He wants the joy and kindness of others.
"I am blessed to have met you," says Steve. "Here, have a paper."
Steve hands me a copy of Faith Unity, although I don't have money with me. With a smile, Steve says he didn't ask for money. He happily insists I take the paper.
All kinds of people talk to Steve. Cops in Madison know him by name because of his previous arrests. Steve has been arrested for sleeping on public and private property. He has a hard time finding a place to call "home" or "camp" because homelessness is becoming increasingly less accepted in culture today. Public properties close after 11 o'clock, so he can't sleep in the parks of Madison. In addition to his trespassing arrests, Steve has been arrested for public intoxication.
Steve lowers his voice and says, "I'm not hurting anyone. I'm just trying not to get rained on."
Long Hollow Baptist Church gave him a pair of glasses. He appreciated them so much that when they broke in half, he tied a tiny yellow rubber band around the frame to keep them together. He still wears those glasses every day.
Last September Steve was admitted into the local hospital after getting swept up in the Cumberland River during a flash flood. He survived by holding onto a broken tree branch for five hours. While barely keeping his head above water, Steve's glasses fell off his face and floated down the river. To make the situation worse, he had a broken hand. Steve says that's when he found his faith.
Interrupting his story, other homeless individuals step off the Nashville MTA bus and greet Steve as if they are best friends. With hellos and goodbyes, Steve continues.
"On one hand," says Steve, "It was the most traumatic and horrifying experience. On the other hand, it was one of the most beautiful experiences of my life."
Steve continues to talk about his faith. He says he turned his back on God, but God never turned His back on him. He believes there is only one denomination of Christianity, and that's faith.
Steve giggles.
"I guess I got baptized," says Steve (referring to falling in the river), "But I want to do it the right way next time!"
Every day, Steve carries a backpack. Within the backpack, he carries a Bible, food, water and The Book of Mormon. Steve loves to study and learn. He calls it "keeping his head together."
When asked what his next goal is, Steve pauses to think.
"My main focus in life is joy and happiness," says Steve. "There's nothing else I can do."
While I'm sitting, Steve stands up on his unstable legs and looks at me with his head to the side. He reaches for my hand. I extend my hand in response, expecting a handshake. Steve presses his prickly mouth to my skin with a grin.
I met Steve with a handshake, but I left with a kiss on my hand.
—
A week after Steve and I met, he called me. He said after our meeting, he was inspired to find a job. He has an interview with a construction company later this month and hopes for the best.
When Steve gave me the one Faith Unity newspaper he had left in his backpack, I realized he gave me one of the few things he owns. Not to mention, he gave me something he could've sold for money to live a better life. If you see a person in need today, give that person something that holds a special meaning in your heart. Whether you give a smile or an item, you could change a life.