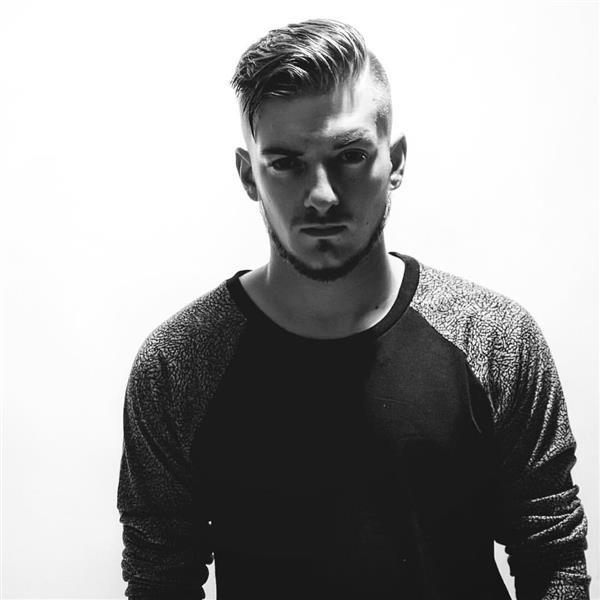 As Nate Brownfield's fingers eagerly hovered over his desktop mouse, a glimmer of pure, childlike excitement flashed in his eyes.
Although he may be a bit anxious, he is confident that hitting the play button on his debut EP, Polymath (out on 10/9 via iTunes and Spotify), will etch a lasting first impression.
The release is a labor of love for the MTSU student who raps under the name "Illuminate," and this is his unapologetic introduction to the world.
Across a synth-filled backdrop anchored by hard-hitting beats and honest lyrics, the 21-year-old raps about his journey as an independent "DIY" artist, all while effortlessly deflecting industry naysayers and even setting the record straight with an old-flame, Illuminate style.
The polished seven-track EP emanates from over 100 song ideas crafted within the span of about two years. Brownfield self-produces and has written all of his own material.
Aptly titled Polymath, the word signifies, "a person whose expertise spans a significant number of different subject areas." The humble emcee exemplifies his EP title, as he has built his entire "Illuminate" brand on his own from the ground up since he was a sophomore in high school.
Sitting at a desk showcasing his in-home studio under a high-rise bed, Brownfield exudes a razor-sharp focus when divulging about the creative process behind the EP. This dedicated mindset complements the clean-cut, gentlemanly look he embodies.
"I do my own graphics, my own video production, mixing and mastering," he revealed in a sit-down interview after a listening session at his home in Murfreesboro. "I even do my own marketing plans."
He hopes that the EP title will shed light on the importance of self-improvement, and that listeners will be able to use this release as a potential soundtrack for introspection.
Illuminate is no stranger to this concept of self-reflection, as he raps with poise on standout track "Just Be," in which he broadcasts to the masses who he is as a daring artist and reminds people to simply concern themselves with who they are instead of constantly focusing on others. The budding rapper ties this important message in a neat bow with the lines: Well the moral of the story is, you are you / And I am me / Just be, as the tune takes a surprising but thrilling turn into a Bollywood-esque breakdown during the bridge.
On his handpicked favorite track, "You Would," the Cleveland, Tenn., native shifts gears from his usually more aggressive tone to crooning over brooding synths about an ex's potential before catapulting into his signature fast-paced verses.
I hope this song is the one I get rich from / Maybe then you'll learn a lesson, he chastises.
Boasting a fan base of almost 9,000 combined followers across major social media platforms as well as having almost 250,000 views on YouTube, Illuminate has garnered a devoted audience through tireless self-promotion and grand exposure by opening for major acts such as The Ying Yang Twins and Twista.
He has also performed at the renowned A3C Hip-Hop Fest in Atlanta last year, which included notable guest performances by the likes of hit-rapper B.o.B. and hip-hop superstar T.I.
This is quite the impressive feat for an independent rapper coming from a small town in the Volunteer state.
"I came up on music like in a vacuum," he confessed. "There wasn't really a music scene in Cleveland, Tennessee; Like, no one showed me anything. I learned everything about recording on my own."
In fact, it wasn't until the fall of 2012 when Brownfield entered MTSU as a Recording Industry major that he connected with like-minded, driven musicians like himself.
"These past two or three years have been huge for me," he said, referring to the symbiotic relationship he has developed with his peers. "I've grown so much as an artist, as an engineer, as a producer. When I came here I was like, 'Oh, you actually care about how this sounds?'"
He recently sold out a headlining show in his hometown of Cleveland, with a line of dedicated fans coiling around the outside of the venue.
Illuminate is undoubtedly capitalizing on this momentum; he is currently in the process of creatively directing stunning, cinematic music videos to visually accompany each track on the EP.
He is also gearing up to perform at a joint album release party at downtown Murfreesboro nightclub Tempt on Thursday, Oct. 15, alongside EDM artist Jonny Grande, who lent a helping hand in mastering Polymath.
"This is me coming out of the gate," Illuminate shared. "I've been rapping for a while but this is me as a new artist—at least it's representative of where I am right now. You know, this is me saying, 'I've honed in on my skills enough, it's time to see what I can do.'"
Tickets for the album release party are $5 in advance, $8 at the door.
For more information on the show, visit facebook.com/temptmurfreesboro; follow Illuminate on Twitter and Instagram @IlluminateYeahh.