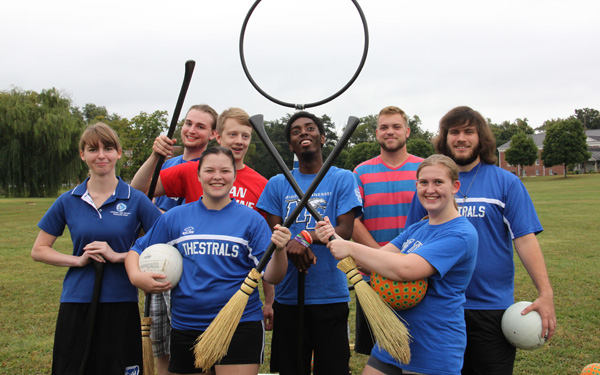 If you happen to be driving on Middle Tennessee Boulevard on Friday afternoons, be on the lookout when passing by the field next to MTSU's Bell Street parking lot. You'll see about 14 college students tossing deflated volleyballs through giant hoops, dodging flattened dodgeballs, "flying" across the field on broomsticks and even chasing someone with a tennis ball attached to their waist.
It may be a strange sight for most "muggles," or those who lack magical abilities, but for fans of J.K. Rowling's beloved Harry Potter series, this may look familiar.
Meet the Blue Trestrals, MTSU's Quidditch team.
A "thestral" is a winged, horse-like creature with a skeletal body and a pair of wings. This figure, which is derived from the Potter series, was chosen in keeping with MTSU's school mascot, Lightning, who is a winged-horse as well.
"We chose the Blue Thestrals because MTSU's mascot is a blue Pegasus," said MTSU senior Chad McConnell, the team's captain. "Of course, it would sound silly to be the 'Blue Pegasi,' so we decided to go with another winged-horse, but use 'thestrals' instead."
Quidditch is no longer just a sporting event within the magical realm of Harry Potter; it's becoming a mainstay on college campuses and in communities across the world. MTSU's team has been an official member of the sport's muggle division, otherwise known as the International Quidditch Association, since 2012.
Despite popular belief, McConnell explained that it is by no means a requirement to have read the books, watched the movies or even to be a fan of the series that has inspired Quidditch, adding that previous experience with the sport isn't a prerequisite to join the team, either. In fact, all you need is a little free time, the desire to learn the rules and a willingness to run around on a broom, he said.
"It's kind of strange because even though I'm the captain, I'm not that big of a Harry Potter fan," McConnell said. "I read the books when they first came out back when I was in second grade, but I'm not that big of a fan."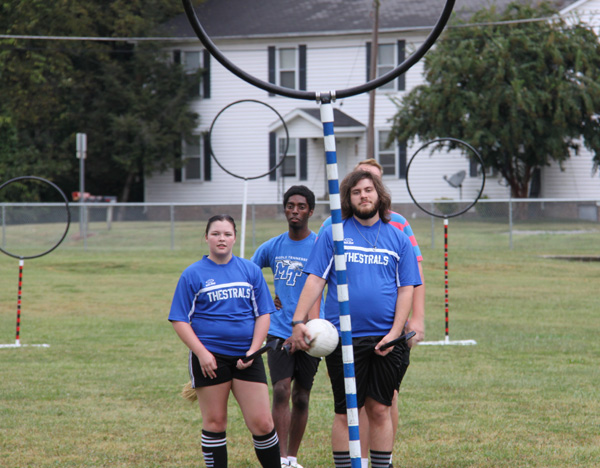 McConnell, 21, who is double majoring in aerospace technology and applied physics, joined the team soon after it formed three years ago. Since then, the Blue Thestrals have competed in places like Tennessee Tech, Southern Illinois and North Carolina, where several regional Quidditch teams meet for a tournament.
"I had friends who were part of the team," McConnell said. "They would ask me to come watch the games on campus at Walnut Grove, and I thought it looked like a lot of fun, so when they said they needed a keeper, I joined, and I've been playing ever since."
The sports' positions, in addition to the snitch, include three chasers, two beaters, a keeper and a seeker. The chasers and the keeper serve as the team's entire scoring potential other than the snitch. One of their main goals is to throw the "quaffle," or a deflated volleyball, through the hoops for 10 points.
The only difference between a chaser and a keeper is that, when inside the keeper zone, the keeper is immune to the knockout effect, which means being hit by deflated dodgeballs, or "bludgers," as they're referred to in the wizard world. If the player is hit with a bludger, whether it's on their hair, uniform, broom, feet, anywhere, they must relinquish their broom and run back to the goals. McConnell said this keeps it from being a "rugby game with hoops."
Finally, after 18 minutes of standing on the sidelines, the snitch is released.
It's the seeker's mission to catch the snitch; however, he or she must grab the tennis ball without tackling the snitch, pulling on their clothing and without the snitch being on the ground. Once the snitch is caught, the team scores 30 points (opposed to the 150 points in the book version of the game), and the game's over. It takes about four or five minutes to catch the snitch, making the average game clock in at about 22 minutes.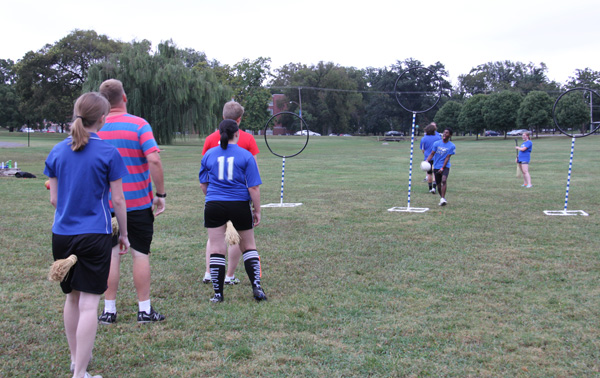 "Aside from riding the fame of Harry Potter, Quidditch is actually a really fun sport to play and it's something different," McConnell said. "But having brooms between our legs limits what we can do."
And while it's not humanly possible for the team members to fly like in the series, McConnell said that aside from a few changes in the rules for fairness, the game remains fairly true to the sport portrayed in the series.
"The way that I always describe Quidditch is that it's a lot like rugby and dodgeball came together to form one game, except we have a broom between our legs, which complicates things," he said. "Someone may have in their head an idea of what Quidditch is, but it's something people have to see and experience firsthand to know if they'll enjoy it."
If you're an active undergraduate or graduate student, the team accepts new team members year-round. And, like McConnell said, no previous experience or knowledge of Quidditch is needed to join the Blue Thestrals.