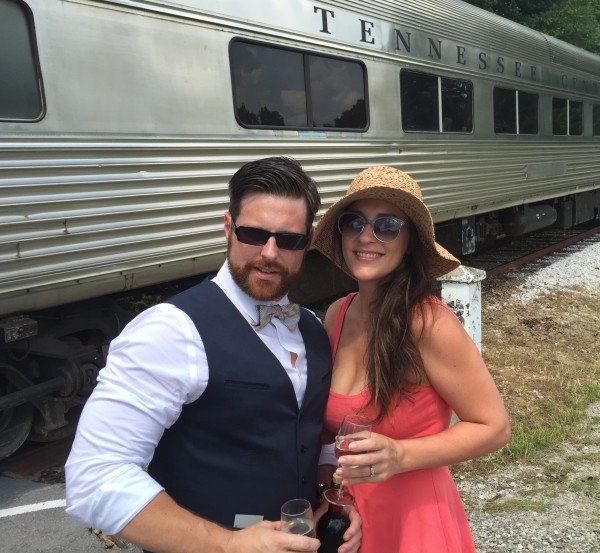 After days of primitive backcountry camping in the Kentucky wilderness of Mammoth Cave National Park, an exhilarating zip-line tour and an investigation of some alleged Sasquatch sightings, Angela and I were more than ready to relax and unwind. Now it isn't fitting to end such an adventure in just any manner. You've got to finish with a little flair, and nothing in Nashville has quite the same retromantic panache as an all-day railway wine-tasting excursion aboard a restored 1950s-era passenger train.
Boarding began promptly at 8 a.m. A man in a railway uniform gave the familiar "all aboard" and we were escorted to the guest car. Departing from the Tennessee Central Railway Museum, the streamlined stainless steel passenger train was an immediate trip for the senses. If you've ever been aboard a train or aircraft from the early 20th Century you already know that there's a distinct smell to them which is found nowhere else but on one of these machines from the past. Seating aboard the train is comparable to first class on a large jet airliner and rotates so that parties as large as 8 can face one another. Vintage dress was encouraged on this particular excursion, organized by the folks at Muddy Roots, and virtually everyone aboard the guest car, including the band, had donned their best retro gear, adding to the nostalgic feel of the day. (It's funny how one can even feel nostalgia for an era they didn't experience personally.)
This particular excursion, a Muddy Roots charter trip to DelMonaco Winery, will occur again this Nov. 7, and certainly induces that deep connection with a bygone era that some love, even if only for its aesthetic appeal.
Tasting began soon after departure from Nashville. The mood in our car was fairly subdued except for the light strumming of a ukulele by one of the performers. The delightful sampling continued until our arrival at DelMonaco, situated a mere 100 yards from the tracks. The winery and its Mediterranean-styled architecture are a unique, if not altogether surreal, sight for the Cumberland Plateau region. Even so, the smell of smoked barbecue and the old-timey band playing everything from ragtime to bluegrass to Hank Williams Sr. will remind you exactly where you are. As the first couple to detrain, we made for the bar, having already decided which bottles we'd enjoy during our stay and which would be optimal for the train ride back.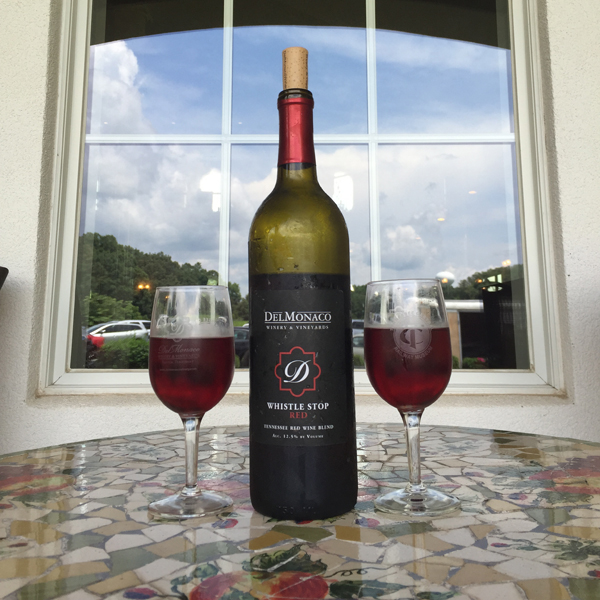 DelMonaco provided a leisurely atmosphere to accompany the mid-day heat. There were games on the lawn with plenty of space to find a private spot for enjoying a libation and some barbecue. Some fine artisan crafts and vintage clothing items were tastefully offered for sale on the second floor of the main hall. The entire affair was very comfortable and the ambiance positively genteel. After lunch Angela and I found an agreeable place in the shade, sipped a chilled bottle of the Whistle Stop Red and slipped into our own world. Blissfully buzzed, the only thing missing was my pipe. I knew I forgot something.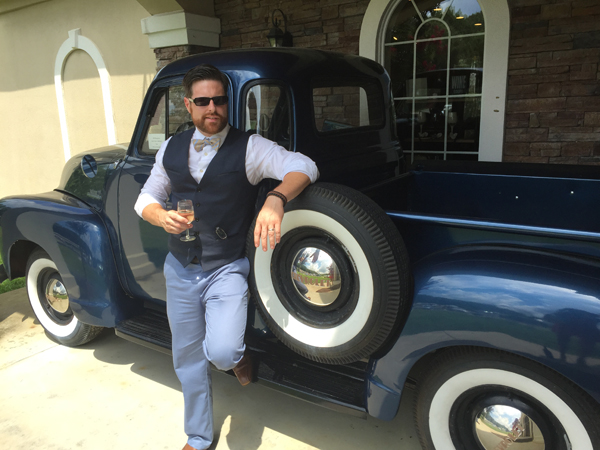 The return trip to Nashville was the most entertaining. Spirits were high and a marked contrast could be seen between the previous ride to DelMonaco and now. Parties and couples entertained one another loudly and the musicians on our car brought out the guitars again. Well lubricated by this time, we laughed and chatted with the other guests, but eventually found our way to the dining car for a game of cards, enveloping ourselves once more in our private bubble.
Nashville is fortunate to have a wine train, and we recommend taking full advantage of the upcoming excursions listed at tcry.org. For those who enjoy wine, the Muddy Roots Charter Trip to DelMonaco is an altogether monumental way to spend a Saturday.
Semper Explorandum!
For tickets and more information on the upcoming Wine on the Rails excursion from Nashville to the DelMonaco Winery, visit muddyrootsrecords.com or find a Facebook page for Nashville Wine on the Rails.