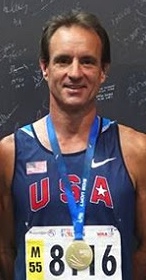 William Yelverton, a resident of Murfreesboro, won four world championship medals at the World Masters Athletics Competition in Lyon, France during the Aug. 4–16 track and field event. Competing in the M55 (55–59) age group, he won two individual bronze medals in the 200m and 400m sprint events, and two gold in the 4x100m and 4x400m relays.
Yelverton's four medals are the most won by an American competitor in his age group at the international competition. He also won the USA Track and Field Masters National Championship in the 400m M55 event in Jacksonville, Fla., on July 24 with a time of 55.29, and a bronze medal in the 200m dash with a personal best of 24.48. His season-best times in the 400m (55.11) and 200m (24.48) are both No. 3-ranked in the world for the M55 age group.
The 2015 World Masters Athletic Championships in France hosted more than 8,000 athletes from 98 countries. It is a biennial event that brings together the world's best track and field athletes age 35 and up. Competitions for men and women are conducted in 5-year age groups (M35, W35, M40, W40, etc.). It is governed by the IAAF, the world-wide governing body for the Olympics and international track and field competition.
Dr. William Yelverton is Professor of Music and Director of Guitar Studies at Middle Tennessee State University.