Homecoming 2015 took place Saturday Oct. 3 for MTSU and the scheduling for this one was a little unorthodox. While many teams typically play a "gimme game" for homecoming, the powers that be in the MT athletic department scheduled an SEC foe by way of Vanderbilt. Despite this being the third power conference opponent in the last four weeks, the Blue Raiders still were slightly favored going into the game, and it proved to be as tight a contest as forecasted.
The game started out looking like a redemption story. After playing the scapegoat in the Illinois loss, Cody Clark came out on the opening drive and booted a career long 44-yard field goal. However, Vandy kicker Tommy Oppenshaw answered back with a field goal of his own late in the first quarter to tie.
Richie James was very active in the first half, as he notched seven catches for 94 yards. However, his production never translated into a touchdown. The only points scored in the second quarter were due to an early Clark field goal. MT led 6-3 going into halftime.
While the third quarter was largely uneventful, it did present a piece of Blue Raiders history. Safety Kevin Byard secured his second interception of the season, and the 17th of his career, tying the MT career interceptions mark. Byard is also now in a three-way tie for interceptions amongst active players.
MT receiver Ed Batties caught his eighth touchdown of the season, putting him in a three way tie for second in the nation this season.
MT held on to their 13–3 lead through most of the fourth quarter, and it seemed they would hold it through the game. However, the Blue Raider defense faltered late. Vanderbilt QB Johnny McCrary escaped on a 29-yard scramble for a touchdown with six minutes remaining to bring the score to 13-10.
Without an effective run game, MT was unable to run significant time off the clock on the ensuing possession, and were forced to punt. With just a minute and change left, Vandy running back Ralph Webb broke out for 39-yard run to cap off what turned out to be the game-winning drive.
After leading the entire game, MTSU let a win versus an SEC opponent slip through their fingers. The players were crushed. Some were just plain angry, while others were teary-eyed.
"This one cuts a little deeper than Alabama or Illinois, especially coming off of last week's loss. That's two heartbreaks in a row. It's tough," stated an emotional Ed Batties.
Quarterback Brent Stockstill whole-heartedly agreed.
"This (loss) hurts. We've had two tough ones back-to-back. This tests this team's mental toughness, its character," the MTSU quarterback said.
Coach Rick Stockstill was no exception from the post-game disappointment.
"I hurt for these guys, our players. I've got a tremendous amount of confidence in them. I'm just disappointed we couldn't finish it off for them," Stockstill said.
MT will have to try to end its losing streak in Bowling Green on Saturday, Oct. 10, against rival Western Kentucky. Although the Blue Raiders have taken two tough losses in a row, they will be ready for this game, says Coach Stockstill.
"We've gotten hit in the gut two weeks, and that's a tough pill to swallow. We got punched in the gut, but it doesn't matter how many times you get knocked down you've got to get back up one more time, and that's what we'll do."
Though WKU came into the season with a plan to be a more balanced offense, the loss of their very capable running back, Leon Allen, has forced them to be more one-dimensional. However, this isn't exactly a problem the Hilltoppers.
Quarterback Brandon Doughty has put the offense on his back. Doughty shared C-USA Player of the Year honors with Marshall QB Rakeem Cato a year ago, and is poised to take the honor all to himself in 2015. Doughty currently ranks top five in the FBS in every passing statistical category, and leads the nation in completion percentage at 74 percent.
Under Doughty, WKU presents a high-powered, pass-happy offense. The Tops rank 20th in the nation in total offense, and third in passing yards per game. Doughty comes into this game looking for his fifth consecutive 400-yard passing performance. The sixth year senior currently ranks fourth all-time amongst FBS quarterbacks in consecutive 400-yard passing games after torching Rice last week.
This one will have an early start with a kickoff slated for 11 a.m. If you can't make the drive to Houchens Stadium to spoil the WKU red out, you can watch it on the Fox Sports Network.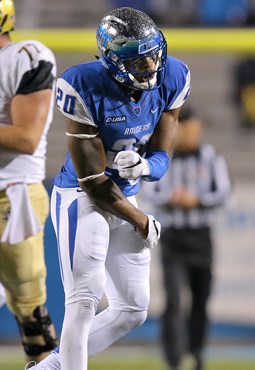 Byard Tracker
As mentioned above, Kevin Byard tied the MT career interceptions record against Vandy. Byard returned that one for 25 yards, putting him 149 yards from Terrell Buckley's NCAA record for career interception return yards. With the milestone coming in a loss, and in the fashion the loss came, interceptions were the furthest thing from KB's mind. However, Kevin was able to find joy in the accomplishment within the pain of Saturday's heartbreaker.
"It's a testament of all my hard work paying off, from high school to now. It feels good. It's a 33 year old record, so it's a humbling experience," Byard said.
Byard should have ample opportunities to break the record this week, as WKU has averaged 39 passing attempts per game this season. A fact of which KB is very aware.
"The amount that they throw the ball definitely gets me amped up. It lets me know I'll have more chances to make a play on the ball."
Byard will be trying to make plays on a ball thrown by a quarterback who has thrown only two interceptions this season. However, when asked if Doughty has face a secondary the caliber of MT's, Byard replied, "I don't think so. We have the best secondary in the conference."