The Blue Raiders had a lot of great individual performances Oct. 24 versus Louisiana Tech, and they played a pretty solid half of football. However, football is a team game, not an individual one, and it's a 60-minute game, not one that lasts for just 30 minutes.
Early it looked like MTSU fans were in for a shootout. LaTech scored quickly on their first possession, after star running back Kenneth Dixon, in spite of an ankle injury, capped off a long drive with a five-yard touchdown run. MT answered back on their second possession with an 11-play 65-yard touchdown drive that ate up more than four minutes of the game clock. Yet that was by far the most successful drive for MT on the day, and the only drive in which they held possession for more than four minutes.
While the Blue Raiders' offense stalled, the Bulldogs' offense was rolling. With just over 11 minutes of possession time in the first half, LaTech scored five touchdowns in eight possessions. Going into halftime behind 35–10, the game looked reminiscent of the WKU blowout loss.
However, there seemed to be an entirely different defense taking the field for MT in the second half. Despite surrendering 35 points in less than 12 minutes in the first half, the Blue Raiders' defense held LaTech to just 10 points in just over 19 minutes of possession time. However, the Bulldogs were able to play keep-away, limiting MT to just over 10 minutes for their offense to mount a comeback. In the end, it was only enough time for the Blue Raiders to score one more touchdown.
The game continued on a trend that has hounded MTSU all season. Each game presents a glaring issue; the next game the issue is resolved, only for another issue to arise. While MT solved the kickoff coverage issues of the FIU win, turnovers did them in against LaTech. Had Stockstill not thrown two interceptions, one of which was returned for a touchdown, and Derek Barnes not put the ball on the ground, this game may have turned out much differently. On top of that, the running game returned to its anemic ways as Desmond Anderson, Kamani Thomas and Shane Tucker combined for only 33 yards on the ground. MT has not truly shown excellence on all fronts since the Charlotte game.
A handful of Blue Raiders did have excellent performances, however.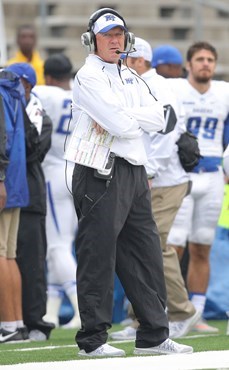 Brent Stockstill set career highs in passing yards (381), completions (36) and attempts (56). He also had his fourth 300-yard passing game of the season, which puts him at four for the year, a new single season record for MTSU. His effort also makes him tied with Logan Kilgore for the second most career 300-yard performances at MTSU, and puts him three behind Wes Counts for most in school history.
Ed Batties caught both touchdown passes thrown by Stockstill. His second tied him with Kerry Wright for the most single season touchdown receptions in school history.
Redshirt freshman phenom Richie James reeled in 10 catches, making this his third double-digit receptions effort of the season.
After being pulled due to ineffectiveness against FIU, Jeremy Cutrer found redemption against LaTech. Jeremy was credited with three tackles, one of which was for a loss, two pass deflections, and his first career sack.
Coach Stockstill summed up the game, and the season.
"It's been a long three months," Stockstill said, adding "I still believe in this team. We have the makings of a good team."
The Blue Raiders will get a much-needed rest this week, as it is their bye week. With 21 players having missed games, and star safety Kevin Byard now nursing an ankle injury (which he played through Saturday) they will need the rest.
Things won't get any easier for MT, as they will face defending C-USA champs Marshall on Nov. 7.
Byard Tracker
KB didn't reel in any interceptions against LaTech, but he did log two pass deflections. As mentioned, Byard finished the game with an ankle injury, but hopefully the week off will be enough to get him back to full health.