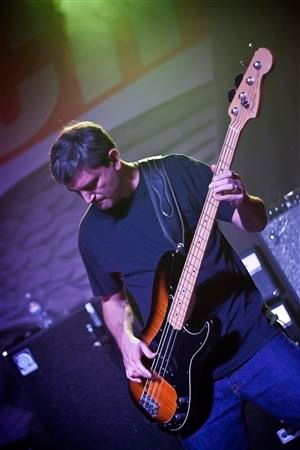 Clutch, the groovy, quirky, hard rocking quartet, appeared at Marathon Music Works in Nashville on Oct. 6, just days after the release of the band's new record, Psychic Warfare.
This album marked the third full-length release on the band's own label, Weathermaker Music, and earlier this year Clutch guitarist Tim Sult said forming the label was "probably the best thing we've ever done for our career."
And in its debut week, Psychic Warfare became the highest charting album for Clutch to date. But devoted fans have been following the Maryland band since its inception in 1993.
Clutch – Sult on guitar, along with vocalist/guitarist Neil Fallon, bassist Dan Maines and drummer Jean-Paul Gaster – gave the crowd in Nashville an energetic performance of tunes old and new; "The Mob Goes Wild, Wild Wild," Fallon sang.
The hyped-up lead man used animated hand motions and facial expressions throughout the show to accent his distinct vocal style, somehow aggressive and stoner simultaneously.
The band's encore changed the mood up a bit, with Fallon breaking out the slide guitar and harmonica (and cowbell) for some dirty rockin' dance blues.
Also on the bill was Corrosion of Conformity, and that legendary metal band's fans were well represented as well.
After a long hiatus, Pepper Keenan and C.O.C. are back together, joining Clutch for their fall 2015 tour.
For more on Clutch, visit pro-rock.com; for more on Corrosion of Conformity, visit coc.com; for more shows coming to Marathon Music Works, visit marathonmusicworks.com.