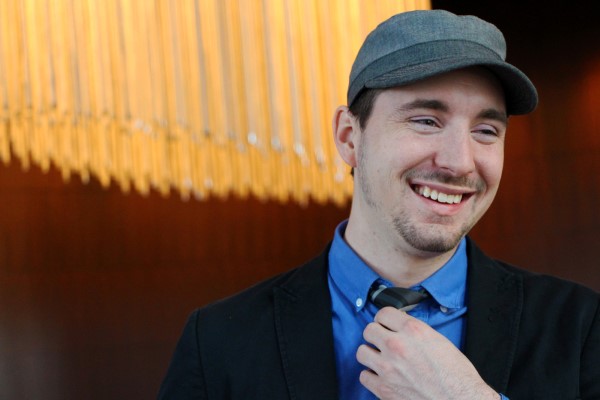 MTSU alum Ivan LaFever has quickly been gaining a reputation as one of the most entertaining singer/songwriters in Middle Tennessee since releasing his Retro Future EP with his band LaFever last year. You can catch him performing a mix of R&B originals and covers weekly at Nacho's Mexican Restaurant on South Rutherford Boulevard each Thursday evening. We chatted with the 25-year-old Cookeville native about his first songs, his time at MTSU, what's next for LaFever and more:
Murfreesboro Pulse: When did you first start playing music?
LaFever: I first started playing mandolin at the age of 5, playing country/bluegrass music. As I grew up I started playing piano at age 8, really getting into R&B, blues, jazz and pop music.
When did you first start writing songs and what were your first songs about?
I first started writing songs with my sister, Erin. At first I would vent to her about my relationships—which honestly, how serious were those when you're only 13?—and she would go home and basically write a poem and give it to me. I would read the lyrics and play the chords that felt right and accented what she was talking about with my piano, and create a melody line based on the chords I played.
Who are your biggest influences as a musician and as a songwriter?
My personal influences would have to consist of guys like Jamie Cullum, Bruce Hornsby, Stevie Wonder, Bill Withers and Earth, Wind & Fire. Our band's collective influences are more along the lines of Bruno Mars, Justin Timberlake, Chaka Khan, Bill Withers and John Mayer.
How did the LaFever band come together?
The band was all connected years before we even thought we would be a band, which what makes our story so cool to tell! [drummer] Ron Bowie used to play with [guitarist] Chad Judd's parents for years before Chad came along, and I played with Ron in various bands from praise and worship to country bands together from when I was 16 to now. When I was 18, I jammed with Chad, who was only about 14 at the time and thought "Meh" and never even considered him to be a thing until years later when I told Ron, "We really need a sharp guitar player if we are going to make this group happen." Then Ron tells me about Chad and how he's a monster at guitar and vocals. I was unsure about having him come in, and Ron said to just let him sit in and jam. When we got together for the first time and jammed on "Just the Two of Us" by Bill Withers, we got done and I said "So it begins. . . ." Ever since, we've been writing together and playing gigs, as well as making progress.
How did your time at MTSU prepare you for a career in music?
MTSU teaches students the basic guidelines, but the secret is to take what you learn and go out and do it in whatever capacity you can. MTSU recommends internships that will give you real experience in the workplace, which is definitely what you want to do when you get to that point in the program. Some students aren't far enough in the program to do internships quite yet, so a great thing to do is research local bands and artists, find one that you like, and ask them if you can help their band with whatever you're interested in learning more of. People want to see that you're passionate about the music business, and some [who offer] internships like seeing that you already have some experience going into the internship. Most bands are open to the help and would love for you to be part of their team. Then you get that hands-on experience, and get to put into action what you learn in classes at MTSU.
What are your plans for the rest of the year and 2016?
We are in the process of working on an album, and getting materials together to—fingers crossed—set up a couple tours next year! We are also looking to gain more team members in merchandise, promotions, social media, photography and video. If you do any of these and want to be a part of LaFever, just shoot an email to lafeverband@gmail.com.
You can find LaFever's music at lafeverband.com, as well as on iTunes, Amazon and Spotify. Ivan's set at Nacho's, 2962 S. Rutherford Blvd., begins at 6 p.m. every Thursday.