The sexy season is upon us and the Train Daddy is ready to roll out the station. All aboard! The holidays are a great time to appreciate what I call the 5 F's: faith, family, football, food and friends. Thanksgiving is upon us and the thought of my mama's turkey and broccoli casserole makes me dance a little jig; it's magically delicious.
On to sports. The Tennessee Titans suck—it's hard to watch. Period. Poor loyal Titan fans, cry it out!
The Titans are a complete mess; they better come up with a plan and some new pieces to fit around Mariota for next season. That's the kindest words I can give my team right now.
Lamar Odom is alive! I guess the lesson here, kiddies, is don't combine herbal Viagra, hookers, drugs and Kardashians—it nearly killed the former L.A. Laker.
On to more crazy news: Chicago Bears defensive end Jeremiah Ratliff told team staff he was the devil reincarnated. He threatened to kill everyone in the building and then threatened to kill all their children. I guess releasing him from the team was the right move.
Giants all-pro pass rusher Jason Pierre Paul has finally returned to practice after blowing his hand off with some fireworks last July. BOOM! I guess we will see if he can still get to the quarterback with that deformed claw.
So, let's get to the beef of this thing, "Release the Kracken"!
Anyone familiar with my style of writing over 7 years of brilliant articles, well then, you understand I'm crazy. Ha! So let's combine football and presidential candidates into one, and see what happens. I love the passion and wide variety of opinions that talking politics creates, and football, well, football is perfect. So let's create a football team, and my draft class is the 2016 presidential candidates.
We have to start with an owner of the team and that shall be me, obviously, since I'm creating the team. Representing the great state of Tennessee and playing in the division G.O.P South, I have created a team I shall call the Obama Lama's, the pride of the South, the spitting Lamas.
Put me in, Coach Trump!
Since I am the owner I had to start by hiring a head coach, so I went to Donald Trump. Coach Trump! Donald is very organized and an extremely successful businessman. I believe he will do the best job keeping the team organized and successful. It is imperative that you have a very intelligent quarterback; my man Ben Carson gets the job.
Quarterback Carson
He is without a doubt the most intelligent of any of the candidates, Republican or Democrat. The man separated conjoined twins. Sold! Look at the IQ difference between Vince Young and Peyton Manning, enough said. Carson is my signal caller.
Wide Receivers Rubio and Cruz
Quarterback Ben Carson is going to need some talented route runners. I have picked two starting wide receivers: Ted Cruz and Marco Rubio. Both politicians are skinny and young enough to still have top speed. Both candidates can deliver, although Rubio has a quicker 40-yard dash.
Tight End Fiorina
Starting at tight end is Carly Fiorina, she has a tighter end than Hillary and that's what I need in my tight ends, a very tight end! She is feisty and she despises Hillary more than I do. I believe Carly's potential could make her the next Gronk.
Kicker Colonel Bernie Sanders
Colonel Sanders, better known as Bernie, shall be my kicker. The man complains like no other, and what else would you expect from a so-called socialist? Socialism is disgusting. It sounds nice—we all share equally, yippie! I would hate to see the country under a president Bernie. Free stuff and equal opportunity sounds nice to voters who would rather sit on a couch all day instead of going outside and breaking a sweat. I will let Bernie kick his frustrations through the uprights.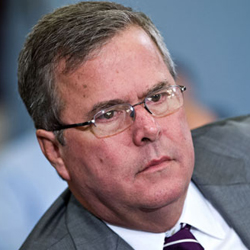 Linebacker Jeb Bush
This team will have to boast a very strong defense, since the average age on my team is nearing 60, just like the Broncos defense is assisting an aging Peyton. The defense shall be led by linebacker Jeb Bush. He seems to always be on the defense these days anyway, his last name being Bush. The left wants him gone and I don't believe he is going anywhere anytime soon. Even if he does get knocked out of the race, he will be there till the end.
Running Back Chris "The Hog" Christie
Every football team needs a great running back, a large powerful runner that can get those extra yards. Chris Christie is a hog: he is between fat and big boned and he looks like Tony Soprano. Come on, he is even from New Jersey. R.I.P. Tony! Coach Trump will deploy Christie like Steelers head coach Bill Cowher deployed the Bus, Jerome Bettis. You don't have to worry, people, Coach Trump will have Governor Christie turned into muscle after a strenuous training camp.
Referee Clinton
A team is more than just players, we need a ref and Hillary Clinton gets the BJ role, the back judge is essential to the game. The job of the BJ is to mainly watch the tight end's movements, I am sure Hillary will want to keep an eye on Carly Fiorina. Originally we were going to let Hillary be the ball girl, but with the country deeming her untrustworthy, we feared another Deflategate. While on the field, both teams keep all balls from her grasp.
Ball Boy: Obama
So then who gets the ball-person role? Well, the team is named the Obama Lama's, so Mr. Obama, our current Commander in Chief gets the honor. We all have seen on live television how bad Obama is at basketball, going 2–22 at the free throw line at a children's charity event. Coach Trump didn't figure Obama could do any good athletically, so Obama gets simple duties; he is a little dimwitted.
So that's my presidential football team: a very partisan piece and partisan team. Ha! Its not that I despise Democrats and their left-skewing agenda . . . well, I do, actually. It's just a carnival show watching it play out. The Republicans will fight it out between the large cluster of candidates until one stands and the Democrats will keep the steering wheel turned so far left they will either crash or have to come up with a new term for how left-wing policy is defined.
Let's wrap this thing up! Fantasy football is in midseason; hope you're doing as well as my personal team is. I am standing strong at 8–0. Players like Dalton, Ingram, A-P, Beckham, Keenan Allen, Tyler Eifert and the Broncos' defense, and also a solid bench, help keep my team undefeated. Jeb Bush also has a perfect fantasy team we found out, due to the ignorant questions CNBC asked during the recent debate. So, that's it—remember the 5 F's this holiday season: faith, family, football, food and friends. Choo-choo!