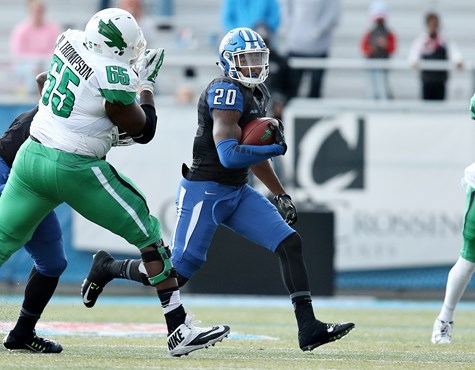 When the Blue Raiders took on the Mean Green of North Texas on Saturday, Nov. 21, late in the third quarter, a pass was thrown to the left side of the field, Kevin Byard's side. Having tied the MT career interceptions record a month and a half ago against Vanderbilt, KB's eyes must have been as large as the sun as he saw the ball coming his way. Byard quickly broke to the ball, made the interception, and returned it for 27 yards.
"It was very rewarding to get (the interception) on my last home game, Senior Night. It was a very special moment to get the interception in front of my family and friends. It was just great, man. It was very humbling, I'm forever grateful and thankful," Byard stated.
After securing the record-breaking interception, Byard never thought about giving the ball back to the officials. Instead, he found his father on the sideline and gave the ball to him.
"I thought about it before the game, and I said that if I get the interception, I'm not giving the ball back," he said. "So, as soon as I caught the interception, I just went and took it straight to my father."
Byard said he isn't sure where the ball will stay, but he does plan on keeping it in his family forever.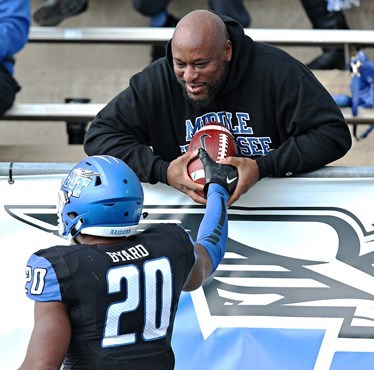 Not only is Byard happy to have gotten the interception to break the record, but he is also glad to have the burden of the record gone from sight.
"I ain't gonna lie, it's something I've been thinking about for a minute, especially when I got the interception against Vanderbilt. It's definitely something I don't have to think about anymore, I don't have to answer any more questions about it, so at the end of the day I can just go out there and play ball and just keep going hard for my teammates."
Byard may have the record, but he has no intentions of slowing down.
"I'm going to try to keep getting interceptions, because it's going to help our team. It's not something I feel like I'm done with, I'm going to try to get more and make the record unreachable."
It was a big week for Byard. Unbeknownst to him, Coach Stockstill received an invitation to both the Senior Bowl and the East-West Shrine Game on Byard's behalf.
"That came to me early in the week," Coach Stockstill said after the game. "I just held on to it, I wanted to give it to him after the game, because I didn't want any distractions. It's a great honor for him to be able to be recognized by those two bowl games. I'm really happy for him."