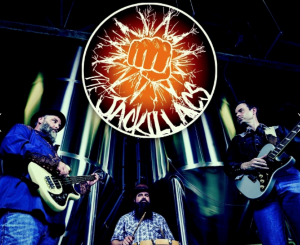 When I popped in the Jackillacs' eponymous album, it didn't take much time before I noticed a familiar voice escaping from the speakers.
Although the style is distinctly different than their other musical outfit, Middle Tennessee string band the Glade City Rounders, two of the three members—William See and Josh Smith—proved with this release they can easily swap out a fiddle for an electric guitar without breaking a sweat. Joining See and Smith is drummer Todd Eberhardt, hailing from Rockvale, Tenn., and together, the three-piece roots rock trio has crafted an exceptionally well-produced eight-song release.
Released in August, Jackillacs is one of the best local albums I've seen come through the Pulse office in the past few months. Clocking in just under half an hour, the album grabs your attention from the opening clash on the drums, and it doesn't let go. See's electric guitar work, chock-full of prowess and Appalachian charm, complements both his distinctive voice and clever narratives.
The band packs a punch on songs like "The Buzzard" and "Johnny's Gone," but just as easily dials it back on contemplative tracks "Vagabond Blues" and "I'm Just a Sailor." At times, William See, who also wrote and arranged the album, vocally resembles Primus frontman Les Claypool, especially on the catchy opening track, "Cremation of Sam McGhee," which borrows lines from the Robert W. Service poem of the same name (but,oddly, with different spelling).
As a total package, the Jackillacs live up to their eccentric name. Their musical roots run deep, and they're not afraid to rock; there's rarely a dull moment to be heard on Jackillacs.
The band is scheduled to perform at The Boro Bar and Grill on Nov. 13. Visit the band's Facebook page to stay up to date on future events or to check out their album.