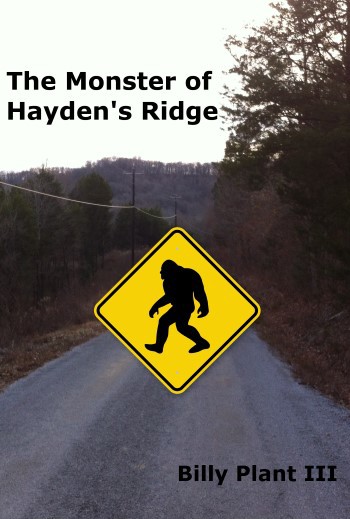 Murfreesboro author Billy Plant III isn't new to self-publishing. In fact, his latest project, The Monster of Hayden's Ridge, is his third book endeavor in the past few years. Plant, who published his first book in 2011, holds a master's degree in biology from Middle Tennessee State University and currently works as a utility forester.
Plant's other self-published book, Mother Earth & Other Pretty Girls, is a compilation of essays, poems and stories that date back to as far as 2003. Similar to Hayden's Ridge, many of the stories in Mother Earth & Other Pretty Girls deal with nature, a recurring theme, ironically, in Plant's repertoire. In addition to the other two titles, Plant authored A Guide to Cedar Glades and Common Appalachian Wildflowers, a guide to Tennessee's rare cedar glades complete with photographs and detailed descriptions created and crafted himself.
The Monster of Hayden's Ridge, released Oct. 2, takes place in Lytle County, Tenn., where times are hard and jobs are few and far between. When Henry Davidson's company is hired to survey Hayden's Ridge, a future retail complex on a 1,000-acre tract of land, he must learn to work fast. That is, until Davidson spots an ape-like creature within the hills of the ridge. When city officials refuse to acknowledge the creature's presence, Davidson reaches out to everyone else to help find the creature.
We spoke with Plant about his latest novel, how his education inspired his writing and more:
Murfreesboro Pulse: I noticed your bio mentioned you earned a master's degree in biology at MTSU and your latest novel, as well as Mother Earth & Other Pretty Girls, include nature themes. How does your degree and interest in biology intersect with your writing?
Plant: Ever since I was young I enjoyed exploring creeks and woods. The Duck River ran through the neighborhood I where grew up in Columbia, Tennessee, and I went fishing several times a week. When I was not outside, I was in my room either playing guitar or reading. Through reading I learned to write and though exploring my surroundings I learned to love nature. That's why I wrote A Guide to Cedar Glades and Common Appalachian Wildflowers. I raised the funds to self-publish it through a Kickstarter campaign and was fortunate enough for it to be picked up for distribution by the University of Tennessee Press. It's sold out now but I think there may be a few copies still available at the Cannon County Arts Center.
Where did the idea for The Monster of Hayden's Ridge originate, and how did you come up with the idea for a book focused on Bigfoot?
First off, I wanted to write a book people would read, and a quick Internet search will reveal that Bigfoot has a built-in audience. Also, when I was young I remember Leonard Nimoy's In Search of . . . episode about Bigfoot, and I thought it was really cool. This will sound odd, but [the appeal is] not just the subject matter, it's the era when Bigfoot took hold in the national consciousness, from the late '50s through the mid-'70s. It's nostalgic. For me Bigfoot represents the mountains and running water and 1974 film haziness. It's hard to explain, but Sasquatch represents an entire imaginary world to me, one akin to Jack London novels and Northern Exposure and Dick Proenneke's documentary Alone In the Wilderness. The Monster of Hayden's Ridge is a brand. The book is about conservation versus development and how those two ideas affect the lives of people in the community and curiosity seekers who come in to hike and camp and then go back to "the real world." I could totally imagine a movie and then a spin-off television/Netflix series based on the community, with only passing appearances by any North American apes.
Can you describe your writing process?
I generally only get to write on my days off work. But with The Monster of Hayden's Ridge I tried to write every day. Shelby Foote once said "write every day, even if it's only 300 words." But if you do it every day it will add up. Then there are the good days when I crank out 1,000 to 1,200 good words when I've really been able to get in a zone. The easiest part of writing for me is pontificating and, if done poorly, that will lose your audience quicker than bad grammar. The most difficult part of writing for a pontificator like me is moving the story along in a smooth, logical manner without making grand leaps to get to the next good part. When I'm working on a project I am consumed by it, as my wife will attest, and I think about it constantly. That said, if I feel like I did good work writing that day I do tend to relax a little and allow myself to think on other things for the rest of the day—until that 2 a.m. moment when I have an idea for a pivotal scene . . . and I have to get up to write it down.
What do you hope readers will take away from The Monster of Hayden's Ridge?
I hope people are entertained by the story. It's pure escapism aimed at people who like hiking, camping and waterfalls. I also hope they take away new ideas about both sides of the development-versus-conservation issue, and I hope they shed a tear for the plight of the "monster." It's sort of sad and sweet. There's even romance and an almost-sex scene in the book!
Who are some authors you enjoy, whether it's for inspiration or just for leisure?
I alternate between reading nonfiction and fiction. I really like biographies about literary figures and anything Bill Bryson writes, and I'm currently on a Jack Kerouac kick. I've read four of his books and I love the time period he writes about, as well as the way he plays with language. He's good, almost as good as Faulkner, who I've read a lot of, but at the moment I'm more interested in the stories Kerouac tells.
Are you working on any other projects at the moment?
I'm revising Mother Earth & Other Pretty Girls by adding new stories and deleting emo poems, but I'm taking it slow because I'm also trying to promote The Monster of Hayden's Ridge. I'm thinking about getting into painting, sculpture or film or something . . . writing takes so long, and a lot of what I or anyone else writes goes essentially unread because people have limited time, and there are a lot of distractions competing for it.
A bit unrelated, but I also noticed you and your wife are in a bluegrass band. Can you talk about your interest in music as well?
I've played guitar since I was 13 years old and have written songs for nearly as long. When I got out of the Navy I moved to Nashville hoping to make it as a songwriter, but I got bored with the open mic nights, so I sort of quit trying to get my music out there. After moving to Murfreesboro, I started playing out again thanks to the urging of Levi Massie, who I played several shows with. Since 2013, my wife and I have been part of the five-piece bluegrass/old-time string band The Accidental Trio. We also wrote and performed the music for the video trailer for The Monster of Hayden's Ridge.
When you're not writing, what do you like to do?
My wife and I enjoy going hiking and overnight backpacking. Now we have a new baby boy, and he's keeping us busy, so that's slowed down playing with our band and getting out on day trips. But we do enjoy cooking and may even start working on a cookbook together.
The Monster of Hayden's Ridge and Plant's other projects are available at Amazon, Barnes & Noble, Scribd and anywhere e-books are sold. For more information, all of Plant's books have Facebook pages he updates regularly.